Chinese Concours under a September Moon
On the weekend of the Mooncake Festival in China, Auto Bild China celebrated with a very successful fourth edition of the YangQi Island Concours d'Elegance, with 46 exciting automobiles vying for as many as seven class wins and the ultimate Best of Show, which went to an immaculately preserved Audi 100 S Coupe, from 1972. Though observers may speculate that the standards of the show had had shown some decline, given that the Best of Show winner last year was the delectable prototype of the Alfa Romeo Giulietta Sprint Speciale (owned by the redoubtable Italian collector Corrado Lopresto), the winner this year – the Audi Coupe – was no less deserving despite its "ordinariness," as it really impressed the five member jury by the sheer immaculateness of the state of a car that was 46 years old and had covered close to 200,000kms. Also the significance of the win for the Audi (and Audi Tradition, who had entered the car) was that it was perhaps the first time that, in an important concours d'elegance competition, a preservation-class winning type of car had won the Best of Show.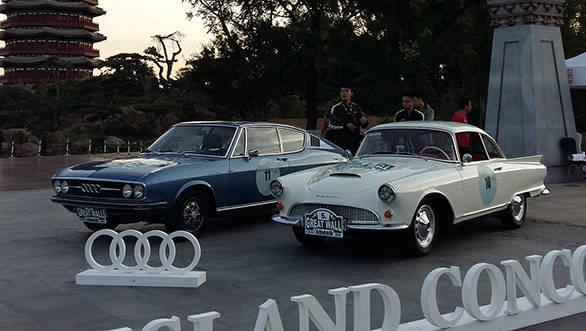 Winning Audi 100S with its older sibling
Cadillac Seville in front of a Citroen DS and a Ferrari
At the same time Audi Tradition must be counting itself lucky, considering that it's most serious competitor – an amazingly low mileage SS1 that Jaguar Classics had entered – couldn't make it in time for the concours when the ship carrying this SS1, as well as a Jaguar XK-SS, had to be diverted to avoid the hurricane that had hit Hong Kong the week earlier. Yet main sponsors Jaguar Land Rover did show up with as many as ten cars (Jaguars and Land Rover/Range Rover), whilst Volkswagen Group brands such as Audi, Skoda, Bentley, Porsche and Lamborghini together also had as many as ten entries. An individual collector Xu Tao entered over a dozen of his cars, and amongst them was an amazing barn find Volkswagen T1, which must have been an ambulance in an earlier life.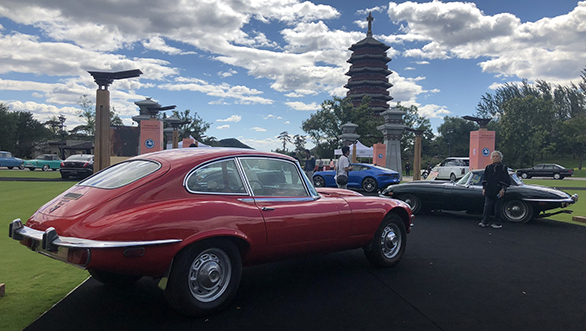 Jaguar at the YangQi Island concours
Jury members pose - Tomcsanyi, Huebner, Mengozzi, Theuns and Sen
Two well restored Citroen 2CVs as well as three early Ford Mustangs caught the eyes of the jury, made up of three FIVA representatives – legislation commission member Laszlo Tomcsanyi, Trades, Skills and Youth Vice President Jos Theuns and Communication Vice President Gautam Sen – as well as two other luminaries in veteran event organiser and FIA member, Johannes Heubner, and the Director of the Turin-based Museo Nazionale dell'Automobile (MAUTO), Mariella Mengozzi. The jury was no less excited by two very impressive Japanese cars from the 1970s, an extremely well restored Datsun 240Z, from 1970, and a really rare 1971 Nissan Skyline GT-R. Sadly, there were no Chinese cars this year, unlike last year when two gigantic HongQi Red Flag limousines had visitors gawking.
Jury members pose - Tomcsanyi, Huebner, Mengozzi, Theuns and Sen
Rare Nissan Skyline GT-R
Jaguar Mark II and S Type under a blue Beijing sky
Mention must also be made of the two Porsche 356s, one a convertible from 1962, the other a lovely coupe from 1963, which came from Hong Kong with their respective owners, two true-blue enthusiasts who seem to delight in the regular use of their cars. In fact Auto Bild China's publisher and editor, Michael Wang, and marketing director Sherry Xu had pulled out all stops to get these two cars, as well as organise most efficiently this beautiful event, over two very beautiful days and full moon nights, when Beijing had blue skies overhead, an event which has the makings of becoming one of the more important concours events in Asia.
Lady poses with Jaguar E-Type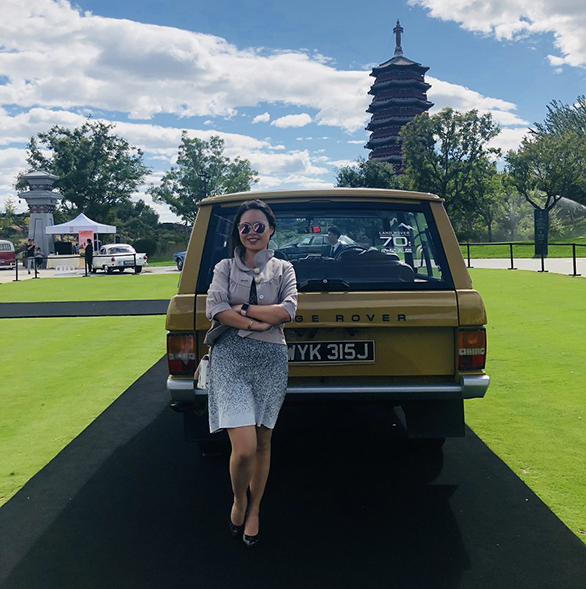 Chinese beauty with Range Rover Classic
Text: Gautam Sen
Photos: Cynthia Lin, Lorenza Maccio
Price (Ex-Delhi)
Starts Rs 74.62 Lakhs