Cheapest motorcycle boots in India
A reader commented a few days ago on Twitter that India didn't have cheap motorcycle gear. We decided to do some hunting and see if we couldn't find something cheap and affordable. We hunted for gloves and jackets and now it is time to look at motorcycle boots - as in purpose-built riding boots as opposed to hiking boots being used for riding.
As we did the last time, we've gone through some of the more popular online stores, but we have not actually tested any of these boots. But this is a proper online purchase kind of research – we can see the images, see the price, see the specifications and make up our minds. Here goes.
Motorcycle boots are usually the last items that arrive in your gear set and are some of the most expensive as well. They're also the ones that divide opinion like no other. But the fact of the matter is that the feet are an important part of your body and they're easily injured in a crash. Which is why sneakers cannot cut it, sandals are bad news and hawai chappals are an amputation looking for a place to happen. From experience - I have ridden bikes in non-motorcycle boots though that was a while ago - I can tell you that once you get a taste for what a built-for-it boot feels like on the bike, you will not want to go back. To the cheapest boots then.
PGS' range: Rs 4,499 to 7,000 at bikegear.in
I'm clubbing this lot together because while they are the cheapest boots we can find online, we are recommending that you buy at your own risk. Our rationale is simple. First, we don't know who PGS is and in my case, I would rather spend a little more money and purchase from a brand/organisation I trust when it comes to protective gear that is expected to save my skin when I come off the bike. The other reason is that I cannot seem to find any user reviews that point to the quality and utility of these boots. They do claim to be waterproof in many cases, have reflective piping, sliders and stuff, but I'd say proceed with caution. The fact that bikegear.in lists these as "professional grade road race boots" only amplifies my hesitation in purchasing these. That said, they are better than riding in sneakers or for that matter, dress up boots.
Spartan Gear SPG Hercules Touring Boot Rs 6,200 at spartanprogear.com
Spartan's boots look a lot better made than the PSG ones and they've a range of two boots. The Hercules Touring Boot is the cheapest one they make. It's a full-leather boot with a single-piece moulded sole, moulded ankle and toe protection , shift pads, YKK zippers, a shin plate and a Hipora waterproofing. Plus a reflective patch on the heel. That's not a bad deal if the boot actually works and does what it promises to do. Trouble is, I have no way of telling whether it will or not. In fact, I cannot even say how to buy one, because this is the first time I'm seeing a shoe being sold in small-medium-large sizing and not numbers.
Spartan Gear SPG Zeus Sport Boot Rs 7,700 at spartanprogear.com
This is also an all-leather boot but the leather is perforated so it should be good in hot weather and it'll leak water endlessly in the wet. It claims to have a single-piece mould that covers the heel and the toe and has the same feature set, more or less, as the Hercules Touring Boot, with an added steel shank in the sole and a dual density sole. This seems like a very promising boot, actually and I think this might actually work for daily use.
What is it?
These belong to what is rapidly being classified as the urban riding boot category. The Flat2 uses a leather upper and adds a TPU ankle mould as well as "inner foam inserts." Puma uses two velcro straps to close the boot - one across the instep and the other on top of the boot. The shoe is made in Italy.
We like
Puma are relatively recent entrants to the motorcycle boot game but they've received pretty decent reviews for their gear. What they've been universally appreciated for is the design and materials, both of which are excellent. But the cherry on the case for us is to be able to get a branded, good looking motorcycle boot at this price.
We don't like
I personally prefer my motorcycle boots to go up almost to the knees but that's just me. The Flat2 does cover the ankle and worn everyday, should at least resemble a regular boot, which is not something I'd discount.
Would we buy this?
Joe Rocket Big Bang 2.0
If I could get over my need to have proper shin protection in every riding situation absolutely yes. Various other brands, including Alpinestars (S-MX 1.1 Rs 10,999 planetdsg.com), Joe Rocket (Big Bang 2.0, Rs 9,500 performanceracing.in), TCX (X-Square Rs 9,500 highnoteperformance.com), Sidi (Road Burner, Rs 18,300 performanceracing.in) etc make these shorty riding boots now but this price is really hard to beat. Between you and me, I would actually pay the Rs 1,000 extra for the TCX X-Square which offers similar protection, looks even more like a normal shoe and comes from Italian shoe specialists TCX.
TCX X-Square
What is it?
The X-Square is the entry-level shorty boot at highnoteperformance.com which sells TCX in India. The company says the X-Square feels more like a shoe than a boot and yet offers "great malleolous protection." They recommend this suede and AirTech shoe as a casual riders' option. The shoe has a heel protector as well as shift pad and like the Puma Flat2, a two-stage closure with laces and a velcro strap.
We like
The idea of a casual-looking shoe that offers some protection to the rider's feet. It's a good price.
We don't like
Is this enough protection for you? It isn't for me. Like I said, I'd like my shins covered with something more substantial - though I accept that it costs money to buy that protection and a budget boot most likely won't be able to straddle that requirement and a budget price.
Would we buy this?
Like I said with the Puma Flat2, yes - if I could look past the fact that the shoe leaves my shins exposed. That said, it does cover the ankle well and I've had a great experience with TCX (formerly Oxtar's shoes).
What is it?
This is Puma's cheapest waterproof boot. It features Gore-Tex (perhaps the most respected membrane brand in the world). Puma adds a shift pad on both boots in case you do ride an old British bike, adding ankle and toe protection in TPU. Up top, there is a foam pad to protect your shin.
We like
Is that a classy looking boot or what? The Puma ticks all our boxes for being the sort of basic boot that should cover the gamut of riding, daily or otherwise. We especially like the fact that the slim upper should fit neatly under a pair of jeans (though I have to admit I cannot remember the last time I rode in denims).
We don't like
That we haven't actually tested this boot yet! The Bonneville seems like a promising boot. The fact that this one as well as the Brutale (Rs 12,500 at outdoortravelgear.in and cramster.in) are both waterproof boots is annoying because these boots may be excellent in the wet but they will probably also be warm in the dry.
Would we buy this?
Oh yes. In fact, I've just managed to properly hole my current waterproof boot around the shift pad area and am in the market for a replacement... As an everyday boot? I'd stay away from buying this online. I'd go to the shop and try it on. For two reasons. One, the size selection is full of half-sizes and two, I'd like to get a sense of how warm this boot feels before committing money to it. If you're looking at the Brutale, also go through the range at highnoteperformance.com - they have a bunch of River Road and TCX-branded boots in the Rs 12-16,000 price range that offer a selection of cruiser-style, street-sport, street-shorty and touring boots in both waterproof and non-waterproof styles.
Alpinestars S-MX 1.1 Boots, Rs 10,999 at planetdsg.com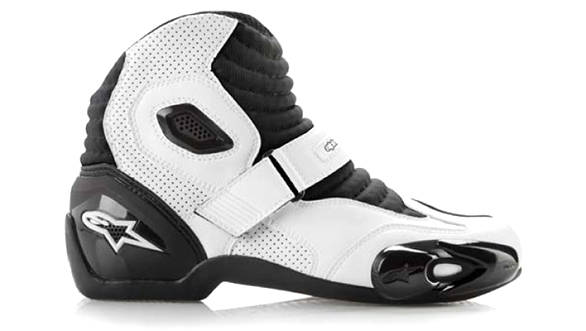 What is it?
Planet DSG sells Alpinestars in India and the S-MX 1.1 is their entry shorty boot. It features styling similar to the S-MX race boot with TPU armour, shank-ed sole and a microfiber upper with mesh inserts. The heel - like most A-stars boots - has an external TPU cup with a dual density armour on the inside. The toe box is also armoured. A-Stars use a velcro and zip combination for closure and the S-MX 1.1 has a fully replaceable sole
We like
I like a replaceable sole - I wear my motorcycle boots daily and almost every boot I've ever retired has been with a hole in the sole. The S-MX comes in many colours (unlike many boots on this list) and like most of A-Stars gear, it looks good and this is a good, trustworthy - if expensive - brand.
We don't like
Once again, the lack of shin protection primarly.
Would we buy this?
Me? No - for the exact same reason I mentioned for the Puma Flat2 and the TCX X-Square boots. But I know a lot of people who would find the combination of price, protection and brand very hard to resist.  The S-MX 3 at Rs 14,999 offers a taller boot. But the boot we'd be happiest with would be the S-MX6 at Rs 16,499 which is an evolution of a boot that will last ages, protect well and is a tall boot like a good motorcycle boot should be. Rohit uses an S-MX5 pair, the previous version of the S-MX6 and he swears by them.
Note: Joe Rocket's Big Bang 2.0 and Atomic shoes
Joe Rocket Atomic
These are priced at Rs 9,500 and Rs 10,500 respectively but my prior experience with Joe Rocket's shoes - I haven't used them but I have a former colleague as well as friend who has - is that they make cheap gear better than they make cheap boots. Try them on at Performance Racing before you spend money on these. Joe Rocket also has other styles including touring-oriented boots - again try them on before you spend money on them.
Alternative boots 1: O'Neal Element (Rs 14,000 at performanceracing.in)
Another boot to consider in this price range is the O'Neal Element at Rs 14,000 at performanceracing.in. This is the only motocross boot I've found in this price range. Another former colleague has been bashing these boots about for four years now - and he's a rough user. He says the boots are extremely comfortable once you get used to them, waterproof, spares are easy to get and the money he spent on them was not something he regrets at all.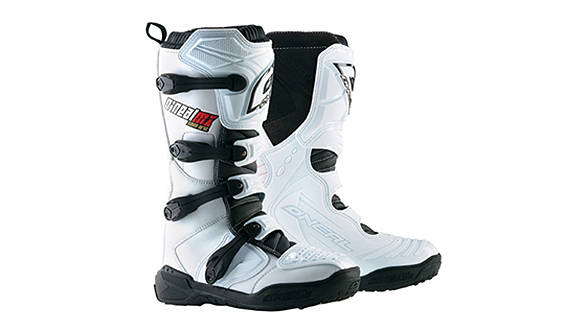 O'Neal Element
Alternative boots 2: River Road Twin Buckle or Traditional Harness, Rs 13,000 at highnoteperformance.in
If you're not on a naked or street bike and ride a cruiser, then most of the boots will look wrong on your steed. The entry cruiser boot - if the all-black touring styles don't float your boat - are these River Roads that look and feel like a cruiser boot should.
What do we use?
I prefer to use full race boots daily because they offer the maximum protection. From the first Oxtar, to the Sidi ST Air and now the TCX R-S2 EVO   that I wear now, I've valued that sense of protection more than looks, durability and convenience. That said, the Oxtar and TCX (same company, old and new name, respectively) have felt more durable and like they will last. As you can tell, I like my boots overbuilt and I'm willing to spend the extra money (the first Oxtar's were Rs 13,000 nearly a decade ago. Both of the others are Rs 26,000 or thereabouts). But I do expect them to last. The Oxtars lasted seven years in daily use but the Sidi ST Air's sole disappeared in just over 18 months. I'm now hoping that the new TCX's last at least three or more years.
Alan uses our old pair of Puma 1000s that were thrashed to within an inch of their lives on an off-road adventure a long time ago. Not designed as off-road boots, the Pumas had various bits fall off. But they soldier on today as Alan's footwear of choice.
Sidi Vertigo
Rishaad uses a pair of Sidi Vertigos that Bert originally purchased for himself and that somehow became the property of whoever needed it at OVERDRIVE. These boots have been crashed and they came through unscathed. Ditto the foot that was inside at the time.
What would we buy, really?
It is a matter of preference. I'm a bit extreme in wearing race boots everywhere. Yes, in my head that's only a bit extreme. But I do spend an inordinate amount of time in riding gear mostly on the bike but also a fair bit off the bike. Having fallen off a number of times, I've more or less come to the point where I won't ride a bike unless I'm in full gear and even the boots aren't an exception to that rule.
For you, everything from a casual boot to a race boot can work - you have to figure this one out for yourself. We will be posting our boot buying guide shortly to help you make up your mind. In the meantime, we've reached the informed conclusion that if you want a pair of decent motorcycle boots, you'll need to set aside at least Rs 10,000 or so.  As usual, feel free to add your own reviews in the comment.
Look out for our motorcycle buying guide.
Also see -
Top five cheapest motorcycle jackets in India