Can the Maruti Suzuki Jimny step into the shoes of the Gypsy?
Most of us have our icons, and one of my motoring icons is the Maruti Suzuki Gypsy, that was launched in India in 1985. It was India's first ever modern SUV and ironically when Maruti introduced it, there was no SUV craze or culture. Despite this, in my view there has never been a vehicle like it in our country before, and for the longest time I believed there would never be another like it. But having driven the Jimny in and around Dehradun recently, I may have to rethink this.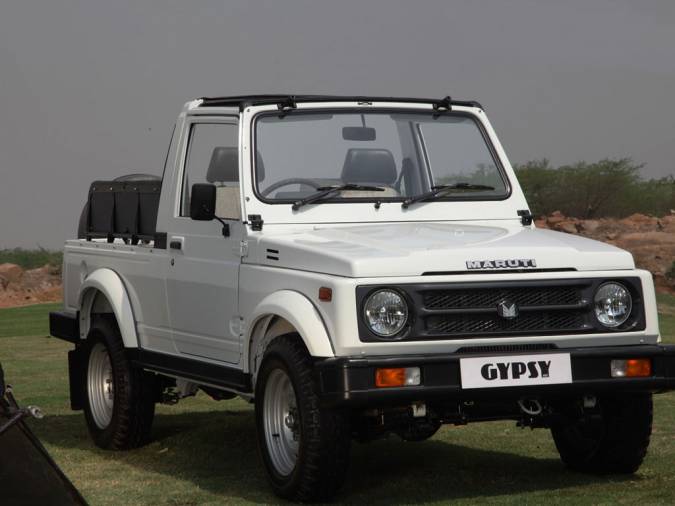 For me the Maruti Gypsy is an Indian motoring icon.
The Jimny is the modern day avatar of the Gypsy, which is the long wheelbase version of the second generation Jimny, and fortunately it retains many of the aspects that made its haloed predecessor such a hero. Like the Gypsy, the Jimny has a strong ladder frame chassis and a four-wheel drive transmission with low ratio transfer case. It also has an additional lever behind the gear shifter that allows you to select 4WD high or low. In the present age of off-roaders getting softer, both the ladder frame and 4WD transfer case with the additional set of gears, are endangered species.
And I cannot help but wonder if the new Maruti will be able to carry forward the Gypsy's amazing legacy.
For that matter, even the 4WD selector lever is vanishing, because in many SUVs power is automatically transmitted to all the four wheels when required. And even the ones that allow you to select drive to all wheels do it through a switch or button that you just have to press! So moving the lever in the Jimny while engaging 4WD and sensing a mechanical movement, feels so good. The Jimny also has a manual handbrake, which is getting rare too, as they are being rapidly replaced by pull or push button electronic handbrakes.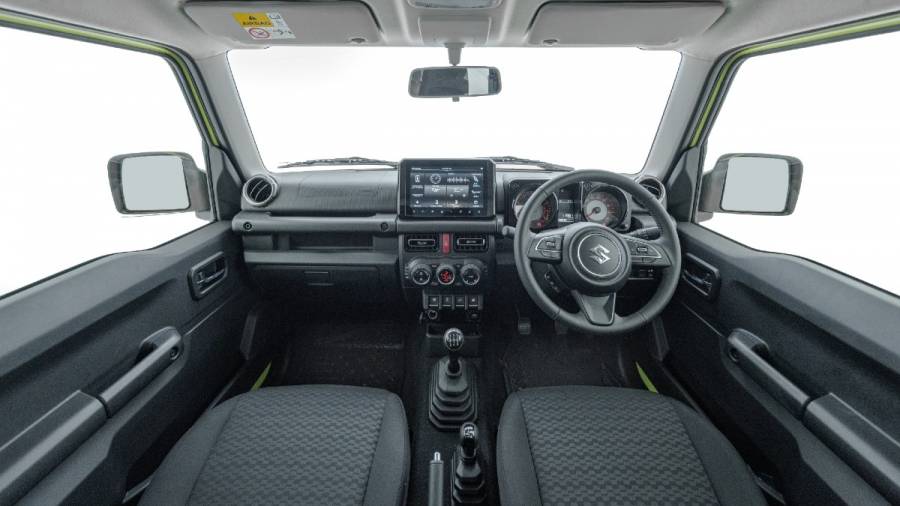 Note the Jimny's 4WD selector lever, placed besides the handbrake.
Another threatened feature that survives in the Jimny is the upright, almost completely right angled windscreen, which provides a superb and uninterrupted exterior view. And thanks to the fact that the windscreen is so vertical and the side so boxy and flat, it also has a rain water gutter or drip rail, something that you find in few modern vehicles today. The seating position is quite straight too. All quite uncommon now.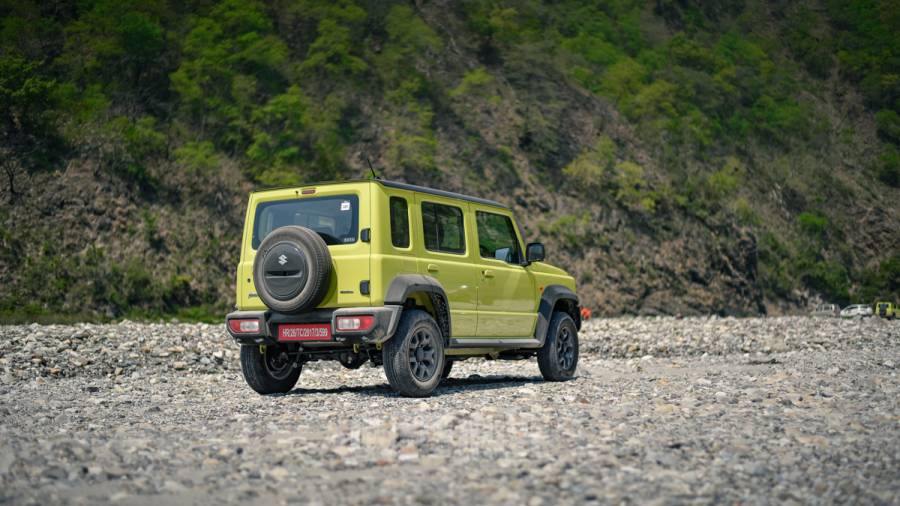 Thanks to its old world boxy and practical styling, the Jimny evokes nostalgia.
While it's great that the Jimny retains a fair bit of the Gypsy DNA, fortunately, few of the shortcomings of its illustrious ancestor have been also remedied. For starters the ride quality and comfort, both on-road and off-road, is way superior and simply in another class. The feel, feedback, effort and accuracy of the electric power steering, especially while off-roading, is most impressive too. As is the assured braking. What's commendable is that all this has been done without compromising on the off-road capability.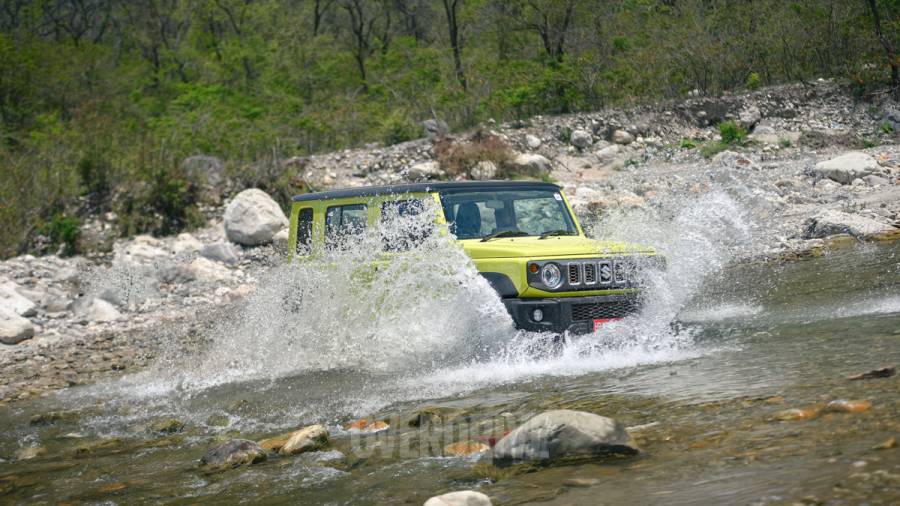 Note the upright, almost right angled windscreen, which gives a great exterior view.
The Gypsy when it was introduced some 38 years ago was quite utilitarian and basic, and this did not change much in its lifetime. In contrast, the Jimny has many modern day creature comforts and useful features like air conditioner, power windows, airbags, entertainment and navigation system, and so on, that one takes for granted now. It also has things like hill descent control, hill hold assist and a brake limited slip differential that make driving it off-road so much easier.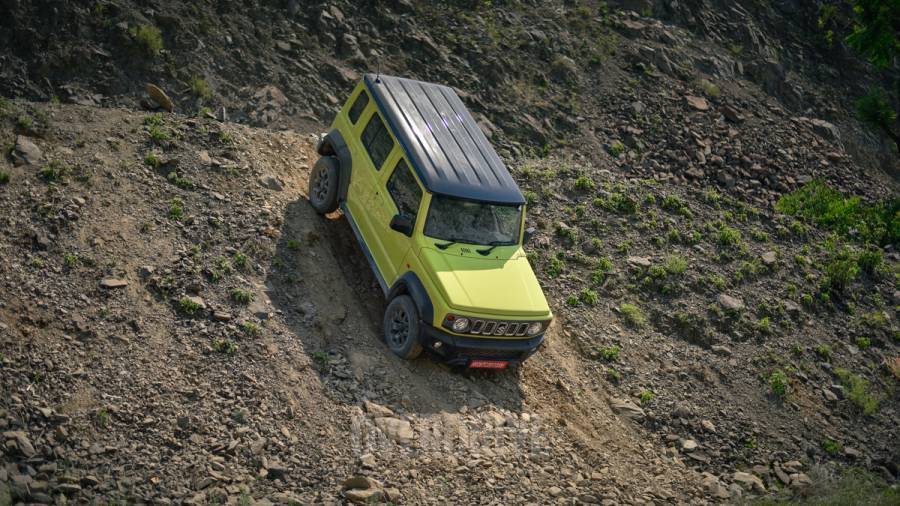 The light and nimble Jimny is very sure footed and has impressive off-road capabilities.
Since we are talking about off-roading, I must say that when I drove the Jimny on the off-road stages selected by Maruti in the riverbed near Dehradun, I was impressed beyond belief. And it again drove home the point I have made a few times in the past, "You don't need a butchers knife, to do a surgeons job". What I mean is that in comparison to some of the other renowned off-roaders like the Mahindra Thar, Toyota Fortuner and Hilux, Jeep Wrangler, Land Rover Defender, and Mercedes-Benz G-Class and so on, the Jimny is small and far less powerful. In fact some might even say it's under powered.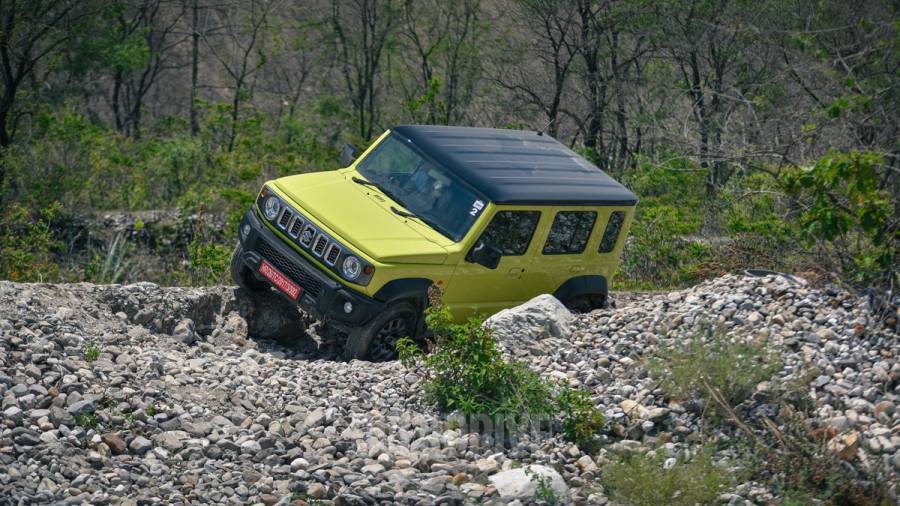 It's also easy to drive and comfortable on tough terrain.
But my view is slightly different. The Jimny is light (approx 1200 kgs) and short in length (about 3.9 meters). It's also only 1645 mm wide and 1720 mm tall with a ground clearance of 210 mm. The max power is 104 bhp and it generates 134 Nm of torque. When you look at these figures, what you see on paper is a light, small, short, narrow and not so powerful SUV. However on the road, or to be precise off-road, it's a completely different story. The Maruti Suzuki Jimny has a decent power to weight ratio of 86.7 bhp per ton. Its small size make's it nimble and highly maneuverable and as its light, it not only goes up inclines far more easily, but it can also descend in a far more controlled manner, as it does not carry the burden of excessive weight.
The Gypsy has many all-round capabilities and is a favourite of our armed forces.
After driving the Jimny, I realize that it's actually like a mountain goat and with its sure footedness it can do things off-road, that many of its bigger fellow off-roaders will struggle to emulate. Yes, at times big is not better and while it may not be the most ideal example, I would say the Jimny is akin to a sniper, while many of its compatriots are like machine gunners.  A sniper uses a light, exact target point rifle, which gives him good mobility to quickly reach vantage points, and accurately hit his target. Whereas the machine gunner employs a big and heavy, large area coverage gun. For him mobility or accuracy is not that important, as he simply uses the guns heavy firepower to spray bullets all around the enemy. While both have their functions and utilities, if ever I was given the choice, I would like to wield a sniper's rifle, instead of a machine gun.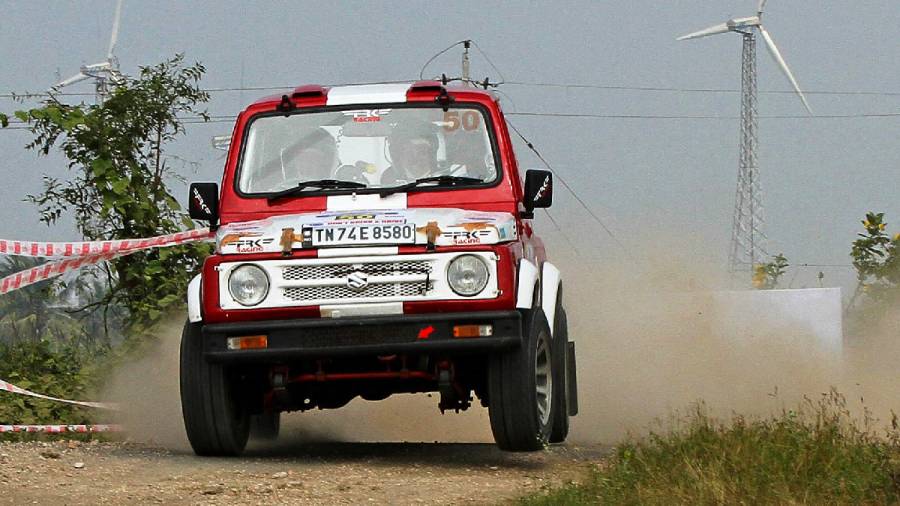 The Gypsy also dominated Indian rallying for almost two decades.
Now let's get back to the Gypsy and what makes it a legend. Soon after Maruti launched it, some enterprising enthusiasts entered it in rallies where it became an instant success, particularly in events like the extremely challenging Himalayan Rally. It's simple and strong mechanicals, reliability, rough road performance and ability to take a beating, better traction due to the four-wheel drive, and ease and speed of repair and service, all made it the ultimate machine for Indian rallies and raid events, which right from the 1980s to the 2000s, were longer and rougher than the present day short stage events. The Gypsy also lends itself very well to modifications and it has to be the most modified Indian vehicle ever. And though the Gypsy is top heavy and does not have great handling, it dominated Indian rallying for almost two decades. In fact even today, it is seen at some events and remains a great entry level affordable rally vehicle.
In the hands of talented drivers like air force pilot Wing Commander Vinod Nebb, the Gypsy did a fair amount of flying too. Photo courtesy Bob Rupani archives.
The Maruti Gypsy has not only been a big success in rallying, but India's entire wildlife tourism business has been built around it. If you visit any wildlife sanctuary, national park or tiger reserve, you have to take a Gypsy for a safari into the forest. Yes, right from the mid-eighties to now, a span of almost 40 years, the Gypsy continues to be the king of the Indian jungle.
The Gypsy's reliability and ability to endure and take a beating, gave it many successes at event like the Raid De Himalaya.
And if I may take the liberty, let me just add that I was amongst the first to take a Gypsy into an Indian national park. I was also the first to modify the side facing rear seats and replace them with a front facing one. Almost all safari Gypsy's now sport such front facing seats, so I can say that in my own small way, I have contributed in helping it become India's favourite wildlife safari vehicle.
And right from the mid 1980's, the Gypsy has been India's preferred wildlife safari vehicle. Photo courtesy Bob Rupani archives.
These are not the only laurels the Gypsy boasts off. From the mid-80s to the mid-90s, it also played a big role in helping the Punjab Police combat terrorism in their state. The police effectively used its go anywhere ability and speed to chase and engage terrorists across farms, fields and all other kinds of terrain. And it's not just the police; the Maruti Gypsy is a favourite of even our armed forces, especially the BSF (Border Security Force) and Indian Army. Go to any far flung and difficult to reach border area, and you will find our armed forces using the Gypsy to patrol our territory and protect our country. After Maruti stopped making the Gypsy in 2019, the army has tried several other SUVs as replacements, but from what I know, none has been able to meet the high standards set by the Gypsy.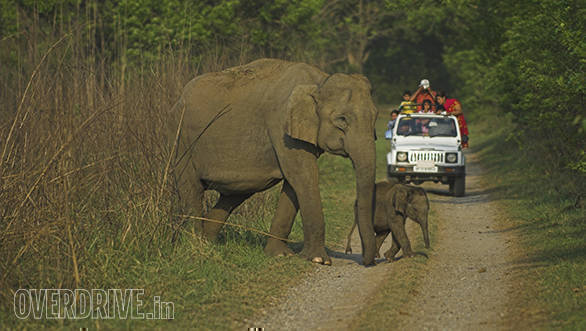 And it is used for jungle safaris in almost all our wildlife sanctuaries and national parks. Photo courtesy Bob Rupani archives.
So will the Maruti Suzuki Jimny be able to carry forward the rich legacy of the Gypsy? This is a difficult answer, but I shall stick my neck out and say, it's unlikely. For several reasons. For one India's roads have changed and improved beyond imagination, even in the far flung areas of Ladakh, J&K, the North East and the desert areas of Rajasthan and Kutch too. So the 4WD advantage that made the Gypsy so loved will be of less use to the Jimny in our present day real world driving conditions. Of course in the meantime off-roading has become a hobby and recreational or lifestyle activity for many, and with these folk the Jimny may well become the preferred SUV with which to play in the mud.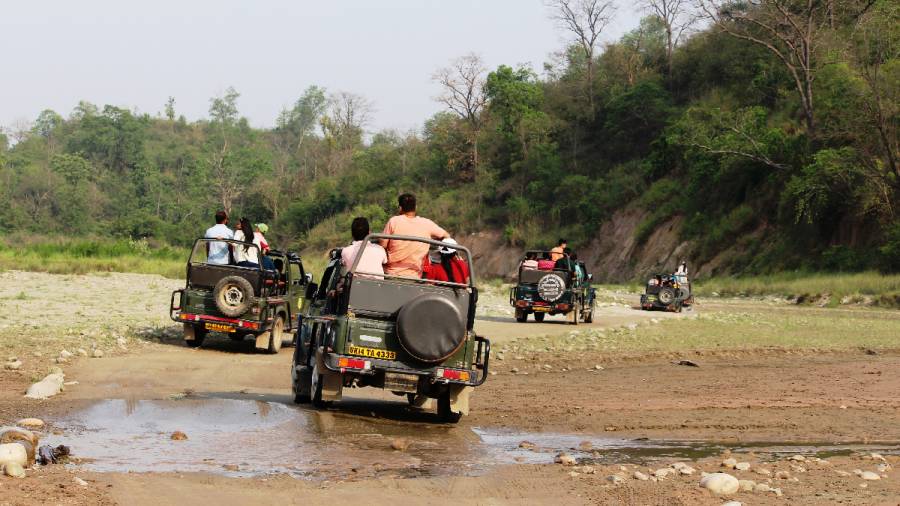 This is a common sight in our more popular tiger reserves. Photo courtesy Bob Rupani archives.
As for Indian motorsport and rallying, that has changed completely too. Gone are the long endurance events and raids where the strength, reliability and the ability of the vehicle to withstand punishment, played such an important role. In contrast, modern day special stage rallies are like sprints with power, speed and handling being the most important factors. Given this, I am quite sure that the Jimny will never become as popular as the Gypsy in Indian rallying.
The Gypsy is also used for "Bonnet Breakfasts in the Bush". Photo courtesy Bob Rupani archives.
As for wildlife safaris and use with the Indian armed forces, the Jimny will lose out on their patronage because presently it only comes with a hardtop. We in India have been using the soft top Gypsy without the top for all our jungle safaris. And in some parks you are still allowed to fold the front windscreen down, which is great for both wildlife viewing and photography. But the hardtop Jimny is not suitable for this.
Lakhs of tourists have spotted wildlife from a Gypsy. Photo courtesy Bob Rupani archives.
Similarly, the Indian armed forces need to mount a gun or weapon and also have multiple soldiers return fire when required. However they cannot do this in a hardtop Jimny, and they too require a soft top. So will Maruti make a soft top Jimny? Converting a body on frame vehicle like the Jimny, into a convertible or soft-top is quite feasible and doable. And if Maruti does this, and at the same time also increases the overall length and wheelbase, and ups the power output too, it well might help make the Jimny, India's most preferred jungle safari vehicle and our armed forces may also get the light and highly mobile patrol and combat vehicle they want.
Will the Jimny be as successful in rallies as the Gypsy?
Finally, what about road trippers and adventurers like me. Well after driving the Jimny I must say I simply love its off-road capability and can also live with its on road performance and behavior. But what I am not sure about is the seating comfort on really long drives and marathon trips spanning several thousand kilometres. Will my aging bones and joints get the kind of comfort in the Jimny, as offered by several other SUVs? Though I have to yet take the Jimny for a really long drive, I have my doubts. The limited boot space will also be a limitation in case one chooses to travel with the family, or a couple of friends.
The Jimny is a very fine SUV.
Given all this, I must say that while the Maruti Suzuki Jimny is a truly awesome off-roader, and far superior to its predecessor in most ways, it just might not be able to live up to the legacy of the legendary Maruti Suzuki Gypsy. Especially if Maruti does not make a soft top version of the Jimny.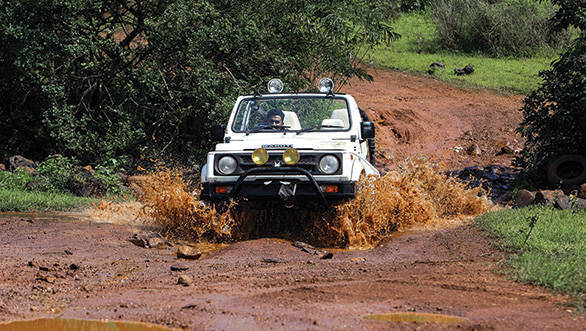 But can it step into the Gypsy's big shoes?
Price (Ex-Delhi)
Starts Rs 53.9 Lakhs
Price (Ex-Delhi)
Starts Rs 73.98 Lakhs
Price (Ex-Delhi)
Starts Rs 9.8 Lakhs
Price (Ex-Delhi)
Starts Rs 1.5 Crore
Price (Ex-Delhi)
Starts Rs 29.98 Lakhs