Bosch Agile Project House to work on India-specific solutions for electromobility
Bosch is one of the leading names when it comes to developing solutions for mobility, industrial applications and the consumer goods sector. The company has the largest research and development centre in India outside Germany. Bosch India recently announced its plans to significantly increase the extent of localization of its electrified portfolio in India.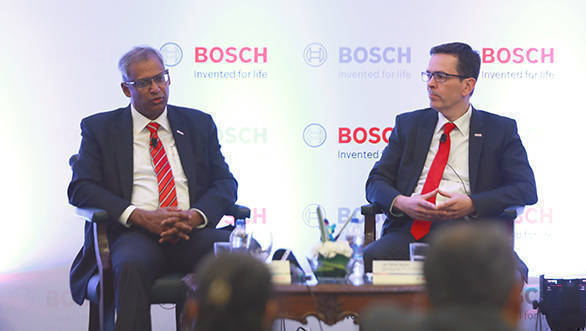 Soumitra Bhattacharya, managing director, Bosch Limited and president, Bosch India Group and Jan Oliver Rohrl, chief technical officer and director, Bosch Ltd.
In line with the target of electrification of automobiles till 2030, the company is working on bringing a host of offerings that includes drive components and intelligent charging infrastructures, geared towards making electromobility a sustainable reality for vehicle manufacturers and fleet operators in India. The company has scalable solutions from 0.25kW to 300kW that caters various segments from two-wheeler to commercial vehicles and claims that electric powertrains and more powerful and efficient than the present offerings.
India-specific Agile Project House development center
To address specifically to the Indian requirements, Bosch India has set up a new Agile Project House, a development centre that is working on prototype development and system integration to offer more sustainable electric powertrains as well as other electromobility solutions for India. "This will increase our local competence to be able to supply customized technologies for flexible, affordable and efficient urban mobility" stated Soumitra Bhattacharya, managing director, Bosch Limited and president, Bosch India Group.
The tablet-like screen displays real time information on the working of the electric powertrain. The company official did tell us that in future, drive modes can be introduced in this system
Bosch India has light weight electromobility solutions that range from 0.25kW to 20kW and offer an acceleration of 0-45kmph in less than five seconds in e-scooters. The company also claims that with the help of intelligent energy recuperation and battery management system, the e-scooters can offer a range of 125km in one single charge.
Highlights of Bosch India at the Technological Expo 2018
The main four verticals that Bosch is focussing on is concerned with Electrification that has scalable solutions and also provide e-mobility supporting ecosystem with the help of powerful and efficient powertrains. The company has an e-Axle system which is a compact and cost-optimized electric drive solution for battery-powered electric vehicles and hybrid applications that range from 50kW to 300kW. It combines the electric motor, power electronics and transmission into a modular and scalable electric drive unit. advanced injection, exhaust gas treatment and hybrid systems that reduce emissions, increase efficiency and are also more cost effective.
The 370V electric motor generates 85kW and produces close to 200Nm
Under the automated mobility, the company offers a system called iBooster that offers vacuum-free braking and also improves the performance of dynamic braking functions like automatic emergency braking for electric vehicles. Then there is the micro-electro-mechanical systems that sends information about airbag-related events, ESP-related movements and more safety signals to drivers. The other offerings include motorcycle stability control and driver assistance systems like predictive emergency braking, adaptive cruise control, traffic jam assist and more.
All-electric Bosch powered prototype
"That looks familiar" was my first reaction when I saw the all-electric Bosch prototype. During the presentation, Soumitra Bhattacharya had clearly mentioned that the prototype that was being shown is powered by Bosch and not made by Bosch. The company has no plans whatsoever to produce electric cars but can offer the necessary technology and support to power them.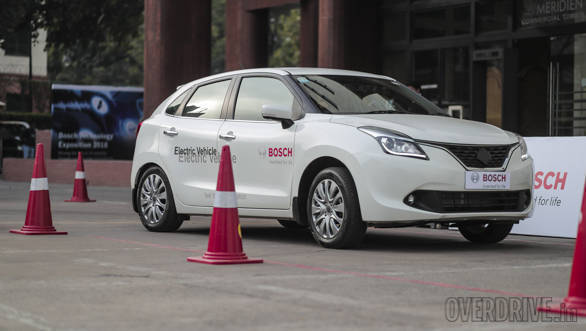 The rear profile of the prototype looks loaded and that is because of the batteries stacked in the rear.
The conventional powertrain of the car was replaced by a 370V system electric motor. The system generates 85kW and produces close to 200Nm that powers the front wheels with the help of 3Phase AC synchronous machine integrated with GKN gearbox. Powering the system is a 10kwh Lithium-Ion battery with an on-board charger. The company claims that using a 15Amp socket, generally used for air-conditioners in home, it takes close to four hours to fully charge the battery. The company also stated that there is a provision of fast charging as well. Bosch officials declined to reveal any details on the Lithium-ion batteries powering this prototype which we believe will be offered in the production version as well, considering the fact that they are lighter, have a longer life and also offer better mileage. Bosch India official mentioned that the prototype has a driving range of 80 to 100km in one full charge.
The system takes close to four hours to charge and has a driving range a of 80 to 100km
The all-electric prototype was equipped with a SMG 180 motor, INVCON 3.3, high-voltage Li-Ion battery, coolant pump, VCU hardware and also inverter and BMS (battery management system) calibration setup. The first thing that you notice when you step on the throttle is the super smooth and silent electric motor. The power delivery is almost instant and felt better than whatever electric automobiles I have sampled so far. Conventional engines get into their element only after crossing a particular engine speed but that's not the case with electrics. However, as much as they are fun and engaging to drive, it might also come across as a bit too much for someone driving an electric for the first time. And that is where the VCU (vehicle control unit) steps in. It basically tapers the initial surge of power to make it easy on response. While the drive experience was confined to a small circuit, the prototype did feel comparatively lighter compared to the conventional setup as the total weight of the powertrain system including the transmission is 35kg while that of the batteries stacked in the rear of the car was close to 112kg-115kg. This prototype was also equipped with regenerative braking, a system that stores energy produced during braking and then using it to charge the batteries further.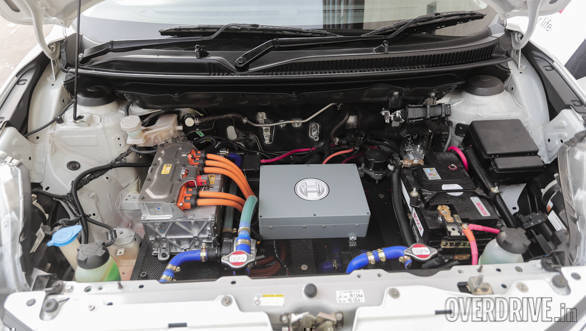 The powertrain shown here in the prototype can be brought into production rapidly, provided there is demand and the government regulations support it.
The basic idea behind showcasing this prototype was to highlight that electric powertrain is highly efficient as well as offer more engaging performance compared to the present day conventional options. Additionally, Bosch also wanted to confirm the company's potential to offer Pure EV drivability. Bosch India is already in talks with several OEMs regarding offering this electric powertrain in upcoming cars. The company states that the powertrain shown in the prototype can be quickly brought into the production, if the market demand and the government regulations support it.