Book Review: A Champion's Path
Many years ago, Derek Daly, a young lad from Ireland, found himself blazing down racetracks competing in that high-speed sport that is Formula 1. After a career that spanned 64 F1 Grands Prix, he went across the pond, trying his hand at CART (now Champ Car) racing. And while Daly might not have achieved championship titles in the higher echelons of motor racing, he did learn from the many life experiences that he made along the way, including a near fatal crash at the Michigan International Speedway in 1984. It seems like Daly saved up all these lessons that he learned, as well as those learned during his career as a broadcast journalist covering Formula 1, and turned them into motivational speeches and books. A Champion's Path is one such book.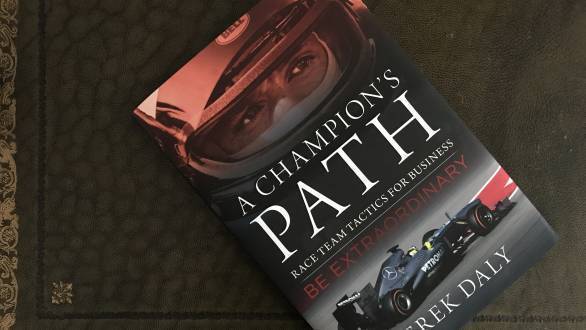 A slim volume, published by Octane Press, A Champion's Oath bears the subtitle "Race team tactics for business". Below this are printed the words "Be Extraordinary", both of which provide the reader with a fairly simple, but accurate idea of what the book is about. Daly focusses on the fact that consistent victory in Formula 1, and indeed in the Indy 500, is down not just to the fact that a team is excellent. Instead it is down to the fact that a team is extraordinary. "How to be extraordinary?", then, the question that Daly tries to answer in this book.
Over the course of nine very quick chapters, Daly asks a series of questions in order to help identify the qualities of a successful motor racing team, which he believes can be applied to a successful business as well. He focusses on how in order to create this culture of "extraordinary" one needs to be deliberate and disciplined. But these observations aren't just his own. He quotes the likes of Jean Todt, current FIA president and former team principal of the Scuderia Ferrari racing outfit, in order to prove his points. Todt's quote (I won't spoil things for you by telling you what it is) is a pertinent point. It serves as the point in which the book quickly starts to list out the essential elements that are required for success. Trust, the right people for the right job, an intersection between risk and risk management, the awareness that one is most vulnerable when one is successful, the importance of preparation, and a lot of other important lessons.
There are a couple of things that I'd like to point out here. The first is that this isn't a motorsport biography, or motorsport story, or motorsport memoir. So if that's what you're looking for, skip it. That being said, as someone who rather likes motorsport memoirs, and as someone who usually is quite averse to books on management, I liked that Daly moved things along swiftly. If you want a quick course on do's and dont's for any venture to be successful, do give this a read. It might help. Especially when Daly very pertinently asks a question of you, the reader. It was the part that worked best for me. And you'll need to read the book to figure out what it is.