Best riding roads: The Tamhini trail
India is infamous for its shabby roads, but at the same time there are many fantastic driving roads spread through the length and width of our beautiful country. OVERDRIVE has been fortunate enough to experience quite a few of these roads, and we want to share the joy with a weekly feature of a fantastic road that you should aspire to experience someday.
Unarguably, Western Ghats offers one of the best routes to ride on. As endemic the flora and fauna of this region is, so are the mighty Sahyadris running along the complete western coast of India. Well, one such place that will treat your eyes with its scenery is, even in the summers, Tamhini. Located about 50 odd kms from Pune, the dense forests of Tamhini hosts some beautiful tarmac passing right through its heart. But this time, I decided to venture onto some new trails through the forests of Tamhini and that too on the equally beautiful Honda Africa Twin. This trail originated from Tamhini village and takes you to Lavasa through the mountain ranges . A challenging yet an scenic trail. 25 kms of pure off-road fun. The trail is broad enough to handle SUVs and that's what makes it more interesting in monsoons !
It's advisable to stock up your food and water supplies before Tamhini village as you won't find anything once you hit the trail. As the rain Gods are about to bless us soon, it's time that you start marking your map with such trails !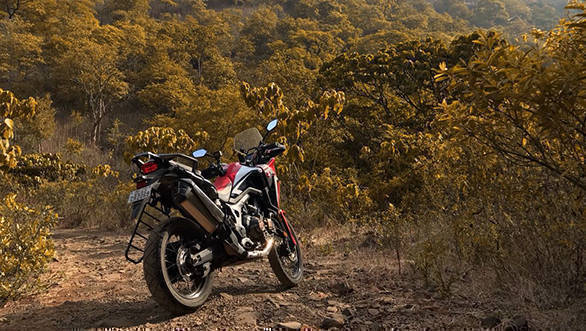 Price (Ex-Delhi)
Starts Rs 16,01,500