Best driving routes: Maneybhanjang to Sandakphu
India is infamous for its shabby roads but at the same time, there are many fantastic driving roads spread through the length and width of our beautiful country. OVERDRIVE has been fortunate enough to experience quite a few of these roads, and we want to share the joy with a weekly feature of a fantastic road that you should aspire to experience someday.
While most of the Best Driving Roads that we feature involve smooth tarmac and breathtaking views, the route we've selected this week is a bit of a departure from the norm. Maneybhanjang-Sandakphu is a 31km, 6,000ft route that also forms the border between India and Nepal. Essentially a pony trail, it ranks as one of the most challenging roads in India, replete with rocky surfaces, steep inclines and narrow sections with the mountain face only centimeters away from the car. Given how challenging the road is only 4x4 vehicles ply on this route. The Land Rover Series 1 is one such vehicle that has been ferrying people and essential items up and down this route for over half a century.
Though most of the initial half is concertised, the rest of the route is just the way it was, decades ago. It is wise to stock up with water and snacks in Maneybhanjang as there are only a couple of places where you can pull over and have some grub.
The weather also begins to change as you approach Sandakphu and it is critical that you're SUVs wipers are working and tyres have more than enough tread.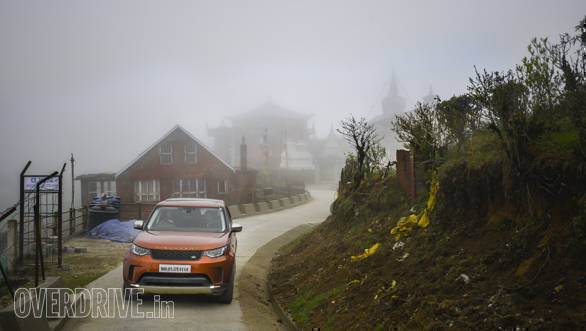 Most of the Maneybhanjang-Sandakphu stretch forms the border between India and Nepal. The area you see on the right falls in Nepal
The pace driving up is slow but that gives you a chance to look around and appreciate nature in all its glory. The final three kilometres before Sandakphu are extremely challenging and narrow and sheer drops on one side. It takes some skill to maneuver a vehicle around here but that's what makes driving very interesting.
At the top of Sandakphu, on a clear day, one can see Mount Everest on one end and the Kanchenjunga mountain range on the other side. It is highly recommended that you stay a day at Sandakphu before heading back down to Maneybhanjang
Related Stories