Bean counters: Observations from the 2018 Rally of Chikmagalur
Motorsport is expensive. I've heard it a thousand times before, you probably have too. A round of the INRC will cost you Rs 1.5-2 lakh – covering a prepped car from a reputed tuner, entry fees, transport and logistics – and you have to run five to six rounds to stand a chance for the championship. See it adding up? And that's before even accounting for damages. And this is all typically borne by the driver. If he's lucky, or talented enough, he's signed by a team and some expenses are split. So, of course, teamwork is in the best interests of everyone involved.
That last bit hit homed in spectacularly at the first Super Special stage. After the first few cars wearing impossible-to-miss Team Champions stickers flew past, kicking up rooster tails of dust, I started counting. 14 cars in all! Even for a large, well-known, established name in motorsport, that's unheard of. For a new name, it's like history in the making.
Team Champions is hoping to change the sport for the better. How? For starters, by getting talented drivers, previously unable to compete due to lack of finances, to the starting line. In Round 1 of the INRC, at Chennai, Team Champions had two drivers. That number grew to six, with three podiums between them, at Round 2 in Coimbatore. Even a familiar name in motorsport, Bopiah KM, who had given up on the sport because of its expense, was on the podium after a long hiatus, thanks to the team. At the next round, the Rally of Arunachal, with 15 total participants, five belonged to Team Champions. Again with a bag of three podiums between them, including Dean Mascarenhas taking third overall. It was becoming apparent that Team Champions was a force to be reckoned with, with good drivers in each category of the INRC. And right enough the results at the Rally of Chikmagalur speak for themselves.
Started by Vamcy Merla, who also happens to be MD of the Champions Group, and chairman of the Vasundhara Group, the big conglomerates backing the team, Vamcy has a bit of motorsport background himself. An ex-autocrosser, and off-roader, Vamcy knows the costs involved to be competitive, and most importantly – stay competitive. So, for the team to take as many drivers under their wing as they did, raised quite a few eyebrows, including those on faces often seen on the INRC circuit.
Even with seemingly bottomless pockets, how does one go about picking which drivers to hedge their bets on? Vamcy is eager to clarify, "Initially our driver selection was via word of mouth. The drivers we knew were good, and couldn't afford to continue rallying were supported. Then we started talking to tuners, like Thyagrajan from Team Chettinad, to understand who the drivers were that had good pace. That's where the idea of the talent hunt came from." Okay, so that explains the massive roster at Chikmagalur.
But surely that can't be sustained? "See, for us it's a one-time investment to see if a driver has the pace and right attitude. Now that we have an idea of the right combination, our plan for next year is to run a team of seven drivers. Apart from that, if a driver has shown potential, we will support him in every way. We're giving the opportunity to drive without worries." Vamcy seems to have a clear answer as to where he sees Team Champions headed, and wears his heart on his sleeve. In fact, in a bit of very recent news, it appears Vamcy's organisation has also won the rights to promotership for the 2019-2021 seasons of the INRC.
Dean Mascarenhas, who signed up with Team Champions mid-season elaborates, "It's a big relief for someone like me, who ran as a privateer having to take care of everything, to having everything taken care of. To go from holding back to giving a 100 per cent makes all the difference. In fact, Vamcy is pushing for me to move up into the next category next season."
Of course, with the Champions Group and Vasundhara Group having varied interests, in everything from broadcast, to medical, real estate, data and travel, it begs the question, what's in it for them? Well, as it turns out, they plan on introducing an energy drink under the Champions brand soon, and they see this as the best way to market their product. With at least seven cars and double the drivers and co-drivers wearing the livery, we aren't inclined to disagree.
Well, it's early days yet, but even if I take the hardest cynic's view of the situation, we're still left with better participation at rallies, and the potential for newcomers to make their mark. That's not a bad place to be, all things considered.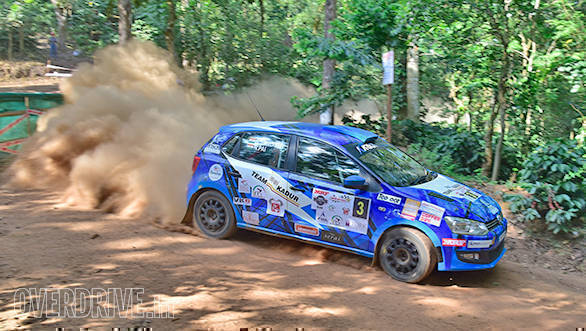 However, money's not just getting more drivers to the start line. It's also making sure there's a start line in the first place! Case in point – the Rally of Chikmagalur. Called the most spectated rally in India last year, when it hosted the APRC, this year was notably subdued with only the INRC on show. Especially with crowd-favourite Gaurav Gill suffering a mechanical issue on the second stage of the second day of the rally. Farooq Ahmed, president of the Motor Sports Club of Chikmagalur (MSCC) was quick to confirm, "People are used to seeing the speeds, the action that the foreign cars brought, when the APRC was held here. Unfortunately for us this year, a lot of drivers were unwilling to bear the cost to come to India, as we were the final round."
But good news rings for the rally in 2019. The APRC moves to a new format, with the proposed Asia Cup (rounds to be held at Indonesia, Malaysia, Japan and China) and Pacific Cup (to be held in Australia and New Zealand). The finals are again set to be held in Chikmagalur, but now it's a must to compete. Between that, and promoting new champions in the sport, it looks like the action from the Rally of a 1000 corners will definitely be in the black.