Back to the future: Porsche's return to single-seater racing
Up until Porsche announced their Formula E program, and their return to single-seater racing, we bet you didn't know that Weissach had even raced single-seaters. You'd be forgiven for the oversight, though. With a rocky start in F1 in the late '50s with modified cars from Formula 2, Porsche jumped into the 1961 season with a bespoke single seater. The only year Porsche participated in Formula 1 as a factory team, it earned one victory with Dan Gurney behind the wheel of its little-known 1.5-litre 804 racecar. Ferry Porsche, worried that Porsche roadcar owners would have little to relate to F1 machines, and more worried that the cars wouldn't be competitive, pulled the plug on the program to focus on endurance racing. And we all know how that went, with an unprecedented 19 victories at Le Mans.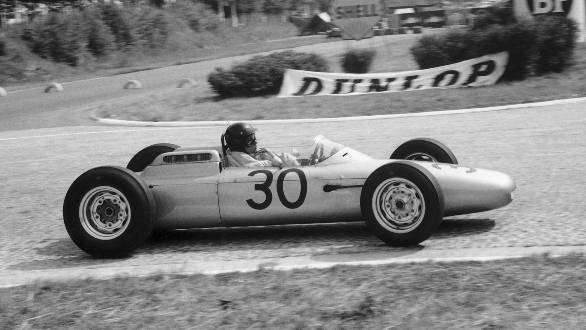 Dan Gurney driving the Porsche 804 to its only victory, in the 1962 French GP
But Porsche did return to F1 in the mid-'80s, the era of the 1.5-litre turbo monsters, as an engine supplier. Quite reluctantly. Hans Mezger, legendary Porsche engine designer, worried about the performance of a small turbo engine when they had powerful non-boosted three-litre engines at their disposal and once again, old fears of having the Porsche name associated with a non-performer surfaced. But Ron Dennis, team manager of McLaren insisted, and with sponsor TAG Group stepping in, the engines were branded TAG instead – the very roots of the Porsche-Tag Heuer association today!
The McLaren MP4-3 of Alain Prost powered by the Porsche-TAG turbocharged 1.5-litre V6
Porsche's worry was spectacularly unfounded though. The 850PS V6 Porsche-TAG motor helped take the McLaren team to 25 victories, three driver championship titles and two constructor victories, with none other than Niki Lauda and Alain Prost at the wheel. And with the end of the turbo era in 1989, so came the close of the Porsche's involvement in single-seat racing. Until now.
2019 brought with it the announcement that Porsche was returning to single-seaters! But not in Formula 1, as it had been rumoured for ages. Recently, Porsche's head of motorsport, Fritz Enzinger, even confirmed that a 1.6-litre V6 for F1 had been developed and tested. But when the rules didn't go in favour of simplified engines without the MGU-H, the plan was axed by the higher-ups in the VW Group, around the same time Porsche made waves by exiting the World Endurance Championship at the peak of their victories. Instead, it was decided that Porsche would focus all its efforts at the future frontier of motorsport, Formula E.
The decision couldn't have been a tough one to make, really. It's the ideal test bed, and simultaneous showcase, for electric technology. Porsche engineers already had more than a fair idea of how to make a high-energy electric motor perform well in motorsport. And that's putting it mildly. The Porsche 919 Hybrid prototype, with its 1,000PS 2.0-L V4 hybrid, won the factory three consecutive WEC titles before Porsche pulled out of the series. And all the know-how gleaned from making the high-voltage architecture for the Formula E project, then went into taking the Mission E from concept to reality in the Taycan, the world's first electric vehicle based on an 800V architecture.
2017's 24 Hour of Le Mans winning Porsche 919 Hybrid of Earl Bamber, Timo Bernhard and Brendon Hartley
"I was pretty sceptical about electric, before I drove the 919 racecars. There's not one driver who would drive that car without the electric component. On combustion alone, the car is not very great to drive. With the electric motor, the penny just starts to drop," quips Mark Webber, ex-F1 and Le Mans winning driver, and Porsche ambassador, ahead of the first round in Riyadh. A huge Porsche enthusiast even before he was part of the Weissach family, his most prized possession is a rare 997 GT3RS.
As an integral part of the development of the all-electric Taycan, he says, "It's the car I want to show off more to people, my friends or whoever, more than any other Porsche. You know that's where the future is. At some point it's like 'I'm going to have to get on this train'. I'm sure people would be blown away when they touch and feel the Taycan, its acceleration, its recharging times are very impressive too." While I can't attest to the recharge times, I am, in fact, blown away after a brief taste of a Taycan Turbo 4S on the tight confines of the Ad Diriyah street racetrack. Seeing as to how I don't have an FIA licence, I was relegated to the passenger seat, but the brutal, instant acceleration up to 170kmph is something I have never felt before – and I've experienced my fair share of 600PS machines. It accelerates as quickly as one of the Formula E machines, and as always, things are more exciting inside the car than on the outside looking in.
The same goes for Formula E. While the racing can sometimes look undramatic on the tight city circuits that lack overtaking opportunities, it's anything but when it comes to the grid. It's the only racing series with 11 manufacturers vying for the top spot, with Porsche and Mercedes-Benz joining the likes of Jaguar, BMW, Audi, Nissan, DS, and India's very own Mahindra. Then you consider that Formula E's driver line-up has everyone from ex-F1 drivers, to Formula 2, SuperGT and WEC champions. It's sort of an uphill battle for Porsche, who's signed Neel Jani, and Andre Lotterer, who's raced a couple of seasons with DS Techeetah, with a best finish of eighth in the driver's standings. To make things even more challenging, while new manufacturers have joined the fray with a head start gleaned from taking over teams in the sport, Porsche has decided to start afresh with their 99X Formula E challenger.
Andre Lotterer is no stranger to Formula E, having driven two seasons for DS Techeetah
And while it may have seemed simple in the past, with all 12 teams running a standardised chassis, bodywork, aero, suspension, motor and gearbox, the new rules for the 2019-20 season have thrown open a fair bit on the car. The motor and gearbox can be developed in-house, and Porsche uses their expertise here, along with developing bespoke rear suspension. The key is set-up and strategy, especially since the format for Formula E now includes a cap on race energy. Not to mention the advantage that can be had from Attack Mode, which allows the driver a brief amount of extra power by going off the racing line at a particular point on the track, or the slightly unfair Fan Boost, which allows drivers a similar boost when voted for on social media.
Neel Jani, had a brief tryst with Formula E in 2017, taking part in a single round but returned to WEC, helping Porsche develop the 919 Hybrid Evo, a tribute to the WEC-winning LMP1 car
None of which you actually know when you're on ground, spectating from the grandstands. Even with a giant TV screen ahead of you, with race positions marked in tiny, illegible fonts. But none of that seemed to matter to the Saudi fans gathered in scores, many there not as much to follow the racing than to exercise their new-found freedoms. Even in conservative Riyadh, women and children seemed to be able to let their hair down, literally, in the excitement that's been constructed around the ePrix. Having the opportunity to sit down in a simulator and race next to a real racing driver is great, but I think the sport would benefit more from making it easier for fans to follow the televised action, and to improve the racing action itself! Many suggest an inclusion of at least a few proper circuits on the calendar, at least ones that are more technical, and I'd be inclined to agree.
Andre Lotterer on the podium after a brilliant second-placed finish at Round 1 of the Ad Diriyah ePrix
As for Porsche, they couldn't have asked for a more emphatic debut in Formula E, with Lotterer working his way up to the second step of the podium, through smart driving and strategic overtakes. A feat no one was asking for, considering how unrealistic it would be, and one that no one was expecting. Least of all the team itself. Head of Formula E operations for Porsche, Amiel Lindsay, weighed in after the race, "It's a small reward to keep pushing! We still have a lot to work on. The goal is to always bring back the two drivers on the podium, but we have a long way to go. As they say in racing, tomorrow's a new day." At the time of going to press, the second round of the championship in Chile was fraught with incidents for Porsche. But it's early days yet. And if we've learnt anything from Porsche's illustrious motorsport history, it's that the team from Weissach will only quit when they're ahead.