Ask Karun: On Bernie's departure, Bottas' Mercedes switch and more
It's finally happened. The deal is through and Bernie Ecclestone has been sent packing. What changes do you think will take place within Formula 1, especially in the 2017 season now that Liberty Media has taken over? How effective will the Ross Brawn and Sean Bratches combination be?
- Ruhi Sarkar
I don't expect anything dramatic to happen for the next couple of years, but from 2019/2020 onwards we'll start to see a real change. F1 is a huge operation and organisation, so the first job for the new owners is to really study and identify the existing structure and operating model before effecting change. A lot of contracts with the teams, race venues and TV companies are already in place so until those lapse, you're not going to see wholesale change. Ross has been very vocal about the lack of long-term planning in F1 and that is something that has been a huge issue for the sport. Way too often we've seen reactive changes made instead of well-planned ones and this is something that needs to be addressed.
Bernie Ecclestone's no longer part of Formula 1, having been gently elbowed out by Liberty Media
Given the new specs for the 2017 cars, how do you think the following drivers will take to them: Felipe Massa, Kimi Raikkonen and Fernando Alonso. Also, what is your realistic opinion of Valtteri Bottas being able to challenge Lewis Hamilton in a similarly specced car?
- Salman
All the good drivers will adapt to the rules just fine - the bigger question is whether each of their teams will have a car capable of fighting for results. Expect to see Williams in the battle for fourth, but it's a big year for Ferrari and McLaren. Can the former get itself back on track to hunt down Mercedes? And will McLaren finally have a power unit from Honda capable of moving them out of the doldrums? Valtteri has been given the opportunity of a lifetime to jump into the dominant car of the recent past. Going up against Lewis Hamilton is not going to be an easy challenge and could be the making or breaking of Valtteri. Either he will take the fight to Lewis and therefore establish himself as one of the elites or he will be relegated to the role of the number two. Pre-season testing will be all about relationship building for Valtteri. He needs to build up a rapport with his engineers, he needs to understand the systems and processes that the team use, and they need to understand his style of driving and his method of communicating.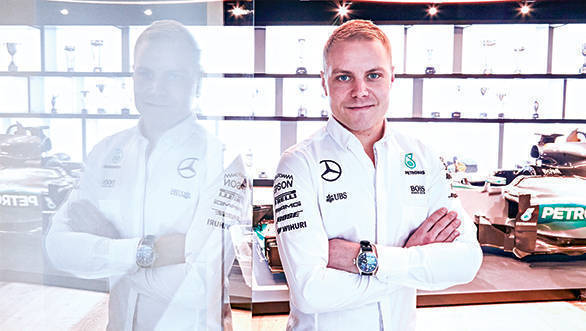 Valtteri Bottas needs to take the fight to Lewis or be relegated to the spot of No.2 driver within the Mercedes team
Like all the greats in F1 history, I don't believe that Lewis shows his hand until he really needs to. Testing to him seems like a bit of a chore and I genuinely think that it won't be until Q3 in Melbourne where he will really show Valtteri his full potential. Valtteri has a good amount of experience under his belt now and has a calm, cool and methodical way of going racing. And he is fast. Very fast. Fast enough to take on the second most successful driver in F1 history? We'll know in 10 months.
We've heard a lot about Pascal Wehrlein, and it did seem at one point like he might end up driving alongside Lewis Hamilton at Mercedes. How good is he really? Will experience with Sauber help him? And can they provide him with what he needs to grow in F1? They have had a rough couple of years.
- Samson Philip
I think that Wehrlein is good and he delivered some strong results for Manor last year. The Mercedes management did a clever thing last year by pitting him directly against Esteban Ocon in the second half of the year. They obviously saw more potential in Ocon which is why he got promoted further up the grid to Force India while Wehrlein made the relatively small step up to Sauber. It's always hard to judge drivers in small teams from the outside - I would know! There were several weekends where I ended up ahead or behind my team-mate for reasons unknown to the outside world as it's very difficult for the smaller teams to be able to produce two cars of identical specification. Therefore, you have to look at the decision made by Toto Wolff and the Mercedes management who obviously had all the data and information before they were able to choose between promoting Ocon or Wehrlein.
You've raced in a whole range of series over the last decade. Can you tell us what you believe is the future of single-seater racing, the future of tin-top racing, and the future of electric racing?
- Raghav N
That's a huge question! I think that there is space for everything in this sport to coexist. I really hate it when the sportscar journalists, drivers and teams start comparing and bashing Formula 1 because really each branch of the sport has its own merits. Alejandro Agag and the promoters at Formula E have had a good approach from day one of saying, "We're not F1 and we're not competing with F1. We are here to create our own space in the world" which I think is the right approach.
In the same way that you can have test cricket, one-day internationals and twenty20 matches, similarly there is space for F1, sportscars, touring cars, GT racing, NASCAR, Formula E etc. Don't forget, motorsport is a truly global sport which takes place in every part of the world, unlike cricket.