Ari Vatanen: Life as he knows it
It's a sweltering hot day in Essay, France, where the first round of the TitansRX championship is taking place. Almost all of my energy is directed towards preventing myself from melting into a puddle of nothingness, and the heat has lulled my brain into such a stupor that not even the revving of a 540hp engine has any effect on me. I'm only roused from my reverie when a tall pleasant-faced gentleman presents himself before me, grasps my hand in an amiable shake and says, "Hi, I'm Ari!"
I'm not quite sure if I do a very good job of introducing myself, because at that instant, my brain conjures up footage from Climb Dance, that most beautiful of all motorsport videos, and flashes forward to the 3 minute 28 second mark. It's the point in the video when after battling corner after corner with both hands on the steering wheel, the brave driver raises one red-gloved hand to shield his eyes from sunlight, and continues flat out over the Pikes Peak course with only the other hand doing the steering. It seems almost surreal that 31 years after that video was filmed, I'm watching that very driver - rally legend Ari Vatanen - casually amble through a tent introducing himself to people, oblivious of the effect he's having on them. Eyes widen, jaws drop and tools nearly slip from greasy fingers. After all, how many people who've accomplished as much in motorsport as Vatanen has, can manage to be this unassuming?
Finnish rally legend Ari Vatanen surrounded by Group B rally monsters
A month after that first encounter, I manage to wrangle an interview with Vatanen. This time it's at the second round of the championship at Lydden Hill. It's here, even while I see him posing for an endless number of fan photographs, and stopping to talk to several people that he's befriended over the course of the week, that he tells me of his approach to his fame. The fact that he wears the mantle of 'motorsport hero' lightly is evident. Of course, he is touched, he says, by the affection and respect people have for him. But he's quick to add, "I'm not a hero. I haven't saved anyone's life." What he believes he's done, instead, is this: "I just witnessed how my life unfolded in front of me in a way I could have never imagined."
To fully grasp what he means we need to travel to the tiny Finnish town of Tuupovaara, 460km north-east of Helsinki. A place remote, isolated, so sparsely populated, that it was guarded by a single policeman. One who would inevitably be fast asleep when, in the dead of the night, 13-year-old Vatanen would try practising the Scandinavian flick on deserted country roads. But the turning point in his life had been a year earlier, when a rally visited the faraway town in which he grew up. All of 12 years old then, he sat by the side of the road from 10pm, waiting with bated breath for the rally cars to come by. The first car showed up at 2am. "It was a Finnish summer night in mid June. So you have this fantastic light in the middle of the night. And then at two 'o' clock the first car, a white Volvo 544, came and kicked up the dust and went sideways," he says, his voice heavy with emotion as the memories come flooding back. "I was absolutely fascinated… captivated by what I saw. And I think my mind, my spirit, went with the car. Only my body stayed behind," he smiles. It was at this precise moment that Vatanen says his dream was born. A dream that was, "Not to succeed, but a dream to just drive and to just experience the overwhelming pleasure of driving!"
Ari Vatanen and Terry Harryman in their Peugeot 205 T16 at the 1985 Acropolis Rally, which, unfortunately ended in retirement
Vatanen is aware, however, that it was probably this quest for the "overwhelming pleasure of driving" that not only characterised his driving style but also his rally results. It isn't something that bothers him even after all these years, because, as he puts it, "I have lived life not at the reserve! I cannot live like that," he says. And he says it so emphatically and earnestly that one can't help but feel it was the right choice for him to have made. "I live in a way that I say 'Let's go for it!'" he laughs. But he does admit that there were a couple of times when, had he braked 10 metres earlier, he might have "saved my wife and myself a few headaches and heartaches."
However, Ari Vatanen is Ari Vatanen. Which is why he reacts the way only he can react - "spontaneously". Which is why he writes the way only he writes - "My writing is very large. My signature takes up a whole page. It's just my character". And which is also why he drives the way only he can drive: "I am not an 'Alain Prost', not someone so clinical, someone who studies. No. I'm an artist!" he says. And it immediately conjures up images of that Peugeot 205 T16 drifting through the snowy stages of Monte Carlo.
Vatanen en route a fantastic victory at the 1985 Monte Carlo Rally
Pure artistry. Albeit artistry that he believes led to that infamous "Vatanen Luck", that he's already owned up to creating. "I got consistently carried away, because my pure pleasure of driving overwhelmed my rational thinking," he says. But his habit of going into a corner without knowing what lay ahead, and then braking late, led to an important realisation. One that he doesn't recommend people try while driving, but a metaphor that he feels is applicable to life itself. "If you brake late in life, you have no time for opportunism, you have no time for cynicism. You, with all the drawbacks you have, lead a real life," he declares.
But this real life that Vatanen speaks of, came with ups and downs that followed each other in rapid succession. Like the ever-changing nature of a rally stage - a sharp left here, a sharp right there, a crest here, a dip there - Vatanen's own life seemed like it moved from misery to joy and back again very rapidly. "You cannot believe how low I was after an accident," he says, speaking especially of his early days in the sport. The Vatanens didn't have a fortune to spend on rallying, and the money he lost early on in his career was significant. "If I would tell any of my neighbours how much of my limited family budget I was losing, they would think that I was insane. Or that my mother was insane. She had already lost her husband in a car crash and now her son was doing something life threatening!" But Ari persisted. A week before the Nortti Rally, a turning point in his career, he'd had a disastrous outing at another local rally, rolling his car in only the second stage. From the depths of his misery, however, he was flung forward to the highs that came with the win at the Nortti Rally. "And a week later, I could not believe that I was physically or psychologically in such a state that I could beat Hannu Mikola by seven seconds!" Even now, all these years later, he sounds incredulous. He says he went from wanting the earth to swallow him up, to coming out of this funk and saying in his characteristic manner, "We go, we go, we go!" It led to another realisation about rallying and about life: "That your lows are low, and your highs are high."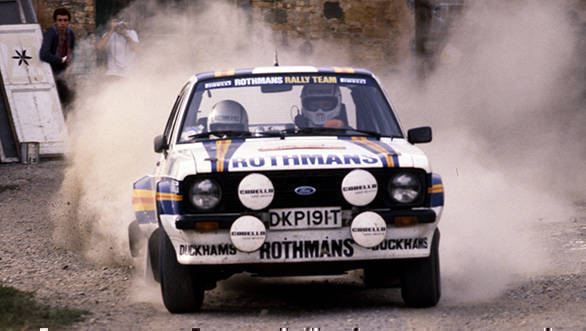 Ari Vatanen in the Rothmans Rally Team Ford Escort, with co-driver Dave Richards at the '81 Rally San Remo. The pair won the title that year.
The highs, of course, include the 1981 World Rally Championship title, and four Dakar titles won in rapid succession between 1987 and 1991. "Four-and-a-half Dakar wins," he reminds me, referring to the time he was disqualified from the '88 edition of the event after his Peugeot was briefly, and bizarrely, stolen while he was in the lead. But Vatanen seems to hold excellent driving, as opposed to merely racking up wins and titles, as a true measure of his prowess behind the wheel. Which is why a handful of rally stages where he felt such a smooth, seamless, almost musical flow, matter so much to him. Stages where it no longer seemed like he was driving, but instead it seemed like an out-of-body experience. Of these stages, one came during the 1985 Monte Carlo Rally, where he had that famous duel with Walter Rohrl. If you want a blow-by-blow account of what transpired, I recommend reading Vatanen: Every Second Counts by Vesa Väisänen. It's a beautiful and honest account of Vatanen's time in rallying, but it's a hard book to find. So here's a brief summary: after the initial stages of the rally, it seemed that Rohrl was well on his way to a fifth Monte Carlo victory. Then Michelin gave Vatanen new tyres for his Peugeot 205 T16. "They gave me fantastic grip, just suddenly! They also uplifted me psychologically to another level. I got wings! I got wings! I flew! I got wings!" he exclaims all these years later. On a stage that was approximately 22km long, he beat Rohrl by "Over 20 seconds!" It wasn't all smooth sailing from then on though. Later on in the rally, when co-driver Terry Harryman made an error, the duo lost eight minutes and seemingly lost their chances of victory. But eventually, Vatanen's decision to go with studded tyres would prove to be smarter than Rohrl's decision to run without studs. That, and some fabulous driving, would allow him a glorious, hard-fought, Rally Monte Carlo win.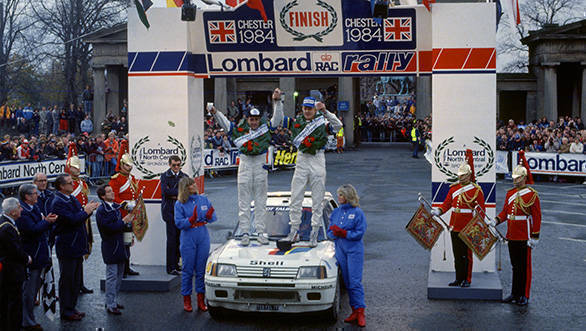 Ari Vatanen and Terry Harryman celebrate victory at the 1984 RAC Rally
Another one of those stages was in Jyväskylä at the 1993 Rally Finland. This time, Vatanen had to hunt down Juha Kankkunen who had a 16-second lead over him. On the Saturday of the rally, over a 20km stage, Vatanen managed to beat Kankkunen by four seconds. Then over a 40km stage, he beat him by another four seconds. And on the subsequent stage, held over a distance of 20km, he beat Kankkunen by an astounding "11 seconds!". If not for a missed gear that lost him time, he might have beaten him by 13 seconds. Vatanen might not have won that particular rally, but that stage win was very, very special, and his eyes light up just talking about it. "When I saw Juha's time, because I was second on the road, I hit the roof so hard out of joy that I nearly sprained my wrist. Of course, on the following stage we had a technical issue and I fell back, but that single stage stands out in my life," he laughs. But how did he manage such a phenomenal time? His answer brings to light his spiritual side. He tells me that I might find it hard to believe or understand, but it has to do with a young Finnish girl named Daisy who he had met at the stage start. Vatanen had first met her grandparents in 1977 when, as a fledgling rally driver, he went to Kenya to compete in a rally. The Finnish family ran a care home for African children who had been born with birth defects - a noble cause, and one that clearly means a lot to Vatanen. "Suddenly in my mind I thought of my first visit to Africa. Meeting her at the beginning of the start line seemed to give me some sort of spiritual strength," he says.
There is, however, another aspect to finding those seconds. And it's just as mysterious. According to Vatanen, these seamless performances only show up when you find the elusive "key". "But you don't know where the key is. It's not like a loaf of bread that you can go to a shop and buy. Or a cup of coffee that comes when you order it. I suppose you can do some mental training to find the key, but it's not linear. It's not like you do this, this and this, and it happens," he says.
Vatanen and Harryman yumping their way to victory in the Peugeot 205 T16 at the 1984 San Remo Rally.
But even as Ari Vatanen learnt from the highs that life brought him, it was the lows that came with far greater, long-lasting life lessons. The sort of lessons that shaped him into the person that he is today. "I realise the depth of life because I have been to so many funerals," he says. The levity with which he has spoken so far, seems to have diminished, and he says quietly, "I very nearly died myself."
After his horrific crash at Rally Argentina in 1986, there was a period of darkness that followed. "I was a totally broken man in every way," he sighs. It took multiple surgeries to patch him back together and set him on the road to physical recovery, which was challenging enough. But perhaps the greater, and at one point seemingly impossible, challenge was inside his own head. Vatanen was convinced that he had contracted AIDS during a blood transfusion in Argentina, and despite several tests and several doctors who assured him that this wasn't the case, he persisted in his belief. It alienated him from friends and family, and he was in agony from a disease he did not have. "For months it became a reality for my life. And then I finally awoke as if from a nightmare, and I never looked back," he says. Unpleasant though some of Vatanen's experiences might have been, they brought with them the realisation: "What makes life so fantastic is that it can be taken away from you every minute, or any minute. It's so fragile and that's why it's so beautiful," he says. And also: "Life ricochets like a bullet. It can suddenly change direction. And that's why you can't control it. Once you realise you can't control it, you can enjoy it," he smiles. And since we have no choice but to accept our inevitable mortality, he says it's entirely futile to live a life of safety. A life without risks. "If you're looking for truth in life, you end up swimming against the majority always. But what have you got to lose in life?" he asks. And then, as if to impress upon me that this really is the only way to make progress, he adds, "We need to do unreasonable things in life. If we only do reasonable things, humanity will start to go backwards. We need to do unreasonable things… to push the limits - we have to exceed ourselves."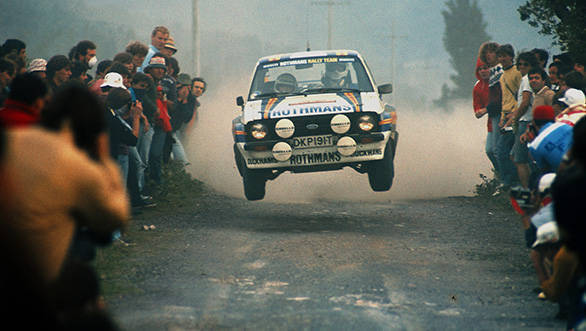 Vatanen and Dave Richards in the Ford Escort RS GR4 of Rothmans Rally Team
Perhaps it is this desire to do something, to push forward, to exceed himself, that led to Vatanen's political career. Between 1999 and 2009 he served as a Member of the European Parliament, something he felt was "a noble cause irrespective of whatever happens in everyday political life." And it was during his monthly visits to Strasbourg, where the parliament convened, that he had the chance to gaze upon the magnificent Strasbourg Cathedral. A building so awe-inspiring that he likens it to life itself. "That structure is made of a million little pieces of stone, and I think that we all bring our own little piece of stone into the cathedral of life. It doesn't matter how big the piece is, but it has to stand the test of time, the scrutiny of time," he says. "We must be hopeful, and we must give hope to everyone," he continues. But what's it like for someone who spent a large part of his life measuring his every move against the clock to finally start slowing down? Vatanen laughs. "I don't worry about aging. I accept it. I try to remind myself how lucky I am to be alive. I don't worry if I am aching here and there because it means I'm still alive!" he chuckles.
In the Subaru Legacy RS at Acropolis in '93
To say that Ari Vatanen is still alive, is to put things mildly. From what I saw that weekend, he isn't merely alive. He's enthusiastically alive. Which also explains his desire to be part of a new championship like TitansRX. "I have enormous respect for Max Pucher, who has invested his money in this because he believes rallycross can be improved. He put his money where his mouth is, and so I want to be involved in the process as far as I can, because people like this need to be encouraged." But his role within the paddock seems to extend far beyond that of the series' brand ambassador - he knows the name of nearly every single mechanic or team member in the paddock, and calls out to them to say hello as they walk by. He's got a word or two of advice for drivers who seem to be having trouble over the course of the weekend. And he poses for photographs and answers every question that the fans gathered at Lydden Hill have for him. In short, it seems like Vatanen is doing what he said he believes we all ought to be doing - giving people hope. And working on that little stone that he wants to put into the cathedral. You can be sure though, that his stone will enter the cathedral at full speed, brake a little late, and finally flick itself into position sideways.