Anindith Reddy: Adrenaline junkie
If you offered Anindith Reddy a unicycle to ride around a racetrack, I'm pretty sure he'd accept without hesitation and hit the tarmac. In fact, I think he'd even manage to set a pretty good lap time as far as unicycles go. You see, I've been meeting him at almost every race weekend, and despite admitting to be more of a tin-top racer, he's out winning races in the single-seater championships. "I'll drive anything as long as it means I'm racing on the track, even a Tata Prima race truck," says Reddy, who is currently leading the Euro JK 16 Championship (previously known as the JK FB02 Championship).
At 26, he's got three years of professional racing under his belt with two championship titles – the 2014 Volkswagen Polo Cup Junior Championship and the 2015 Volkswagen Vento Cup Senior Championship. But according to Reddy, the first one didn't come very easily. The Volkswagen Polo Cup was his first attempt at professional racing, and it proved to be a huge learning experience. Reddy admits that he always knew he could set a fast lap around the track. However, his lack of racing experience showed in the first few races of the Polo Cup where he learnt that there is a lot more to racing than setting a quick lap time. "I knew that the other guys on the grid who had a lot more experience definitely had better racecraft than me," he says.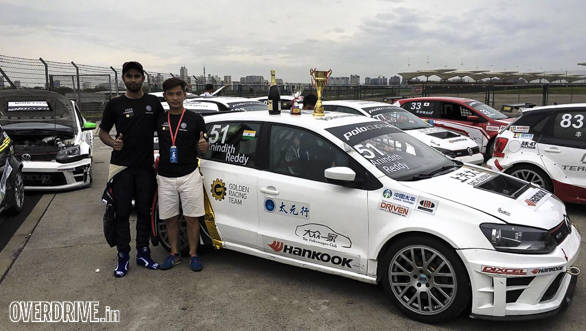 But as the season progressed, Reddy focused on fixing this chink in his armour by talking to other racers and incessantly watching race footage. By the end of the season, he was starting right from the front of the grid and had begun catching the fastest guy on track, Karthik Tharani. Reddy still firmly stands by the fact that one of the best ways to improve yourself on the track is to watch your on-board footage over and over again. "See what you're doing and see how the car reacts to that. Immediately you'll know where you're making mistakes," says Anindith.
Winning the VW Polo Cup Junior Championship made claiming the overall title in the 2015 Vento Cup a walk in the park for him. Another great recommendation from Reddy on improving yourself is to simply be that humble chap off the track who is always willing to learn from fellow racecar drivers. "Most of the drivers on the grid were my friends, and I also knew good drivers like Armaan Ebrahim and Aditya Patel, who have already made it. Just speaking to all of them as much as possible helped me identify my mistakes," says Reddy.
While learning to become a better racecar driver, Anindith says that the sport has also taught him to get him to the very top of the metaphorical race of life. "In most other jobs, you can be the second best or the third best and still make millions. When it comes to racing, none of that matters. It teaches you that nothing but first is good enough," he said fervently. That's probably why Anindith has three start-ups in the IT sector to his credit instead of trying to make his way up the corporate ladder like a lot of other 26-year olds.
When I asked him whether he would give up his job for a full-time career in racing, he thought for a second and said, "I know that for the next six months I'm committed to making these start-ups successful. But after that, if I saw a career in racing, I'd definitely go for that." However, when I asked if his parents would be okay with that, he paused for a while, chuckled and said, "We'll cross that bridge when we get to it."
But by the looks of it, Anindith's parents seem to be coming to terms with his part-time racing career in India. Like a lot of parents, he says they initially didn't quite understand why he was doing this and were concerned about his safety. However, once he proved his mettle in the 2015 Vento Cup, his parents gradually began to accept it. "I guess they've identified that I've come a decent way in the last three years," hopes Reddy.
To him, these three years of racing have been really good, and looking back he doesn't regret any of the decisions he's made. "I don't see how much better it could have gone," says Anindith on whether he would have made any of those choices differently now. While he did admit to dreaming of becoming a rally driver when he was really young, he's still happy with his choice of motorsport. "I loved it but somehow I never saw myself doing it while I was considering racing professionally. Now that I think about it, maybe the part of rallying I don't see myself in is having a co-driver. Rallying is more about listening and driving than seeing and driving. That's something I'll need some getting used to," says Reddy. However, he did say that he loves driving on dirt and he is considering Rally Cross.
Another thing he seems to love dearly like all of us petrol heads is the internal combustion engine. But with the way things are going, he seems rather worried that pretty soon, we'll all end up driving "boring electric cars". So while he isn't sure where he'll be in 10 years, he hopes to still be racing anything he can get his hands on and also contribute towards the development of a renewable fuel source. This, so that petrol heads like me won't be deprived of the incomparable joy from a good ol' internal combustion engine and a manual transmission. Well, I say amen to that!
Price (Ex-Delhi)
Starts Rs 6.17 Lakhs
Price (Ex-Delhi)
Starts Rs 8.78 Lakhs