All about the OVERDRIVE SUV Slugfest
An anniversary, especially the 20th one needs a special celebration. And that is precisely what we have here - a proper SUV Slugfest where not just 20, but 25, of the best SUVs sold in India take on each other in one of the most demanding and challenging arenas.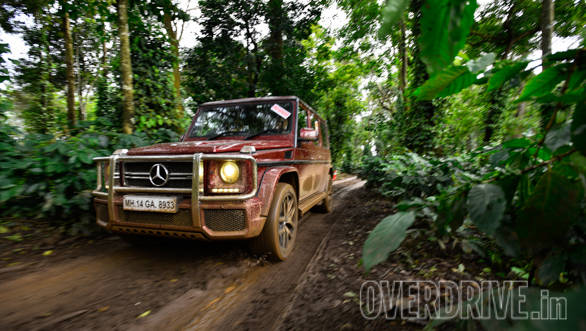 But why SUVs? Simply because a SUV is meant to be 'more than a car'. And currently, they are the most popular and fastest growing segment of vehicles, not just in India, but all over the world. The popularity of SUVs just keeps growing with almost every manufacturer having added them to their stables. Even Bentley, Maserati and Lamborghini are making SUVs and Rolls-Royce is set to launch its first, the Cullinan. Now with Ferrari also confirming they will be producing a SUV, which will be the fastest vehicle of its type, it appears the last bastion has fallen too and the entire automotive world is caught up in the grip of the 'SUV craze'.
Interestingly, though SUVs are now the preferred choice in most of the western world, it's not like they really need them. But India is different. Our pathetic driving conditions actually make SUVs ideal vehicles and an essential requirement for our country. Because when it rains, along with the broken roads you also have to negotiate flooded streets. After the rains, potholes, large dips and bumps, sharply eroded road edges and huge unmarked speed breakers lie in wait too. Broken and unrepaired stretches on the highways are widespread too and to get anywhere, especially far, you need a vehicle with good ground clearance and a rugged suspension. SUVs with their big and strong bodies also offer a sense of security and safety and as you sit tall, one has a dominating and better view of the road. Of course, most SUVs have more space for both the occupants and their luggage too.
If you happen to be one who visits construction or infrastructure sites, mines or farming fields and rural villages in the interiors of India, you definitely need a SUV. Then there are those of us who have a nomad in their souls and like being outdoors and having an affair with nature. For them again, the SUV is a perfect partner in their drives of discovery.
But which one? We in India are now spoiled for choice and have numerous different models to choose from, ranging from the utilitarian Mahindra Thar to the ultra-luxurious Lexus and popular Maruti Suzuki Brezza to the highly aspired for Range Rover. In this 'SUV Special Slugfest', we have tried to cover almost all the available options. So let's take a look at the kind of SUV that suits your style.
The Test
We put 25 SUVs through their paces and subjected them to a kind of 'functionality test' never attempted or done before. Certainly not in India, and possibly nowhere else in the world either.
An SUV is meant to allow one to enjoy 'life beyond tarmac'. To put your family in, pack in all their stuff and hit the road in search of your dream destination. This is what a SUV should ideally inspire you to do. It should also be unperturbed by bad roads or tough climatic conditions, while providing the comfort and practicality to make your journey equal to the delights of the destination. It must possess good touring ability and have the performance to make covering long distances on the highway fun and easy. And when the paved road runs out, as they often do in the interior and many of the prettier and unexplored parts of India, the SUV's all-terrain capability ought to be able to allow you to continue motoring.
But do the SUVs presently available in India actually offer this kind of an all-round ability and functionality? We have designed a special test based on our very own unique six parameters to investigate this. While we tried to include at least one SUV from each manufacturer, logistical constraints, availability of vehicle and time, may have led to us missing out on some. In any case, getting 25 SUVs together in Chikmagalur in Karnataka for this 'Mother of All SUV Stories', is an enormous achievement in itself. But please note, this is by no means a direct comparison test. We have taken a selection of SUVs from across segments like – Compact, Premium, Luxury, Upper-Luxury and Hardcore SUV, and subjected them to a close scrutiny based on our six parameter formula. There are no winners or losers here, and nor have we rated them in any order. But they have all gone through a very detailed and meticulous inspection, and we have some very insightful, and beyond the brochure findings to share.
The Six Parameters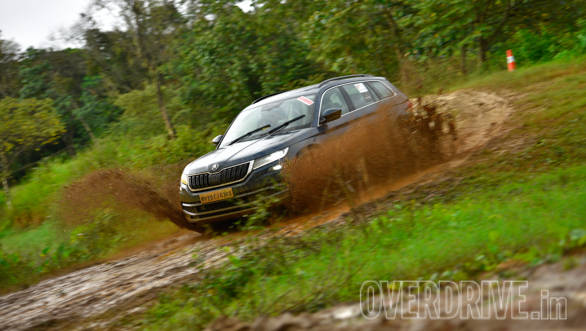 1) Styling and street presence
Due to their very nature, SUVs are meant to have a distinctive body style. In the old days, most if not all SUVs had a very clear cut two-box design, with one box for the engine and a bigger one behind it for passengers and their luggage. The body was generally upright with good ground clearance and high seating. The tall interiors and passenger compartment also meant a high center of gravity.
With the growing popularity of SUVs and the developments in design, the traditional styling has evolved and many SUVs presently have subtle and smarter styling. Some don't sit so high off the ground either and a new soft-roader kind of design has also emerged.
One thing that has not changed though, particularly in our country, is the fondness for street presence and overall looks, both of which are very vital criteria for most SUV buyers, and it's our first parameter for this test.
2) Seating and visibility
A commanding view is one of the fundamental things one expects in a SUV. We have investigated if the view is really that good, or if the driver's vision is impeded by some styling or body elements. What about the windscreen? Do the wipers clean enough of it? And well enough in the kind of heavy rain we experience in parts of India, like Chikmagalur, where this test was carried out. And what about the headlights? They also get dirty in the sort of mucky conditions we encountered. Which are the SUVs equipped with headlamp washers?
High seating is another essential expectation in a SUV. Earlier most SUVs had two door body-styles, but now almost all have four doors. So is the ingress and egress better, and is getting in or out, actually that much easier ?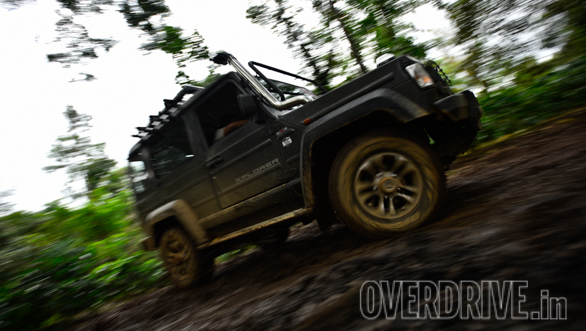 3) All-terrain capability
What happens when the paved road runs out? Does the SUV have adequate ground clearance and any sort of all-terrain capability? Is it a pure two-wheel drive, how long are its overhangs and what is the off-road performance like? Does it also come with all-wheel drive or four-wheel drive? And which are the off-road driving aids on offer and how practical and useful are these? Does it have advanced modern day features like adjustable ride height, terrain administration systems, etc.? Or any kind of underbody protection.
4) Practicality
What if you have a flat tyre? Is the spare wheel adequate and are the wheel and its changing tools easy to access and use? Does it have adequate and usable storage spaces in the cabin, and any other innovative features that can be helpful on long journeys?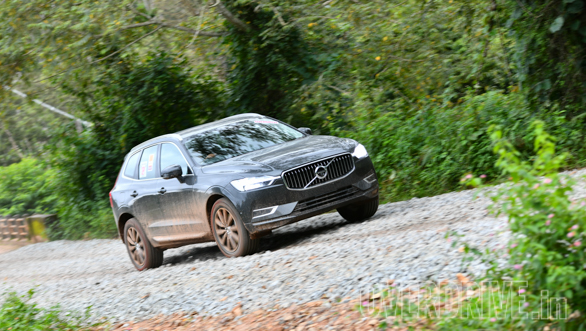 5) Touring Ability and Performance
On a long drive you don't want to keep making stops to refuel. Finding fuel stations in some of the more desolate parts can also be difficult. So how is the overall fuel efficiency and what is the fuel tank capacity and overall range? How is high speed stability and drivability and overtaking competence? What is the boot capacity, actual usable space available and how easy is it to load luggage?
6) Stage Timings
The stage timings were done on a difficult, narrow and dangerous stage created especially for this "OD SUV Special Slugfest". Our exclusive 2.3 kms long dirt stage is in fact a part of one of the actual stages of the Coffee Day India Rally of Chikmagalur, which is part of the FIA Asia Pacific Rally Championship (APRC).
The Coffee Day India Rally is usually run in the month of December, when the stage is dry, smooth and fast. But we chose to drive our stage located within a fully functional coffee estate, in the middle of the monsoons, when it is wet and slushy, and the mud so slippery and deep, that it is difficult to even walk on. Driving on it was obviously a big challenge and put the all-terrain capability of the SUVs to an extreme test, the likes of which most owners will rarely experience. The vehicle's grip levels, handling and balance, steering response and accuracy, ability to put power down smoothly and without losing traction, braking, center of gravity, body roll, size and weight, and of course the grip levels offered by the tyres were all on trial in this exceptionally difficult test.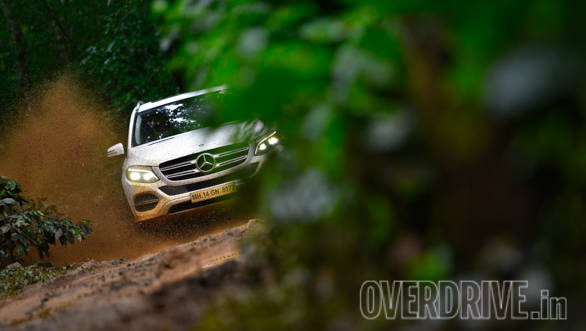 Almost all SUVs were fitted with standard OE tyres, most of which are largely meant for street use. Only the hardcore SUVs like the Jeep Wrangler, Force Gurkha and Mahindra Thar had all terrain or mud terrain tyres that are far more suitable for such driving conditions. We drove the vehicles with the ESC (electronic stability control) off where permitted and with all-wheel drive engaged were possible. If the AWD has a terrain management system or driving modes, the ones most appropriate for mud and slush, the surfaces in our stage, were chosen. With SUVs that have both 4WD low and high, we selected high, as low would have been too slow for the stage.
While the stage timings give a fair idea of the performance on slippery dirt, with the SUV being driven fast, they cannot be the only parameter for judging a vehicle. The stage times provide just a partial, but particularly revealing picture, of the 360 degree view of our six parameter formula test.
Vikram Narendran, the now retired gentleman rallyist and 1991 Group N (Stock) Category Indian National Rally Champion, was our official stage driver. Because he is a dear friend of OD, and a consistent and safe driver too. In the slippery and treacherous conditions prevailing on our stage, we needed someone who would push, but also keep the vehicle on the dirt trail and free from damage. In fact, to his credit, in the entire two days of setting stage times, Vikram had just one minor incident, when the SUV he was driving gently kissed a tree, collecting a little dent on the bonnet.
About The Stage
Mohammed Asim, a pure petrol head who also assists with the making of the road book of the Coffee Day India Rally, helped us demarcate the stage and prepared a proper tulip chart for it, the first ever for any Indian (and maybe foreign) magazine.
Multiple winner of the APRC title Gaurav Gill has named the Coffee Day India Rally the "Rally of a 1000 Turns". We chose to call our test stage the "Cicada Stage". Simply because the entire stretch was full of cicadas, a large insect with long transparent wings, found primarily in warm countries like ours. The male cicada makes a loud, and shrill droning noise by vibrating two membranes on its abdomen and the simultaneous chirping of a million of them is really quite something. The pitch is nearly constant and we had cicadas singing in scattered groups all over the stage and all through the day. If you are not fearful of forest sounds, the 'song of the cicadas' is just awesome and another of Mother Nature's many miracles that has to be experienced to be believed.
Acknowledgements
This most ambitious 'Mother of All SUV Stories' could not have been possible without the help of our friend, the former gentleman rallyist and Chikmagalur coffee planter, Vikram Narendran. A big thank you to Farooq Ahmed, his crew, and the MSCC (Motor Sports Club Chikmagalur) and Chairman of Cafe Coffee Day, VG Siddhartha for according permission to use his coffee estates. Venkatesh Gowda (Head of The Serai Hotels) for local arrangements; Venkatraman the group manager of the estates who organised everything on the 'OVERDRIVE SUV Slugfest Special Rally Stage', including shelter and food and refreshments and the Kadur Club for its hospitality. We were also assisted by Siddharth Yelagudige, Siddarth Shankar, Manish R, Yousuf Ahmed, and of course our local hero, the ever willing to help and exceedingly resourceful Mohammed Asim. We also want to express our appreciation and gratitude to JK Tyre for their support.
See how each SUV fared below