Auto World: A unique car museum in Ahmedabad
The late Pranlal Bhogilal was one of India's pioneering car collectors. In his vast collection he had over 200 cars, including 36 Rolls-Royces! These cars are parked in his various houses all over the country. But he also established Auto World, a unique car museum at his 'Dastan Estate' in Ahmedabad. This museum is open to the public and about 100 of Bhogilal's cars are on display. The entry charges are Rs 50 and Auto World gets a decent number of visitors.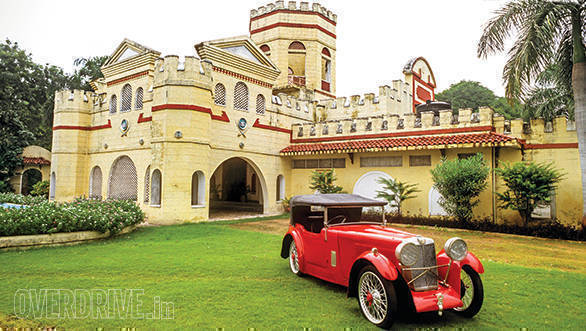 Pranlal Bhogilal passed away in 2011 at the age of 73. But fortunately, his loyal staff has still kept Auto World operational. When I met some of them, they said this was their way of honouring their late boss. Some also mentioned that despite the support of Bhogilal's only child, his daughter Chamundeshwari, it is getting increasingly difficult to maintain the cars and look after their security and well-being.
Auto World has an amazing collection of cars, and also some bikes and horse carriages. There are several different pavilions spread over acres of verdant grounds. In these reside over a dozen Rolls-Royces, including a 1923 Rolls 20 HP with a very unusual shooting brake body by Barker. There is also a 1922 Rolls-Royce 20 HP and a 1927 Phantom I with a boat tail roadster body again by Barker. In 1997, 50 years after our independence from the British, Bhogilal had a 1926 Rolls-Royce Phantom I with a Barker body painted in the colours of India's flag! Bhogilal named this Rolls "Azad".
This museum is in Ahmedabad and attracts a good number of visitors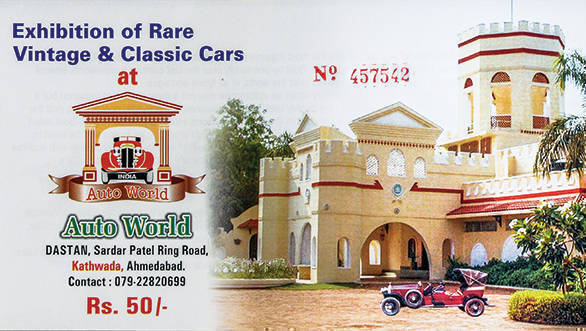 Over a dozen vintage Rolls-Royces are part of the display and there are proper entry tickets too
Pranlal Bhogilal created the Auto World Museum, and over 100 amazing cars from his huge collection are displayed here
In fact, Bhogilal was in the habit of naming or christening his cars, and some of them are called Darya-I-Noor, Durga, Chamunda, Chetak, Shahenshah, Pushpak, Caesar, Cleopatra etc. What's more, Bhogilal also had plates made with the names and these were fixed onto the bonnet of the cars! Other Rolls-Royces displayed at Auto World are a 1923 Silver Ghost, 1927 Phantom I with a limousine body by Windovers, 1936 Phantom III, a 1937 Phantom III and 1949 Rolls-Royce. An interesting one is the 1923 Rolls-Royce Silver Ghost with a Victoria State Landau body that also has gas lamps on the side.
One of my favourite cars at Auto World is the 1927 Hispano Suiza H6C with coachwork by HJ Muller. This car was specially built for shikar or the sport of hunting, for the erstwhile princely rulers of Alwar state. This Hispano Suiza has massive extra spotlights and also cabinets mounted on the running boards to keep shotguns and rifles! Another important car is the 1937 Maybach SW38. At the museum I was told that in 2006, Ulrich Schmid-Maybach of the illustrious Maybach family flew down to Ahmedabad from Germany to convince Pranlal Bhogilal to part with this 6-cylinder Maybach as it had been designed by his grandfather. Bhogilal, of course, refused to part with it.
An interesting car is the 1923 Rolls-Royce Silver Ghost with a Victoria State Landau body that has gas lamps on the side. Also the 1926 Rolls-Royce Phantom I
In 1997, 50 years after our independence from the British, Bhogilal had this Barker-bodied car painted in the colours of India's flag and he named it "Azad"
Auto World also has some really old cars like the 1906 Mors, 1906 Minerva, 1909 Fiat, 1910 Ford Motel T, 1911 Daimler, 1914 Minerva etc. There are a 1935 Hotchkiss Type 968 with coachwork by Figoni & Falachi, 1931 Auburn V12, 1935 Auburn 851, 1926 Lagonda 2 litre, 1936 Lagonda LG6, 1940 Lagonda V12, 1934 Bentley 3.5 litre with coachwork by Gurney Nutting,1934 Bentley 3.5 litre and a 1952 Bentley Mark VI. There are more amazing cars like the 1926 Lancia Lamda, 1931 Lancia Dilambda, 1929 Packard, 1937 Packard 120, 1940 Packard 110, 1940 Packard 120, 1937 Hudson with coachwork by Brougham, 1931 Buick Tourer, 1935 Buick Eight, a 1938 Buick and a 1947 Buick Eight Super. Auto World is also home to nice sportscars like 1937 Riley Sprite Sports, 1931 MG Magna, 1937 AC and 1946 Sunbeam Talbot, to name only a few. Two cars from the American Aerodynamic era are a 1934 Chrysler Imperial Airflow painted in a strange combination of colours by Bhogilal and a 1936 Cord 810. Both cars were well ahead of their times in terms of styling and technology, due to which both failed.
There are also a 1924 Fiat 509, 1924 Morris Cowley, 1931 Ford Model A, 1933 Chrysler, 1937 Alvis 3.5-litre, 1932 Studebaker Roadster, 1954 Studebaker Champion and 1935 Chevrolet. Auto World also has in its pavilions Cadillacs from 1939, 1947, 1949 and 1958. Other post-war era cars are a 1947 Desotta, 1947 Daimler, 1947 Chrysler New Yorker Town & Country, 1947 Lincoln Continental V12, 1947 Dodge, 1950 Jaguar Mark V, 1955 Armstrong Siddeley, 1960 Vanden Plass Princess 4-litre, 1954 Plymouth Belvedere and a 1972 Lincoln Continental Mark IV.
Bhogilal was known to give his cars names like Darya-I-Noor and Chamunda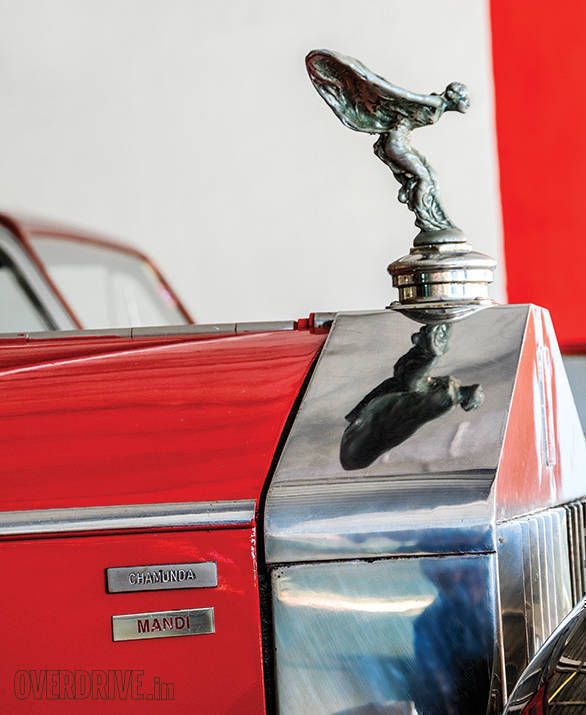 He also had nameplates made and these were fixed onto the bonnets!
The Hispano Suiza is one of the highlights
The Chrysler Imperial Airflow has an odd colour combination
This car museum set-up by Pranlal Bhogilal has the biggest collection of cars open for public viewing in India. It also has on its premises a vegetarian thali restaurant that attracts tourists as well as locals. Most of them also take a tour of Auto World. For a price they can go for a drive in one of the old cars too. All this is very good because it is making more people aware of the rich motoring heritage of India. But without Bhogilal, how long will this museum survive? I hope his daughter and her family keep it going. Even when Bhogilal was alive, his cars were never in the best of shape. Now they are in an even worse condition.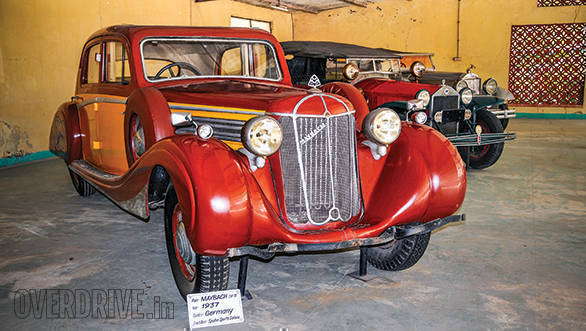 The 1937 Maybach SW38 and 1935 Hotchkiss Type 968 with coachwork by Figoni & Falaschi are fine-looking cars
The 1906 Mors and 1906 Minerva are the oldest cars here
To be honest, whatever cars Bhogilal restored, the quality of the work and materials was well below expected standards. And as he changed things to suit his sense of aesthetics, many of the cars are also not original. But the great thing is most of them are still there. And they can be saved. They can be restored again. In a proper manner. And with the correct parts and practices. From what I understand, Bhogilal's family and his daughter are not short of resources. It's wonderful that in his memory they have built a statue of Pranlal Bhogilal at Auto World. It would also be fantastic if they got professionals to restore all the cars again and then promoted the museum at both a national and international level. If this gets done, I am confident Auto World will become a big tourist attraction and a shining symbol of Pranlal Bhogilal's love for classic cars. In my humble opinion, doing this will be the biggest tribute to this truly genuine lover of art and design.