Aero Edge-Using wind to win
Since the mid-1970s, I have been a fan and active follower of both international and Indian motorsports. And I must say that the Honda City of current Indian Touring Car Champion Arjun Balu, is one of the most remarkable built in India racecars I have ever seen. Bangalore based Joel Joseph of Race Concepts created it and for me the most striking thing is its "aero package".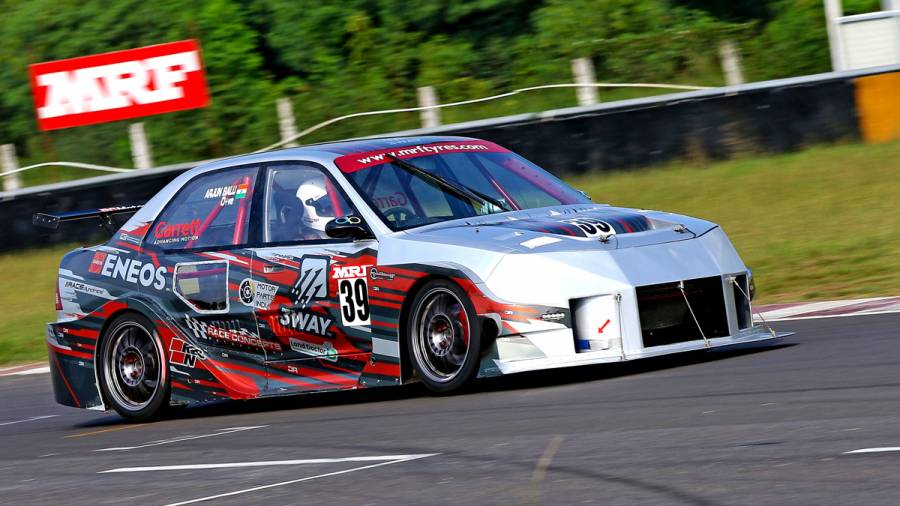 The most striking think about Arjun Balu's race prepared Honda City are its aerodynamics
Yes, in the past too one has witnessed aerodynamics being given importance by Indian racecar tuners, especially when it came to the Formula India cars or Group 2 Fiat's. The introduction of the Formula Maruti, Formula LGB Swift, and Formula Rolon and so on, also increased the focus on the aerodynamics in Indian racecars. But with Arjun Balu's Honda City, Joel Joseph has clearly taken the "aero game" to a completely different level. In fact it could well be the ultimate in race car aerodynamics engineered and developed in India.
For the last couple of years, Arjun Balu has dominated the Indian Touring Cars Championship
Let's look at what one wants in a race car. Broadly-speaking from an engineering point of view, you want it to be fast, stable, maneuverable and reliable. Aerodynamics plays an important role in achieving most of these goals. The primary aerodynamic forces to be considered for a racecar's design are drag and lift (or down force, which is the inverse of lift). The lower the drag, the lower the resistance the air offers, which means the car slices through the air and is able to go faster. The higher the downforce (or lower the lift), the more the airflow pushes the car downwards to hug the road, and therefore the vehicle becomes anchored to the ground. And due to this enhanced handling, its cornering speeds are higher.
Racing enthusiasts have enjoyed watching the battles between Arjun and his competitors
While working on the aerodynamics of a racecar, engineers play with the physical features like shape, angle, height and other elements in their control like spoilers, side skirts, diffusers, air inlets and so on, to influence the forces of drag and downforce, to achieve their goals of superior overall performance.
Given all this, Arjun Balu and Joel Joseph must be complimented for achieving their aerodynamic goals and making their Honda City into a winning racecar. Interestingly, Arjun Balu won his first championship in 1994 in a Formula Maruti and his tenth one in 2021, driving this Honda City. Apart from so many successes on the racetrack, Arjun has also done well on the rally circuit. While he has a very impressive record, what is also praiseworthy is the fact that he won his tenth championship at 47, well after most drivers have hung up their racing gloves.
Note the difference in the aerodynamic package or body modifications in both these Honda City's
Despite winning 10 championships, Arjun is quite modest and attributes his return to racing in 2018 to Joel Joseph, whose Race Concepts Team made its debut in 2014. Feeling the need for a more talented driver who could also help develop the car, Joel in an inspired move approached Arjun and asked him to return to racing in the Race Concepts Honda City. Arjun's involvement has obviously played an important role in their journey to the top of the podium.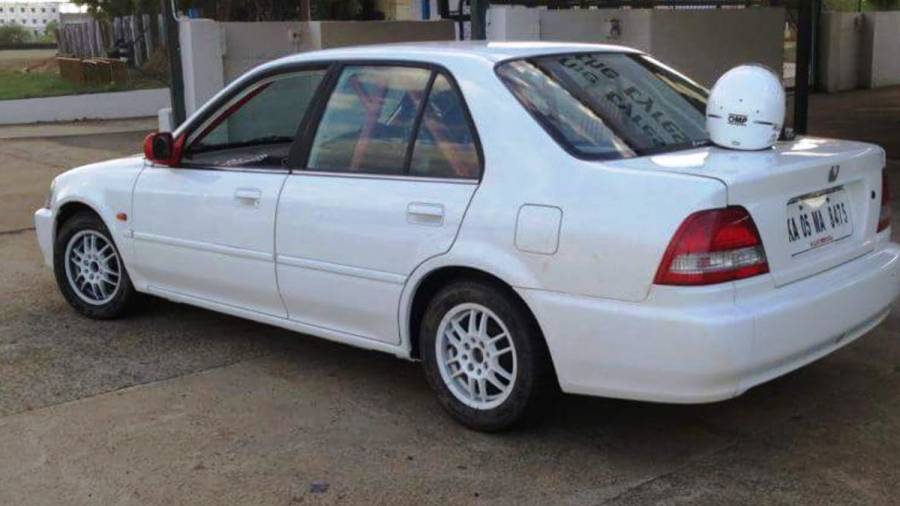 Arjun Balu's championship winning Honda  City in its 2014 super stock avatar
Arjun says, "Joel wanted me to drive his car that he wished to develop to win and set new standards in the Indian Touring Car Championship. We have come a long way with the car and also me as a driver since 2018. I have worked hard with Joel and it's a successful and fabulous partnership which keeps me motivated.   It is such a joy and privilege to drive this amazing machine and to be so involved in its development. While all the development work is done by Joel, my role in this entire exercise is the feedback I give. I tell Joel where we are lacking and what is the direction in terms of balance that we need in order to set a faster lap time. To put it simply, I let them know what the car is doing, so it can be engineered to my driving needs. Fortunately, I am able to naturally relate to what the car is doing and as it has been built around my needs, it is obviously a great fit for me. Joel will be able to tell you more about the car itself".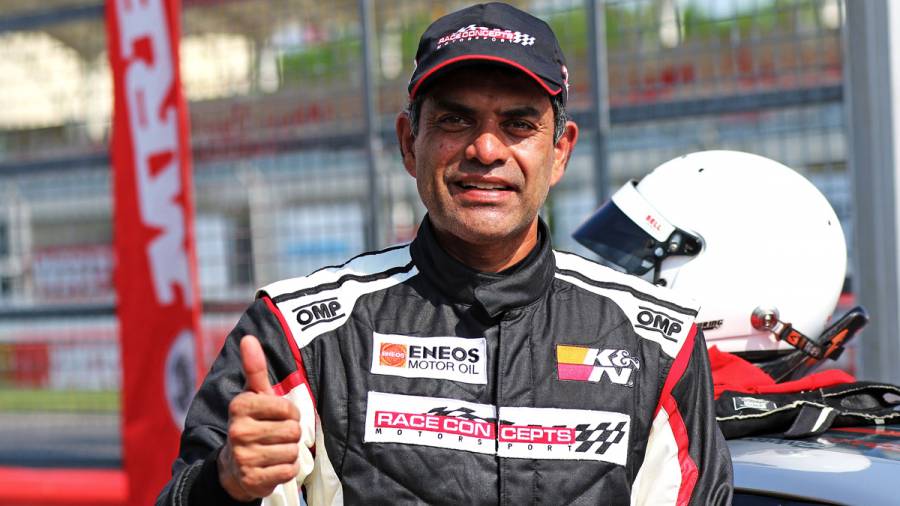 Arjun Balu won his first championship in 1994 and his tenth one last year in 2021
Bob Rupani in Conversation with Joseph Joel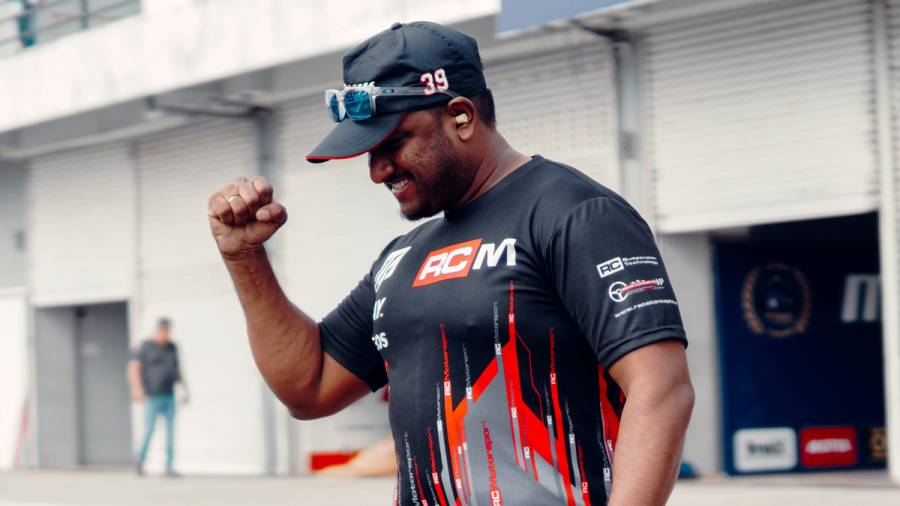 Joseph Joel, Founder and Technical Head of Race Concepts Motorsport
BR: Joseph tell us something about yourself.
JJ: I started in 2004 as a motorcycle enthusiast turned racer by building my own engines and bikes to compete in the National Championships. My flair for engineering was something I have had since childhood and as years went on, I moved into cars by 2008. I am a multiple national champion in cars and bikes in circuit racing and drag racing. I started Race Concepts in 2011 and in 2018, Arjun Balu and I started working together with a clear aim to go in a certain direction with the ITC (Indian Touring Car) project. I wanted to build the car in a particular way and give Arjun a car that suited his driving demands.
Evolution of Aero-2015 version with first gen aero
BR: Just looking at your race Honda City makes one marvel at all the aerodynamic features and aids. When did you start developing the aerodynamics?
JJ: I developed my first ITC car in 2011. The journey with this Honda City started in 2014, so technically it's my second ITC build. I raced it as a super stock in 2014 and finished on top. Basically it was an exercise for me to further understand car dynamics and get better understanding of what driver demands are. With the ITC project, I found the right opportunity to unleash my dream to start building an aero assisted car. So I started with a rather simple body that didn't overwhelm airflow much to cause any imbalance. I only focused on cleaning the dirty air and to channel air around the car more efficiently. In 2016, the body was further updated on the front and then focus was put to develop the underside. And then I moved on to the current iteration. So it has always been incremental development, with care taken about every detail.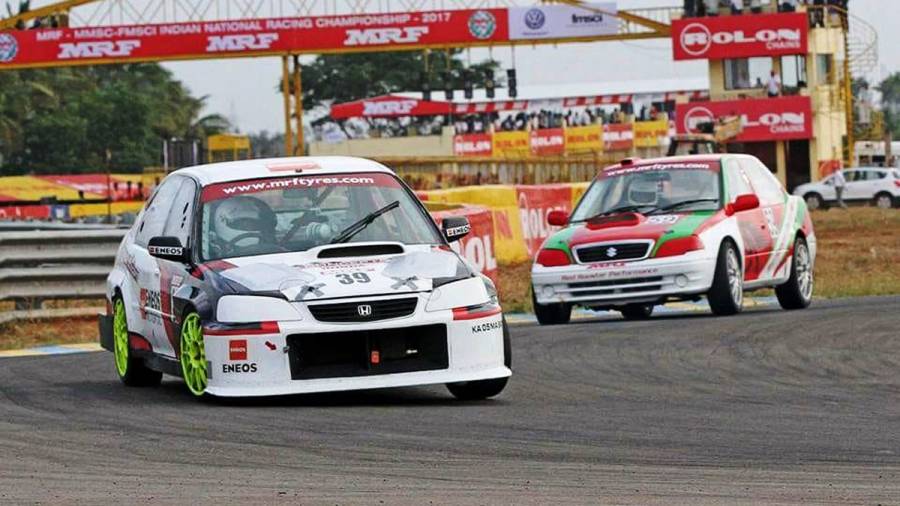 Evolution of Aero-2016 aero
BR: Please share more details of how exactly you arrived at your aero package?
JJ: The development started on a clean sheet of paper with sketches of basic aero elements. Then I made the moulds and body panels in-house. No wind tunnel or anything. I just applied my basic dynamic understanding of the car and its impact on air flow. The entire car has been designed, engineered and developed by me. Powertrain, drivetrain, aero, chassis, dynamics, suspension, braking, styling and even the decals. Most of the dynamic development over the last 4 years was only possible with the strong mechanical understanding of Arjun and his feedback. We could then validate everything over a race weekend since he was always willing to push the car to its very limit.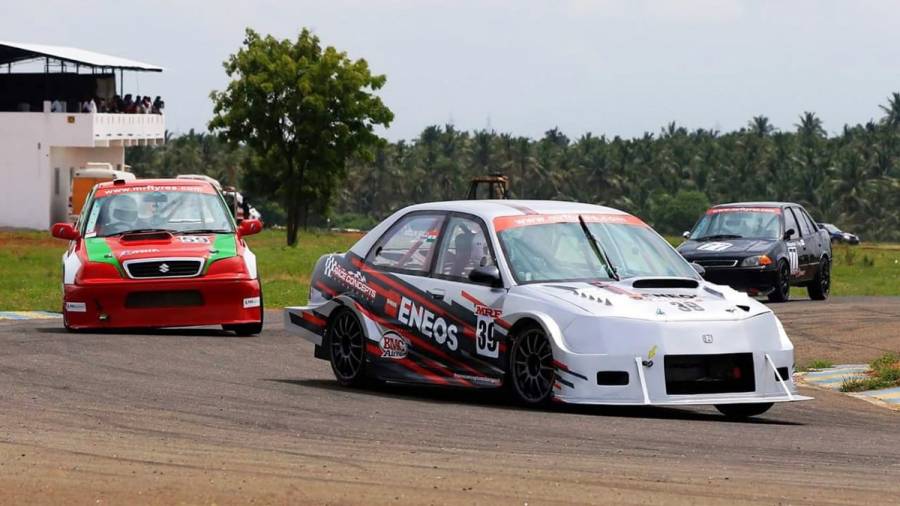 Evolution of Aero-2018 aero
BR: So Arjun has been deeply involved in the development of aerodynamics?
JJ: Yes, every change over the last 4 years has been validated by Arjun. The knowledge Arjun brings to the table helps me clearly understand what change we need to make on the car. Besides being the driver, right from the smallest detail to the big changes, Arjun is an integral part of the cars strong performance.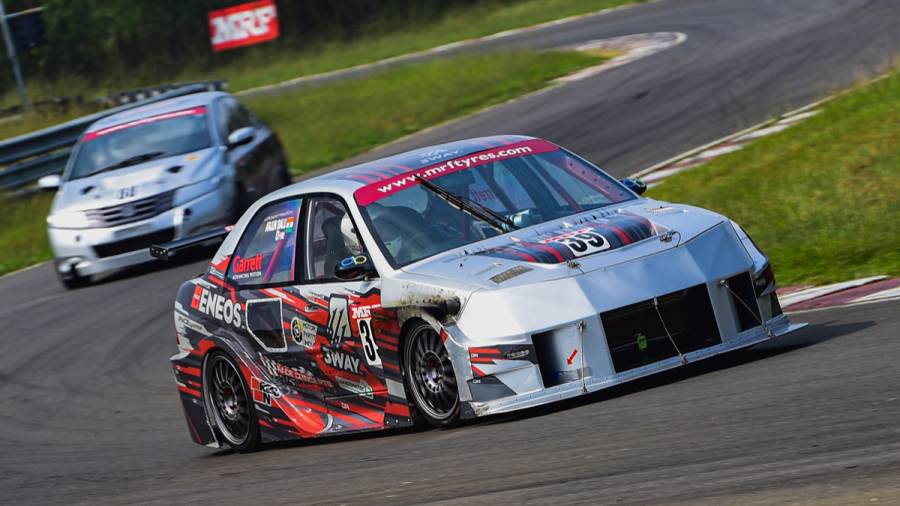 Evolution of Aero-2021 current iteration
BR: I presume this development and fine tuning of aerodynamics is a constant process and evolution?
JJ: Yes, since 2015, the car has undergone 5 body evolutions and 7 major changes underneath. Over the last 3 seasons, we have tried to make the car a stronger performer and all the focus has been to get more speed in the fast corners. That's worked pretty well. And the development is mostly seasonal. Mid-season variations are very minor. Major changes only happen with collective data from the entire season.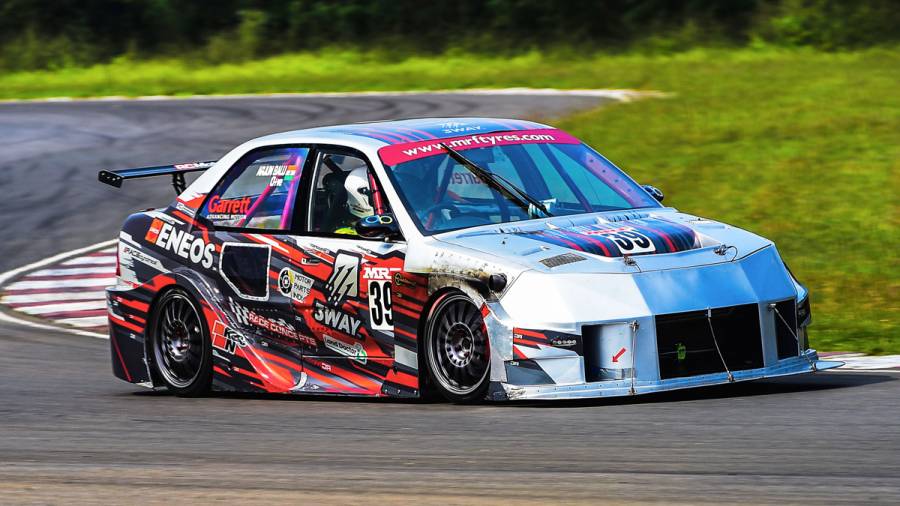 At one time the exhaust pipe came out of from the right fender
BR: How much does the aerodynamics benefit the performance of your car? Some people suggest that you could be gaining up to 2 seconds per lap?
JJ: Since we have never tested the car without any of the aero aids, we aren't exactly sure of how much is the gain. The chassis was never built to go back to stock, so we never thought about seeing the absolute difference. However I can say that the car is aero based to suit the mechanical grip of the car only. There is nothing in excess here. We have struck a fine balance for us to be able to allow Arjun to drive the car in a manner he wants. How much of it is aero dependent is something we can't tell for sure. We have mainly focused on cleaning the air and reducing drag, yet ensuring good level of downforce, both in the front and rear. We don't believe the car has a 2 seconds advantage with aero alone. The car is mechanically superior with a super strong turbo engine that I developed from scratch. The gearing is perfectly matched and the suspension and geometry that we developed in-house, allows us to stay ahead. Aero hasn't been our only thought. Through the season, I mainly focus on the mechanicals and we constantly try and improve the driving dynamics. Aero stays untouched.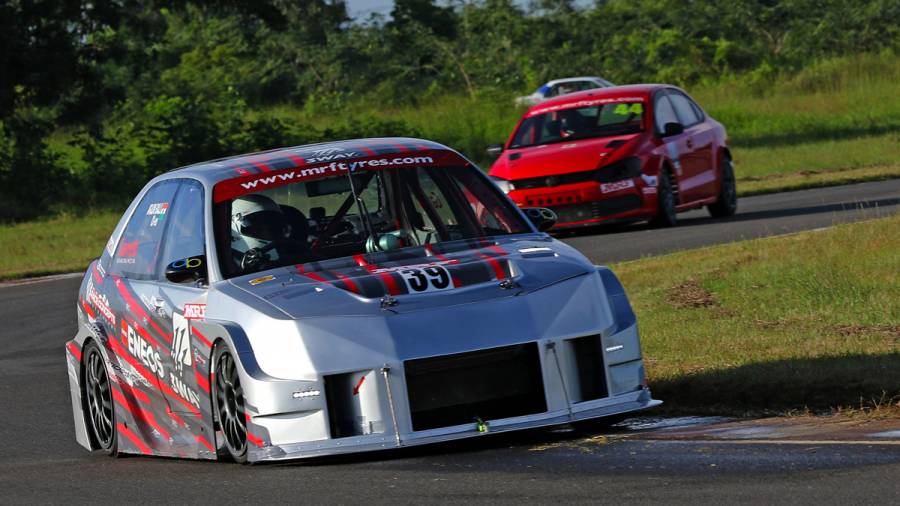 And here there is no exhaust pipe emerging out of the fender
BR:  Why have the other drivers and teams not been able to develop the aerodynamics of their cars as well as you?
JJ: We are not sure of that. Aero based development is time consuming, extremely complicated and things can go wrong if you don't get it right. Even copying someone's aero design won't work since mechanical grip isn't the same. It is also hard to drive an aero based car. To trust and commit, is hard. However teams have now started to experiment with rear wings, minor body work, etc. We are not sure how much of it works though. I have chosen a completely different path from day one so it's an entirely different story for us. We have a limited budget, so I try to strike a balance. For example, we still use the standard H pattern Honda City gearbox, with custom gears made by us. We can't afford an expensive sequential gearbox. So to overcome the time lost with gear shifts or any advantage the sequential box offers - I focus more on balance and engine performance.  Hence aero is maybe more important to us than the rest of the field. And I must say without Arjun Balu behind the wheel, the car and my team would not have tasted the success we have seen in the last 4 years.
Price (Ex-Delhi)
Starts Rs 10.9 Lakhs