Advertorial: Will Tesla be the only electric car to make waves in India?
Electric vehicles (EV) are the future, and the global resurgence of electric cars over the past few years indicates the growing popularity of these vehicles. Nearly every car manufacturer worth its salt has invested heavily in developing EVs. The obvious benefits of an EV, such as reduction in air as well as noise pollution, have also prompted governments across the world to offer major subsidies on these vehicles.
The Indian government too has rolled out the FAME (Faster Adoption and Manufacturing of Hybrid and Electric vehicles) India scheme to promote manufacturing and sale of electric vehicles in India. While the rate of adoption or acceptance of electric vehicles in India has not taken off yet, primarily due to lack of adequate charging infrastructure, things are looking up.
The Indian government has been pushing Tesla Motors, one of the largest and most successful electric carmakers in the world to make India its manufacturing hub for South-East Asian markets. India's cost-effective manufacturing also makes it a viable location to produce Lithium-ion batteries. In fact, Suzuki, Denso, and Toshiba have set up a joint venture to manufacture Lithium-ion batteries in India.
In the near future, electric cars are expected to gain momentum in India. Here is a list of cars that look promising.
The South Korean carmaker recently announced its plan to set up a manufacturing facility in India. The Soul EV would be a great addition to its electric car portfolio in the country. The Soul EV looks fresh and quite appealing despite its boxy dimensions. In fact, the SUV styling is the design language that Indians have fallen in love with. Thus, the Soul EV has a lot going for it in the looks department.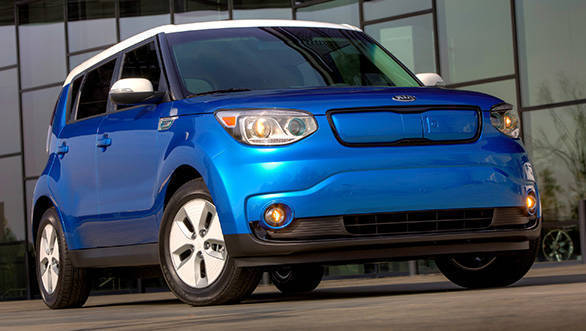 Kia Soul EV
The electric motor of the car produces 284 Nm of torque which should be good enough for city use. The 150km range on a single charge is adequate for commuting in and around the city. Also, the battery can be charged to 80 percent in less than 35 minutes when connected to a 50Kw DC connection.
The Soul EV does not skimp on latest features either. It houses a touch screen navigation system, rear camera and a digital instrument cluster that displays battery information.
Volkswagen e-Golf
The German manufacturer already has a sprawling manufacturing facility which can make it easier for the company to produce EVs in India. The e-Golf looks quite similar to its fossil-fuelled sibling. The fact that it looks conventional may also work in its favour as many people do not like the offbeat design of some electric vehicles. As is the case with any Volkswagen vehicle, build quality and finish is top-notch and the car is feature packed as well.
Volkswagen e-Golf
The e-Golf gets a 134PS, 100-Kwh electric motor that's powered by a 35.8Kwh Lithium-ion battery and has a range of approximately 140km.
Chevrolet Bolt EV
The Bolt EV is quite the stunner, not only for the way the car looks but also for what lies underneath the hood. The Bolt is designed for use in both, the city as well as outdoors, courtesy of its impressive 390km range between battery charges. Chevrolet uses a nickel-rich Lithium-ion battery and an advanced thermal management system to optimize battery performance.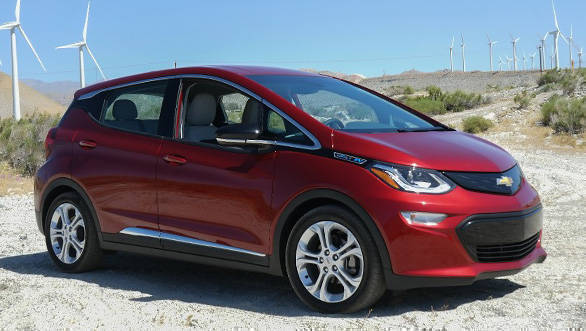 Chevrolet Bolt EV
The car is powered by a 200PS motor that produces 360Nm of torque portraying sufficient power which along with the incredible range makes it an excellent value proposition.
The Bolt EV is also full to the gills with a host of features along with a spacious cabin that makes it a good family car.
BMW i3
For those who desire an EV with great handling dynamics, the i3 should  fit the bill. The carbon-fibre reinforced body shell means the car tips the scales at just 1,360kg and the advanced aerodynamics result in an energy-efficient car. The BMW i3 has a range of 185km which is quite decent.
BMW i3
BMW has also lavished great attention to detail, with the interiors having a luxurious feel befitting the BMW badge.
This is the kind of car you ought to buy if getting bragging rights is your thing. It is the fastest electric car that can sprint from 0-100kmph in just 2.5 seconds. And this is a car that is spacious, comfortable and luxurious. It looks good as well! The car rocks a big battery that gives it an astonishing range of 506km.
Tesla Model S P100D
When you consider the car's features and Tesla's advanced autopilot or self-driving system,  it surely makes for an impressive electric car. Presumably, the only limiting factor for most could be the steep price.
While it's still unclear which car would make it to our shores, all of them look exciting. Do note, we have not mentioned expected prices since government incentives have to be factored in.  So, a mere dollar to rupee conversion won't be a true indicator of the price.
With the advent of electric cars in the Indian market, an area of concern among prospective buyers is of car insurance. While car insurance for electric cars will cover you in case of an accident just as regular cars, there may be a need to add a few extra clauses required to cover the owner. This is because electric cars have several specialized parts and expensive batteries, and the costs of repairing or replacing them could be very high in case you are not insured. That said, car insurance policies,  are quite hassle-free these days when it comes to buying or renewing for all car types.