Advertorial: Exploring uncharted territory of Goa in the Honda BR-V
Monotony is boring, isn't it? Doing the same thing, or visiting the same place over and over again can suck the life out of many. It's for the same reason why a new experience is what we always crave for, and this was exactly what we had in mind when we decided to drive down to Goa. While the state is famous for its stunning beaches, lip-smacking cuisine and happening nightlife, there are unexplored regions that are equally interesting and attractive. So in a quest to discover untouched Goa, we set off from Mumbai in the Honda BR-V.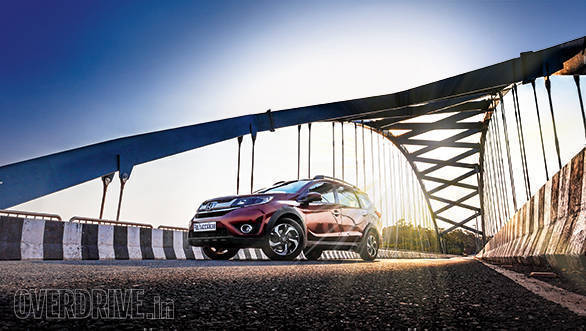 Like some of our trips, this was pretty much impromptu, which meant we only started off at 1'o clock in the afternoon. In the BR-V, however, we knew we'd cover the 610km journey in no time, thanks to its superquick 1.5- litre i-VTEC petrol motor. Mated to a CVT transmission, the BR-V was effortless to drive and the thoughtfully programmed shift points meant that the motor was always in the meat of its power band.
These ferries take you to the beautiful and unexplored areas of Goa and charge a nominal fee
The intelligent transmission is also quick to respond to throttle inputs, and overtaking slow-moving traffic on the highway was a breeze! After a quick stop for snacks and tea at the Nipani turn-off, we headed to Goa via Amboli and Sawantwadi. The BR-V automatic also gets paddle shifters, located behind the steering wheel, which made for an involving drive while descending the Amboli Ghat section. We were also surprised with the BR-V's handling which was planted. There's minimal body roll around corners, which kept passengers happy. We made it to our hotel by 9pm and after a quick dinner, we hit the bed as we had an early morning start the next day.
At the crack of dawn, we set off to meet Halley Prabhakar who assists his brother Arvind Prabhakar to run the adventure company Indus Rider. While they specialise in adventures on motorcycles, they are also ever-ready to show the unseen side of Goa to anyone, even in a car.
Our agenda for the day was to meet Atul Borkar, an otter conservationist and the founder and director of the organisation Wild Otters. Indus Rider is a supporting member of the organisation and carries out an otter trail ride with them. The aim is to introduce people to the mangrove riverine ecosystem along the rivers of Goa and spread awareness about an animal that not many know of. We, for example, were completely unaware that otters existed in this part of the country.
We headed to Chorao, an island that's a short, 5-minute ferry hop from the Goan mainland. There we rendezvoused with Atul who took us to the dense mangroves around the island, which is the natural habitat that otters live in. To get there we had to drive off-road and some sections looked tricky as they were narrow and strewn with small rocks. The BR-V, however, managed to get us to wherever we wanted, thanks to its 210mm ground clearance.
We found a place to park near the mangroves and then Atul began explaining, in detail, the elusive nature of otters and how lucky one has to be to spot one, especially during the day.
Goa is home to two types of otters – the smooth-coated otter and the Asian small-clawed otter. The former is usually located around deep rivers, freshwaters and mangroves. They usually feed on small fish and crabs. The latter is the smallest otter in the world and located around shallow, rocky mangroves. It gets its name from its small claws that barely extend past the digit.
Atul, later on, explained the various methods used to track otters. One way is to look for otter poop. We came across one such area where the otters usually poop before crossing the road to the other side of the river. They do so to not only mark their territory but also because, funnily, pooping together is a family affair!
Atul has also set up infrared camera traps along poles where otter crossings are frequent. These cameras are motion sensing and record the behaviour of these otters.
Later that day, Atul took us to his research base where he shared photos and videos of the otters that these cameras captured. It was certainly an enlightening and enriching experience, learning about a creature we had no knowledge about.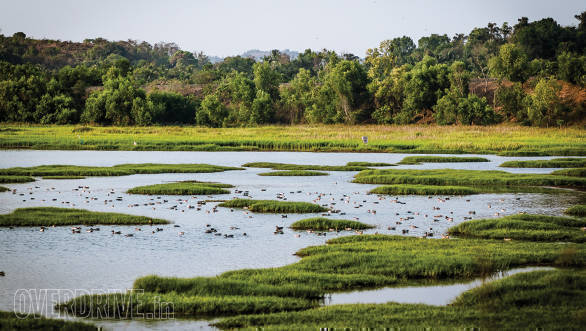 The Chorao Island is one such unexplored paradise and home to a large population of wild otters that can be found along the mangrove riverine system
The smooth-coated otter is an excellent swimmer, thanks to its velvety fur
Goan cuisine is as delicious as it looks!
Atul Borkar and his team are a dedicated bunch and have carried out extensive research to understand and conserve otters
After a quick lunch at Gunpowder, a popular restaurant in Asagaon, we took another ferry across the Mandovi River to get to the Our Lady of Piety Church located in the village of Piedade, Divar Island. The church was originally a chapel in 1541, and was rebuilt in 1625 into a church. What adds to the beauty of this ancient church is that it's situated atop a hill that offers a spectacular view of Goa.
We sat on a parapet near the edge of the cliff and, as we watched the sun set over the horizon, felt a sense of calm take over. Feeling reinvigorated we made it back to our hotel in Vagator and decided to spend our last night in Goa, feasting on some authentic cuisine.
The drive back to Mumbai was as comfortable as the journey to Goa. The BR-V's excellent ride quality meant none of us felt tired to head to work the next day. As for the BR-V, its bulletproof reliability, for sure, made it an ideal partner for such trips.