Advertorial: Drive to Kolhapur to learn about Kolhapuri chappals in the Datsun Go
The city of Kolhapur has a rich history and cultural heritage. However, people usually associate this place with just spicy and sumptuous food. But it is also popular among footwear connoisseurs for making the finest pair of Kolhapuri chappals. In fact, it is one of the unique offerings of India which has made us stand out on the global map. And for this edition of the Datsun #GoThere contest, we drove from Mumbai to Kolhapur to witness a fine pair of Kolhapuri chappals in the making.
Kolhapur is located around 400 kilometres from Mumbai, connected via the NH 4. Being a major route which connects four major cities, it usually has a lot of truck and car traffic irrespective of the day or time. Although the stretch from Mumbai to Kolhapur is well-paved for the major part, there are just four lanes which means overtaking opportunities are rare. But the compact dimensions of the Datsun Go and the peppy 1.2-litre petrol engine made it possible to exploit every available gap and squeeze past the unending line of trucks.
While Kolhapur was reeling under the effects of a heatwave with temperatures soaring to 42 C, the AC managed to do a good job at keeping the cabin cool. The light controls and good visibility ensured we reached Kolhapur earlier than expected. In most of our previous Datsun #GoThere expeditions, the contest winner had joined us mid-way. However, this is the second time that a particular edition's contest winner turned out to be a local resident.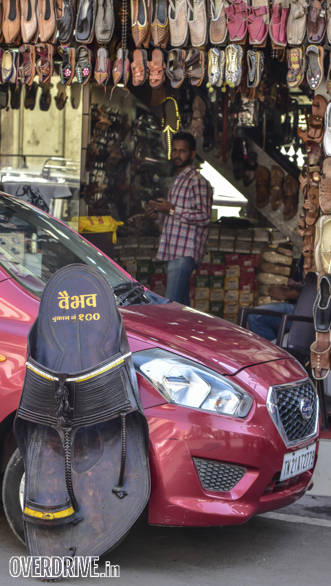 Kumar Mahajan not only stays in Kolhapur but also owns footwear shops which retail traditional Kolhapuri chappals. Apart from showing us around his two shops, he educated us about the varieties of Kolhapuri chappals. He later introduced us to Arun Satpute, who is the chairman of Kolhapuri Chappal Audhyogik Samuh and also one among the top manufacturers. Arun Satpute was kind enough to take time out from his busy schedule and walked us through the different steps involved in the making of a pair of traditional Kolhapuri chappals.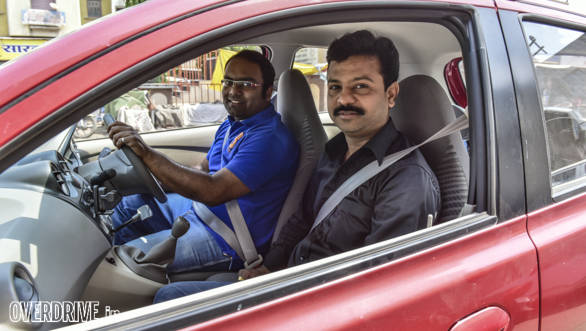 Kumar Mahajan, gothere contest winner, is in the footwear retail business and educated us about the varieties of Kolhapuri chappals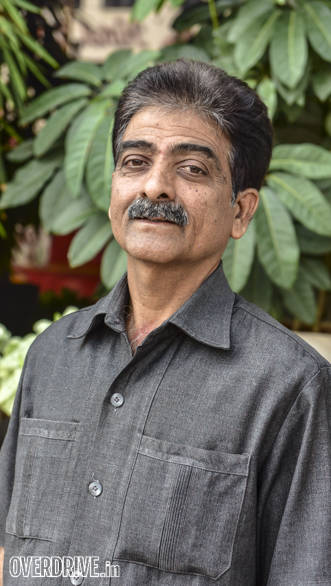 Arun Satpute, chairman of Kolhapuri Chappal Audhyogik Samuh showed us how Kolhapuri chappals are made
At first, the workers sort through different layers of leather to select the ones with a smooth texture. Then these are cut into chunks of different shapes and sizes. The leather slices then get hammered onto the soles over stone slabs. The upper part of the chappal sports intricate designs, and usually the women workers complete the stitching and the braiding work. The leather used for making the chappals is sourced from tanneries in Chennai.
Kolhapuri chappals are completely handmade
The Kolhapuri chappal manufacturing units are considered to be a small-scale industry and estimated to be worth around Rs 9 crore by the Kolhapuri Chappal Audhyogik Samuh. It is estimated that around 6 lakh pairs of Kolhapuri chappal are made annually of which around 30 per cent are exported. After learning a great deal about Kolhapuri chappals, it was time to relish some bhakri, mutton pulav, tambda rassa and pandhra rassa that the city is known for.
In this edition of the Datsun #GoThere contest, we got to witness the entire manufacturing process of unique handmade made-in-India product. Let's see where the next edition takes us.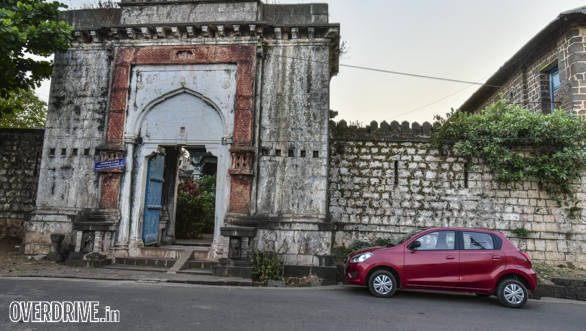 Did you know?
Traditional Kolhapuri chappals are completely handmade and available in different varieties depending on the quality of leather.

They are available in different designs and colours like khas, meherban, kurundwari, baraveni, sahaveni and kar kar wajnari, to name a few.

It is a cottage industry with some families in Kolhapur employing around 10-15 workers to make them. The workers get paid for each pair of chappals made.

The traditional Kolhapuri chappal industry has been facing stiff competition from the machine-made chappals which take less time to manufacture and are more cost-effective. It's very difficult to identify a duplicate pair from the authentic handmade ones.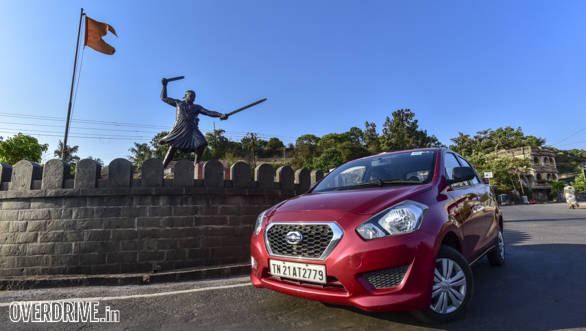 Price (Ex-Delhi)
Starts Rs 3.99 Lakhs