A Schumacher Story
It's the 8th of October 2000. I'm three days away from my 13th birthday, but my present has arrived early. It's taken the form of a scarlet Ferrari crossing the chequered flag first at Suzuka. The driver, his voice choking over the team radio, shouts "We did it!" as tifosi around the world - me included - get misty-eyed. He climbs out the car, is visibly overcome with emotion, and after hugs and celebrations with the team finally makes it to the podium. His victory leap is uncharacteristically clumsy, but it's something he's easily forgiven for. Heck, he'll be forgiven a 100, nay a 1000, botched victory leaps. After all, Michael Schumacher has just won the 2000 Formula 1 driver's championship title. He's given Ferrari their first world championship in 21 years. This is far better than any store-bought birthday present could ever be.
Nearly 21 years later, I'm around a month away from turning 34 and I'm watching images of that eventful day at the Japanese Grand Prix yet again. Of course I've seen footage of that race multiple times since, and I've learned to be quite stoic about it. This time, though, I've got a curious moisture in my eyes, some of which seems to have spilled onto my cheeks. Evidently I've got pre-Autumn allergies, which may or may not have something to do with the Schumacher documentary that has just been released on Netflix. I've carved a few hours out of my work day so that I can watch it before anyone ruins it for me. It's brought back a whole lot of memories.
***
Growing up in the late nineties and early aughts, it was impossible to escape the Michael Schumacher era. I'd wake up every morning before school, flip the newspaper over and go straight to the sports section to take in the stories of Schumacher's many accomplishments and the odd misdeed. At the end of the day these articles would be clipped out and pasted into a scrapbook that I could refer to should I ever need to cross check facts and statistics. I supplemented this record-keeping with notebooks full of hand-written race reports that I'd coerce my friends - who by some miracle have stuck around to this very day - into reading. There was a good reason for this seemingly strange behaviour. This was back in the days of dodgy dial-up internet that made accessing websites for motorsport information, even in the country's IT capital, extremely difficult. And there was a dearth of good Formula 1 literature. Of course, back in the day OVERDRIVE had their Grand Prix special issues, but they were few and far between. Brand new copies of F1 Racing weren't easy to procure and, truth be told, were far beyond my modest means. So I'd approach Bangalore's many second-hand book and magazine stores with the air of a prospector in California in the late 1800s. There was bound to be treasure lurking in those shelves. If I looked carefully, I was sure to strike gold.
***
It's the Sunday of the 2003 Japanese Grand Prix, one day after I've turned 15. In the two years that have gone by since that world championship title at Suzuka, I've begun to think of this race as my de facto birthday present from the universe. It will be a few years before I realise my complete and utter insignificance, but at that particular moment in time, I am the very embodiment of the foolishness of youth. I'm sitting in front of the television absolutely convinced that Michael Schumacher, even though he's starting the race all the way down in 14th place, will deliver something magical. After all, he insisted on winning at Suzuka in 2001 and 2002, so why should 2003 be any different? And even after a rollercoaster of a season that looks set to end with Kimi Raikkonen's first ever F1 title, I'm convinced that it has to be Schumacher. He has to win his sixth world championship title this weekend, I think to myself. When at the end of the race that's exactly what happens, I am equal parts elated and relieved. And, to my surprise, also shocked. It turns out that my belief isn't as unshakeable as I once thought it was.
***
It's the summer of 2006, and I've just completed my second semester at University. A combination of dogged persistence and pure luck has resulted in me landing an internship at OVERDRIVE magazine. The very magazine that I grew up reading. Grand Prix is no longer a special issue, it's now a monthly. And I get to work on it. My colleagues are tough on me. The fact that I'm a Michael Schumacher supporter, living in the era of F1's Renault renaissance and Alonso's advent, means that I have a figurative target painted onto my forehead. What about Adelaide in 1994, they ask? And what about Jerez in 1997? And what about Rascasse 2006, they ask? I'm not able to defend him, naturally.
Nor do I believe that I need to.
Because I'm under no illusion that Schumacher is perfect. It's not that I celebrate his flaws, but I acknowledge them. I can't understand why we demand perfection from human beings. Or why we hold our athletes to far higher standards than we hold ourselves. We expect of them things of which we ourselves are not capable. That you can be incredibly talented, fiercely determined, endlessly hardworking, but also human and entirely capable of mistakes and wrongdoing is something I've come to understand and accept. A part of me believes that Schumacher is held to far higher standards than drivers who came before him. Drivers who are much-deified. Perhaps, I don't understand it, because I only became cognizant of the sport shortly after the tragic events at Imola in 1994. Or perhaps it's the result of being raised in a largely anti-theistic family. I believe in neither deification nor the concept of gods. Because sooner or later, the veil always drops.
My internship ends with me supplementing Mike Doodson's Michael Schumacher cover story for that particular issue of Grand Prix with a two-page spread that lists out Schumacher's brilliance and his foibles. Seems like I've had to learn a very hard lesson in objective journalism as a greenhorn of an intern. It doesn't feel particularly good, but it feels necessary.
***
It's the 27th of October 2011, the Thursday of the Indian Grand Prix. I'm sitting in the Mercedes hospitality at the Buddh International Circuit. After approximately a year of trying to wrangle this interview, it appears that it's happening. The posters on my wall have come to life. I'm actually sitting at a table with Michael Schumacher, in what appears to be the interview of a lifetime. For me at least. I'm not one of the regular reporters who make up Formula 1's travelling circus. As far as I'm concerned, I've got to make these twenty minutes count.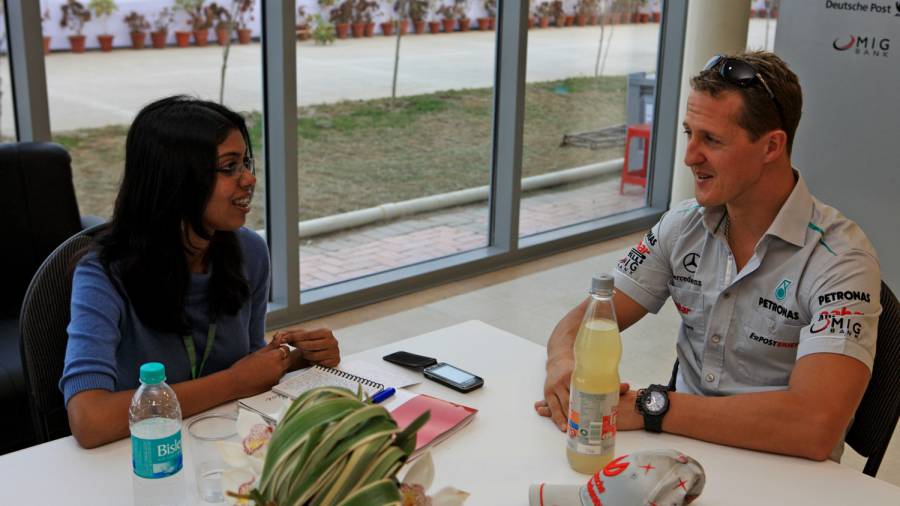 Even ten years later, I'm not certain that I have. I was too young, too in awe, too nervous. As I listen to the interview recording today, I can hear a discernible quiver in my voice as I'm asking Michael Schumacher questions. And it makes me feel somewhat small. But then again, how else is one supposed to feel whilst interviewing a seven-time Formula 1 world champion, whose career path has guided your own? Schumacher, on the other hand, sounds surprisingly... nice? What of that arrogant and ruthless driver that I'd read about? Well, it's certainly not on display for me to see. I ask him if he isn't as cutthroat as he once was. And he laughs, explaining that in the position that he's in with Mercedes, it isn't important to be angry about things. But if there was a championship at stake, his attitude would be different. "I hope to soon be in a position to get angry again," he laughs.
***
It's the 29th of December 2013. I read the news of Michael Schumacher's skiing accident. And as tiny bits of information trickle out over the course of the next few months, I find myself often replaying other parts of our conversation. Especially this line: "I believe in fate. Sometimes fate can be positive, or negative," Schumacher had said. Sometimes I wonder if it was some sort of premonition, a foreshadowing of what would come. Sometimes I think it's just an offhand statement, uttered without too much thought. After all, if everything in life is mere happenstance, perhaps this is too.
***
I know that I'm not the only one Michael Schumacher influenced. He's had a far greater impact on so many other human beings, and I want to acknowledge that his influence on me can never compare to the actual influence he wielded on his family and friends. But he inadvertently set into motion things that impacted my life in ways big and small. So if there's one thing I'll never regret about that interview, my own weak journalistic skills aside, it's that I used the opportunity to tell him that he inspired me. Especially because his response was, "You say I inspire you? Well, then I hope you're happy with the job that you're doing." Then he signed my magazine, writing, "Keep it up!!! And always enjoy." He even drew me a smiley face.
***
Over the past year, my relationship with motorsport, my muse of many years, has been tenuous at best, and tempestuous at worst. On fine days, I've told myself that I shall return to writing about the people in motorsport who demonstrate both the benefits and drawbacks of intense self belief, calculated risks, and on occasion, irrational actions. Then I've changed my mind. But that documentary, that darned documentary, dredged up memories and made me think and feel and write. And after a very long time, I've enjoyed it.
That documentary also made me remember that stories are everything. Everything we like about the human experience stems from the desire to witness a great story, to tell a great story, to be part of a great story. It's why we read books and magazines. It's why we watch films. It's why we follow sports. But every truly good story has a hero, albeit sometimes a flawed one. Someone who teaches you lessons through good deeds and misdeeds alike. Someone who, often without knowing it, is capable of changing the course of your life. Well, I've truly only ever had one real sporting hero. No points for guessing who it is.