World Motorcycle Day: A date with the limited edition MV Agusta F3 800 RC
It's arresting. If I had to describe the reflex upon catching the first glimpse of the MV Agusta F3 800 RC, that'd be it. The next few moments were a blur as I stood ogling at the sheer beauty of this rare, Italian supersport. I probably would've gotten arrested for it. But, what do I do?
The thing is, while your mind is registering the way it looks, your heart rate shoots up to pace that would put a cardiogram out of commission. And it wasn't only me. Anis, our chief photographer, has shot over a dozen expensive and exotic motorcycles. To see him go weak in the knees is a good gauge to tell you how gorgeous this motorcycle really is.
After clicking a million photos and few deep breaths later, I swing my leg over the seat, grab the handlebar and bring this exotic to life. My eyes are twinkling with excitement and the radiant smile on my boy-in-a-candy-store face could possibly brighten up the overcast day. And I haven't even selected first gear! Ladies and gentlemen, this is what the MV Agusta F3 800 RC does to your senses, even without you realising it.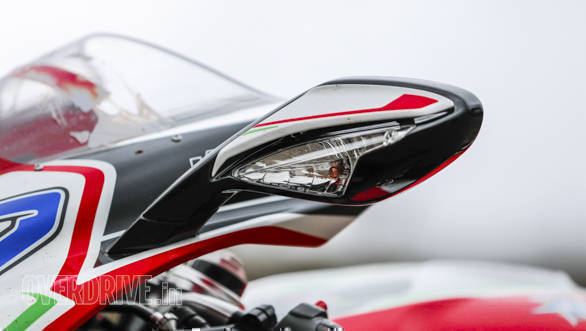 What you do realise, though, is that this machine is ultra rare. Only 400 will be ever made and just six motorcycles are allocated for our country. And incidentally, we are aboard bike number 46 of 400!
The RC in the model name stands for Reparto Corse (Man! These Italians can make anything sound good!) so, in essence, this is the go-faster version of the standard MV Agusta F3 800. The bits that set the RC model apart include the MV Agusta SBK team livery, lighter wheels, billet aluminium levers, and footpegs. The price also includes the race kit which explains the bespoke, SC Project exhaust and the special ECU, tuned to extract the most performance. Power has gone up to 153PS at 13,250rpm while the dry weight sits at 165kg only. I'll leave you to do the power to weight ratio math.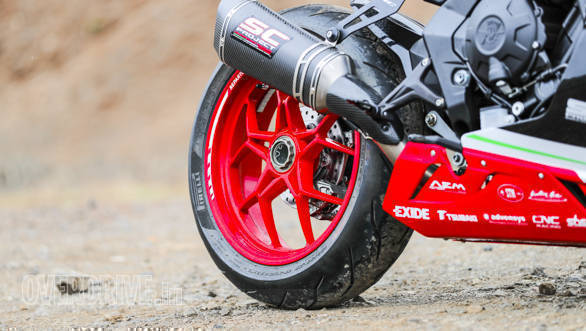 What I'm still reeling under is the onslaught of this MV's looks. Massimo Taburini's MV Agusta F4 inspired design may be a few years old but boy these lines are timeless. Actually, sensuous. Pause for a moment and look at the pictures. The lines flow gently, like a river, from the tank to the tail piece. And below that is the lovely, single-sided swingarm that puts the red, spider web wheel on full display. Beautiful!
Pune, forgive the MV if it brought you to a grinding halt. People in clattery rickshaws, bossmen in their multi-lakh luxury Mercs to boy racers in souped-up Puntos and what have you. Everyone has been craning their necks to catch a glimpse of this machine. From waving back at curious bystanders to dropping a couple of rev bombs on request (true story!), it was quite an event making my way through Pune's slipshod traffic.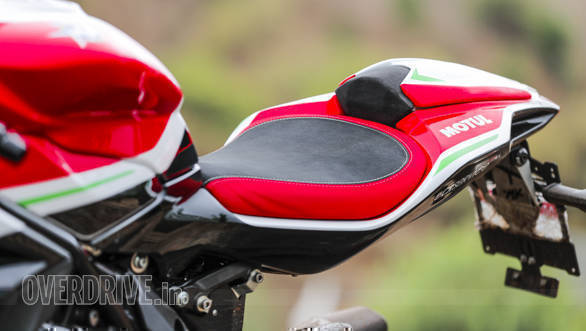 And when I finally hit NH48, it was time to unleash those horses, straining at the leash. Throttle pinned to the stop, F*CK this is quick, is all that came to my mind as I banged up the gears. The addictive intake howl, the sensation of the front wheel barely skimming the tarmac, the raspy exhaust note that rises to a crescendo before I shift up to the next cog. Holy shit, it can make the hair at the back of your neck stand.
I was screaming like an insane idiot, overjoyed with what was happening. This is the very essence of a fast motorcycle, no? It thrills you enough into believing that you are a living, breathing human who thinks everything is right with the world. That no matter what the circumstances, everything will be fine. By now, the ominous dark skies had opened up to drench us in the first rains of the season, as I made my way up to Lavasa, near Pune. It used to be the IOM TT of Maharashtra, however, the surface quality, over the years has deteriorated to dismal levels. There are craters at the exit of a few corners, sections where the road's top layer has vanished and streams of slush flowing across, waiting to catch a rider unaware.
Not a good thing when you are on a limited edition motorcycle that's primed for attacking lap times at a race track. Thankfully, there's a dedicated Rain mode (among the three other engine maps) that tempers the power delivery. Plus, there are eight levels of traction control to keep things pointing the right way. And if a careless soul had wandered into my path without warning, the super sharp Brembos were reassuring enough to stop in time. The suspension, surprisingly isn't as punishing as one might presume. Yes, the ride is stiff at low speeds but it gets better as the pace increases. It is a track-bred machine, after all, that surprisingly handled bad roads without a scuff or cracked underbelly to show. What's not surprising is the fluid handling, a result of the feedback from the stiff trellis frame and the Pirelli Rosso Corsas.
But as riveting as this F3 may be, it's not blemish free. The quality, for instance, is good in most places but iffy in certain areas. The switches on a scooter feel better than those on the handlebars of the MV and the key (there are people including me who are sticklers for that) just doesn't look exotic enough. The instrument panel is dated in today's TFT age and to be honest, the sky high price (Rs 21.99 lakh ex-showroom) puts it bang in the middle of some seriously good, litre-class bike territory. Bikes with advanced electronics, more power and better finish. It's what the logical part of your brain would attest to. But what about emotions? What about your heart? Listening to it, as you might agree, may not always turn out to be the safe choice. But, it's a choice that'll always bring a sense of unbridled joy.
The MV Agusta F3 800 RC is a gorgeous motorcycle, great in many ways and not so in some. But this little date with the Italian exotic in the rain bares one thing clear. If the motorcycle you're on does not make you exult, release you from them worldly binds, leave you smiling after a cracker of a ride; I'm sorry, you are just riding an appliance.
Images by Anis Shaikh
Price (Ex-Delhi)
Starts Rs 15,00,000