24 Hours of Le Mans 2016: Paddock notes on the last day of racing
It had been cold on Saturday night. Or rather, it had been cold on Sunday morning. In the wee hours past midnight, when the giant Ferris wheel at Le Mans turned round and round, the crazy roundabout continued on and off track at the Circuit de la Sarthe. The racing went on nonstop, as it is bound to at a 24-hour race. The pit crew and team personnel looked tired and strained but continued to change tyres, make repairs and refuel cars, and fans tumbled about, some sleepily and some sozzled out of their minds. And cars came into the pits with a tired driver hopping out to be replaced by a driver who was partially rested.
When it got too cold to continue to move about without a pause in the nippy Sarthe air, I decided that the best thing to do would be to rest my tired feet in the car for a bit, and then continue to watch the race. And so I wandered to the parking lot, put the seat back, and after dashing off a story to the office, shut my eyes for a wee bit.
When I woke up, I realized that I wasn't the only one who had caught forty winks in the car. There were dozens of car doors opening up, and photographers, journalists and fans were emerging, rubbing away the sleep from their eyes. I felt a little less guilty for needing a quick rest at that point.
View from the media centre. Crowds gather in front of the podium
Back in the paddock, the atmosphere was a little more subdued. It was beginning to look like Toyota would finally take their Le Mans win - something they had chased in their many years at Le Mans. The No.7 and No.8 Audis were more or less out of the reckoning already and there wasn't much activity that one could see behind the massive Audi garage. The shutters of Porsche GTE Pro garage were already down, with the mechanics having retired to their hotel for the night and having returned well rested but very disappointed that they were out of the reckoning.
Sitting in front of the big screen, a lot of fans dressed in Porsche gear were looking rather resigned to the fate that their team wasn't going to win. And then the news crackled through that the No.5 Toyota was slowing down. The 18-second lead that Kazuki Nakajima had over Neel Jani in the No.2 Porsche was beginning to evaporate. And that the No.5 car stopped right on the start-finish straight and not at any other part of the track was theatrical.
Suddenly the pin-drop silence was broken. One gent sitting in front of me began yelling "Unglaublich! Unglaublich!" German for "Unbelievable!" Repeatedly. It seemed like he was rooting for Toyota and genuinely felt terrible that they'd come to a halt the way they had. Who didn't when you saw tears in the eyes of the team principal. A host of Porsche supporters broke out into loud cheers. It was, for them, a victory that they would savour and celebrate. Of course, one felt for the Toyota team. But as someone rather rightly pointed out: "It's called the 24 Hours of Le Mans, not the 23 Hours and 57 Minutes of Le Mans." There was surprise aplenty within the Porsche camp too - Marc Lieb and Romain Dumas looked positively startled that their team-mate was now in the lead. But Le Mans had proved once again that it isn't over till it's over.
Team personnel and people leave the paddock. It's time to wrap up and move to another track now!
As the victorious Porsche car came into the pit lane and as a sea of fans rushed out to gather before the podium, the paddock was coming alive once again. There were drivers returning to their team hospitality areas, teams rushing to pack up, and tyres being loaded onto wagons and being transported away.
One tired mechanic stopped long enough to tell me that his team had had a bad week. "More than just a bad week, we've had a tough time even before that. Right from the 24 Hours of Nurburgring," he shook his head in disappointment. At Gulf Racing Team UK garage, I found Owen Daley, the assistant team principal, drinking a cold beer and finally catching a bit of a rest. Of course, he'd been on the pit wall the whole night and was happy that his team had completed their first Le Mans. "It's a lot harder than it looks," he said.
Over in the media centre, the usual banter and noise was replaced by a rather stunned silence. It's unusual for the media room at Le Mans to be as quiet as it was that afternoon. But surprise wins and tragic losses sometimes have that effect on people.
The place where the silence was at its very grimmest was likely the Toyota garage. A bunch of journalists had gathered outside the team area in the paddock. They were waiting, respectfully quiet. I've only encountered such a silence one other time at Le Mans - and the events that caused such a shocked silence, well I'd rather not speak of them.
The No.6 Toyota that eventually finished second. Tough times for the Japanese marque
But once again, at the end of the race, I found myself thinking back and looking over a Le Mans gone by. A Le Mans that while not without controversy was also free of fatalities and major crashes - hats off to the race director for keeping the Safety Car out until track conditions became safe enough for racing. And it got me thinking about the big race and why people love it so much.
See, on the qualifying day at the 24 Hours of Le Mans, the rain came down in buckets. It was the sort of rain that turned the campsites into mulch. It was the sort of rain that ensured that people were soaked even though they had been wearing waterproof gear. It even turned their gum boots into reservoirs. You think that would deter fans. It didn't. At Le Mans it never does. They were out in full force as usual - three generations of the same family, tramping through muck and dirt, cheering their favourites on from the sidelines. People shivered in the cold in the city centre at Le Mans, and waved the Duvals and Webbers and Fisichella's along on the Friday before the race. And some of them even managed to feature in Lucas Di Grassi's GoPro video. And when the race began, they braved the first one hour of rain, and they let out an almighty roar when the Safety Car peeled off into the pit lane. Soaked to the bone? Never mind!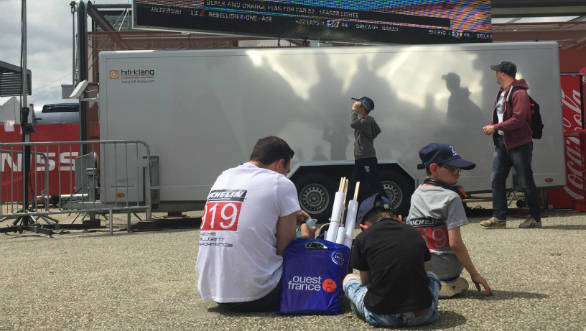 These guys erupted into loud cheers when Porsche won. Until then they'd been rather subdued
For drivers and teams, competing at Le Mans is on their bucket list. Winning it, too, of course. For fans, watching a race there is on their to-do lists. It's one of those magical things. I hope it always stays that way.