231x IndiMotard Racing becomes the first Indian team to complete the Score Baja 1000
It was a bitterly cold night in the desert. In the dark, one couldn't see very far, which was just as well, because there wasn't much to see. Just an endless landscape of sand and scrub, and a couple of trails crisscrossing the terrain. There was a group of people sitting in camping chairs on the edge of one of the trails, with a tiny bonfire going to keep them warm. Every now and again, as the piercing howl of a motorcycle would shatter the stillness of the air, they'd pause their conversation, cheering as it blazed past them. They'd even clutch the arms of their chairs tight when the very earth began to reverberate every time a Trophy Truck came barreling past, tearing up everything in its way, and leaving in its wake a cloud of dust.
Suddenly, a motorcycle pulled up alongside them instead of carrying right on into the night. The rider got off, almost collapsing from exhaustion. And the people rushed out of their chairs to help him. After all, riding in the Baja 1000 was no sinecure. It was one of the toughest races in the world, with a whole 1000 miles (if we're being pedantic it's 1134.4 miles or 1825.6 kilometres) between Ensenada and La Paz in Mexico. It was seemingly endless hours in the saddle - in the heat of the sun and in the cold of the night, through sand and silt. It was, as the rider himself would later describe it, "The wild west meets Mad Max". They helped him into a chair, and fetched him an energy drink and a cup of water as he took his helmet off. He drank gratefully and then introduced himself to the group. He said he was one of the riders from the Indian team - 231x Indimotard Racing. When he'd regained his strength, he reached into his gear, attempting to pull out some money for the water and the drinks. The people refused to take it. They assured him that they'd been happy to help. That the only reason they were sitting by the side of the trail was so that they could cheer the riders on, and help them if they needed anything. And with that, they urged him to get back on his motorcycle and power through the last five miles to the next rider change. He thanked them, and amidst their cheers and waves, got back onto his KTM 500 XC and powered through to the end of his stint.
A little over a month after becoming the first Indian team to ever compete in the Baja 1000 and complete it, too, Anand Dharmaraj, that somewhat tired rider I've just told you about, is recounting the whole tale to me. A story of how a bunch of Indian motorcycling enthusiasts, all with varying amounts of racing and rallying experience, and all based in different parts of the world, decided to go ahead and compete in the Baja 1000. And it all began when Gurpinder "Nick" Serrao, Bhaskar Ramani, Ilyas Bham and Gurinder Singh were out riding dirtbikes in Houston. Soon after their ride, still outdoors, standing around their motorcycles, they took it into their heads that it was about time they did the Baja 1000. So they called Dharmaraj, and informed him that they were going to compete in the event that very year. "You're in right?" they asked. And Anand, without a minute's hesitation, agreed. When Aditya Devabhaktuni signed on to ride alongside them, things were settled. Six riders, one motorcycle, and one objective. To push their own limits.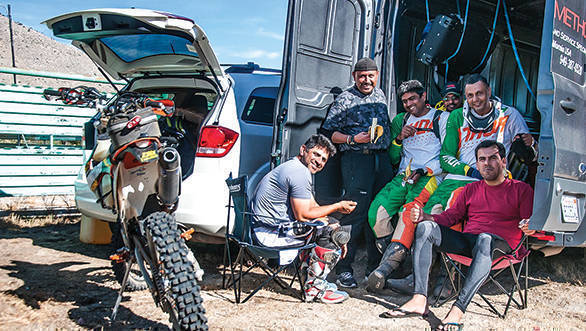 All smiles despite the hardship that is the Baja 1000!
But with everyone in different parts of the world, and just two and a half months to go before the big event, there was plenty to do. Google Sheets was called into service, to help them keep track of who was doing what, and there was a clear division of labour. Nick handled the registration, and along with Anand decided exactly what they ought to do with the motorcycle that they'd be riding. He also began building the KTM 500 XC in his garage. Meanwhile, Aditya began sorting out the equipment - radios and satellite phones - that the team would need to stay in touch with each other over the course of the event. Prashanth PK took charge of management and logistics, putting together the strategy they needed in order to complete the event, including sorting out where they could handle rider changes, and how to manage pitstops, with the location of the predetermined Baja Pits taken into consideration. Meanwhile Dosmoto's Aniket Dasgupta began to work on the design and brand identity for the team.
Riders and support crew of Team 231x Indimotard Racing
With five days left to the event's start, the team made their way to Ensenada. There was still rather a lot to do. This included a recce, communications to be set up, navigation to be sorted out, and chase vehicles to procure. The recce, perhaps, was when they truly realised what it was that they'd taken on. There were competitors at the event who had already run the full course as preparation. Preparation, we might add, that involved a whole year, as opposed to their own two and a half months. Things got even trickier when, during the recce, they crashed the motorcycle. Prashant had to rebuild the bike three times ahead of race day. Then things moved really quickly. They passed scrutineering, attended a surprisingly quick driver briefing where they were warned about the dangerous Trophy Trucks, and advised to use the Stella 3 (which sets off an audio and visual warning when one of the trucks is within 1000 metres of a motorcycle) liberally. It seemed like there was a certain amount of trust there. The competitors were trusted not to do anything terribly foolish, a testament to the maturity of the people taking part in the event, but, were also assured that there was a little technology present in order to help them if they did get into a spot of bother.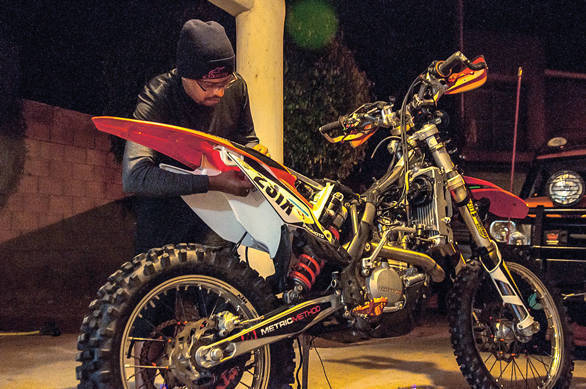 Burning midnight oil is a key part of the Baja 1000. Here Prashanth PK is making sure the motorcycle is ready for the next day's riding.
Well, perhaps we ought to say spots of bother. If this was a story concocted by the Greeks, the blows that were dealt each rider would have brought him face to face with his own worst fear. Each of the riders of 231x IndiMotard, had to deal with setbacks. It really was almost like the Universe was testing them as individuals, and as a team. And it was so challenging, at times, that the fact that they managed to overcome it all and complete the event was, perhaps a result of some sort of karmic intervention, says Anand. After all, there was a moment in the race when he found himself at his wits' end. The Stella 3 device had ceased to function, and the motorcycle had just stalled in the middle of a vast tract of silt. And even though he tried absolutely everything to get it going again, it simply would not start. The Trophy Trucks, were now whizzing past him and the stranded motorcycle. A terrifying experience, even for the bravest of people. And after he'd managed to radio the team and inform them that it seemed like it was the end of the road for them, a kindly stranger pulled up. Ricardo, it turned out, was a friend of Luis, the driver they'd engaged for the rally. As luck would have it, Luis had sent out a photograph of the No. 231 motorcycle to his friends, asking them to keep an eye out for this team all the way from India. Within an hour, thanks to Ricardo's intervention, the motorcycle was up and running again, and Anand was on his way to the next waypoint.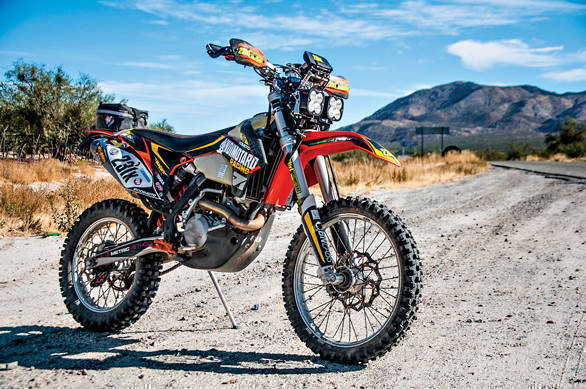 The weapon of choice for the IndiMotard Racing team - the KTM 500 XC
Of course, there were tough stages for every single one of the other riders on the team. But, there's one that really stands out that involves Aditya Devabhaktuni, who had a fall, and discovered that he'd popped his shoulder right out of its socket. A number of people might have given up at this point. Not him. He merely popped the dislocated bone back into place, and carried right on riding. It's this sort of grit and determination that ensured that 231x IndiMotard Racing actually completed the Baja 1000 in their very first attempt. The team finished 19th out of 27 starters in the Sportsman Moto category. And they held their own in an event that had around 250 entries. A result that they felt more relieved than elated about. "It's nothing to brag about, but it's terrific to feel this sense of accomplishment," says Anand.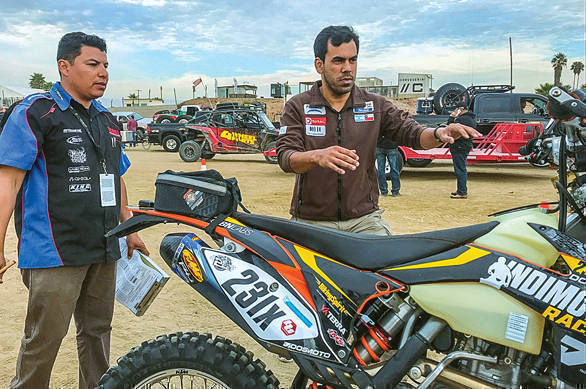 So what did the Baja 1000 teach them? After all, here were a bunch of riders who went into the event wanting to finish it, but also thinking to themselves that if they made it to the 500 mile mark, it wouldn't be half bad. At the same time, these aren't the sort of people to throw their hands in the air and give up. Well, it seems like they learned a little something about resilience. "We really dug deep," Anand says, sounding slightly surprised about just how far they managed to push themselves. "It also resets your skills," he says. There are other lessons too. That they ought to be there earlier next time around, and also do a run of the entire course, so that they have every rider change, and every pitstop mapped out. This year, by their own admission, they winged a lot of it.
Things get a little close at the SCORE Baja 1000!
Next year? Yes, you heard that right. There's already a plan being put into place, in order for IndiMotard Racing to go back to the Baja 1000 in 2018. While this team believes they can contribute and run the event, they're also on the lookout for "better riders. Riders who can get us to the podium," says Anand. Which means that any rider interested in competing in the event can get in touch with them and see if it's possible to land a race seat with the team. And there are a number of other options too - like the Baja 500 or perhaps even the 250.
The beauty of the Baja 1000, according to the chaps who went and competed in it, lies in its contrasts. On the one hand, it's prohibitively expensive. On the other hand, it's extremely accessible, in terms of the fact that there's no licence required or permission from any sort of national motorsport body needed in order to compete in it. What is required, however, is a willingness to be brave, to face your worst fears, and to go part of the way alone. The chaps from IndiMotard Racing assure me that finishing positions aside, the life lessons you'll learn along the way, are certainly worth it.
Photography: Aniket Das/Dosmoto