2022 Overdrive ADV bike shootout: Gear and accessories
All the luggage you see on all the bikes in our 2022 ADV bike shootout, along with the crash guards and even some accessories, was provided by Givi India and the Bikenbiker motorcycle e-store. All the accessories and add-on bits made our trip a lot more enjoyable and stress-free. Here's the list of equipment we put on our test ADV bikes.
Givi Trekker Outback 58 Top Case  
This Top rack was perfect for the rider to store his helmet whenever we stopped to take a break. The unit feels very sturdy and looks neat on the BMW R1250GS in this silver aluminium finish. The reflective sticker, inner liner, inner net, inner courtesy light - which functions the lid is opened, along with the top rack mount which sits on the bike's luggage rack are all sold separately.
Trekker Outback 58 Top Case: Rs 45,699
Top Rack: Rs 9,899
Backrest: Rs 5,199
Inner liner: Rs 3,299
Inner courtesy light: Rs 2,399
Inner net: Rs 1,799
Reflective sticker: Rs 1,599
Givi ST602B Tanklock Tank Bag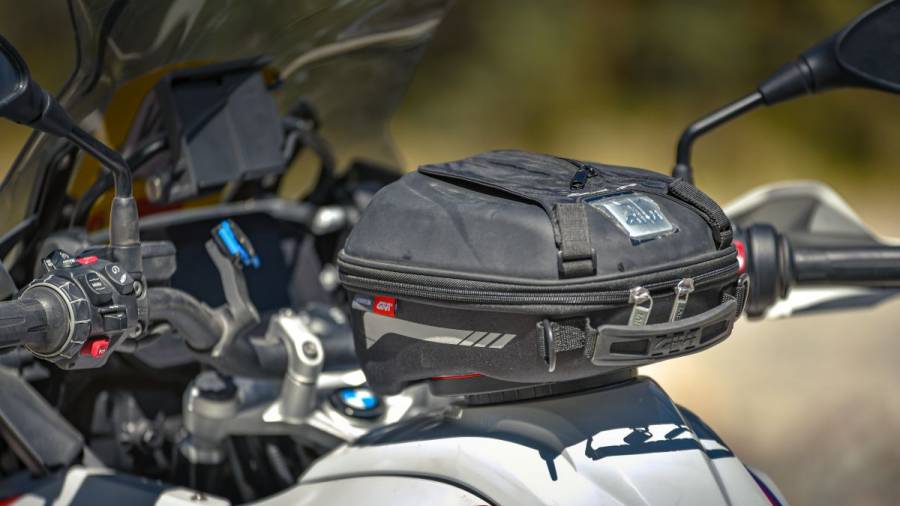 The 4-litre tank bag was perfect for us to empty out pockets and keep our knickknacks safe while riding. The transparent window allowed us to keep an eye on our phones at all times. It's easily detachable and you can carry it anywhere with the strap extension. It also comes with a sunglasses case which was very handy. The unit isn't intrusive at all, and fit on the Multistrada V4 S, the Tiger 1200, the Pan America and the BMW GS motorcycles perfectly well.
ST602B Tanklock Tank Bag: Rs 9,599
Tank Ring: Rs 1,499
Givi 5124D Windscreen 
Find the stock windscreen of your BMW R 1250 GS a bit small for your frame? No problem. You can throw on the 5124D Windscreen like we did, and it worked perfectly fine. Measures 43,5 x 43cm (H x W), the light tinted windscreen doesn't hinder vision t night and is compatible from 2016 BMW GS models to date. It is almost 2 inches higher than the original R1250GS and size equal to that of the R 1250 GS Adventure.
5124D Windscreen: Rs 9,599
Givi ES5108 Sidestand Enlarger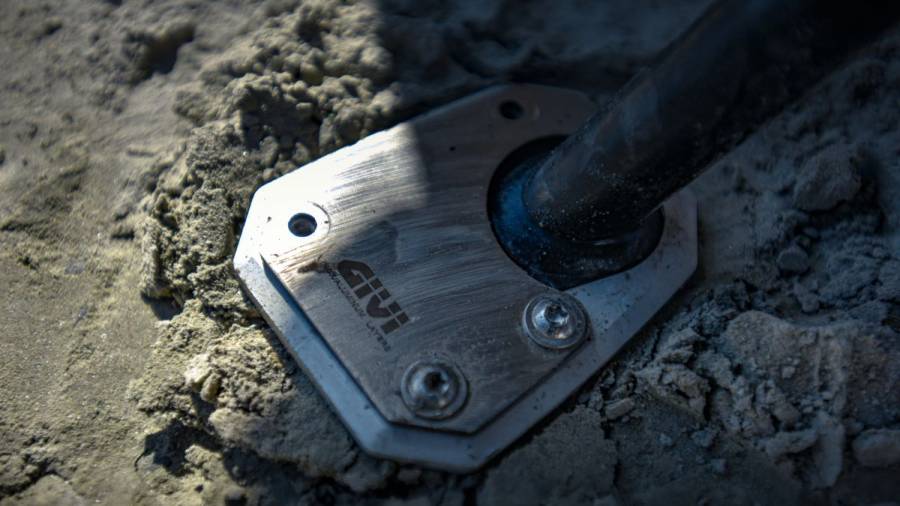 The sidestand extender was ideal for keeping the bike upright when parked off-road. The support, in aluminium and stainless steel, widens the surface support area of the original side stand and helps balance the bike a lot better so ou don't have to worry about your bike taking a toss when you're not looking.
ES5108 Sidestand enlarger: Rs 3,799
Givi GRT709 Canyon Side Bags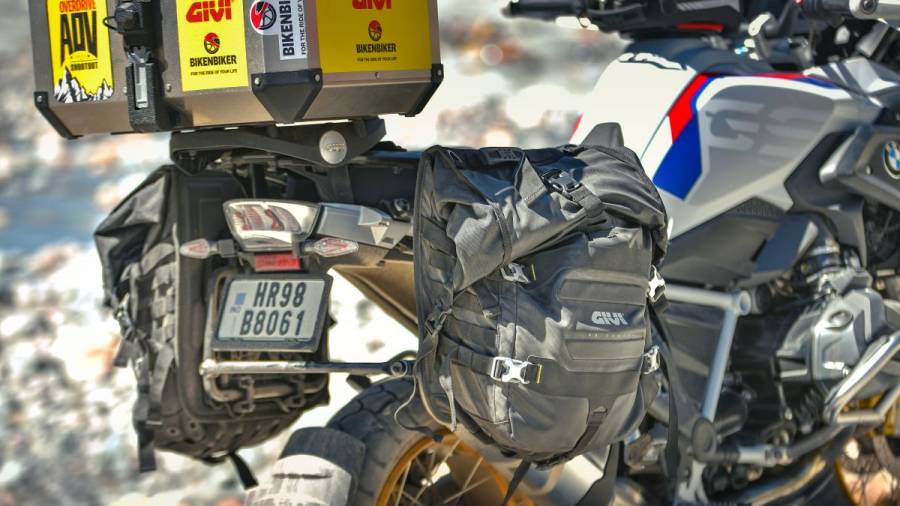 The pair of side bags, 35-liters each, is constructed from rugged, high resistance polyester and designed for off-road motorcycles. The set-up looks nice too, with enough space to store your luggage. Also, getting the bags off the bike is easy with the quick release mounts, and you get a pair of waterproof inner liners too, which is reassuring when it rains.
GRT709 Canyon Side Bags: Rs 6,7199
Side Rack: Rs 2,7099
Givi TN1178 Engine Crash guard and TNH1178 Tank Crash guard for the Honda Africa Twin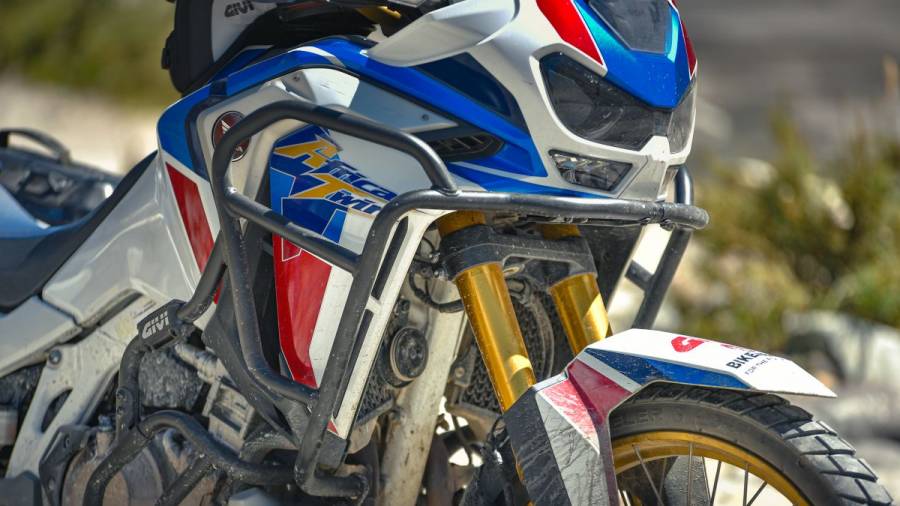 Not only do the Givi TN1178 and GIVI TNH1178 lower and upper crash bars offer great protection for your engine, radiators and tank from those unforeseen mishaps but it also lends the bike a more rugged and aggressive which is always a god thing. The pair are compatible with both DCT and manuals motorcycles.
TN1178 Engine Crash guard: Rs 22,399
TNH1178 Tank Crash guard: Rs 31,299
Givi DLM46B Monokey Trekker Dolomiti Top Case for Honda Africa Twin
With 46-litres of storage space, this top rack is spacious enough for you to fit your full-face helmet in when you park. It feels sturdy and the pillion rider won't find it to be intrusive. The additional back rest pad will definitely make things more comfortable for the pillion while the waterproof inner bag is a convenient feature to have on hand. The inner net helps keep some items separate for easy access.
DLM46B Monokey Trekker Dolomiti Top Case for Honda Africa Twin: Rs 42,299
SR1178 Top Rack: Rs 13,098
E164 DLM Backrest Pad: Rs 5,299
E166 Inner net: Rs 2,099
Givi DLM36BPACK2 Dolomiti Side Cases
The pair of 36-litre aluminium cases, in matt black painted plus adds to the burly appeal to the Africa Twin. The panniers can be locked on their own and can also be removed using a third key.
You can even remove the lids using a specially provided mechanism on the case.
DLM36BPACK2  Dolomiti Side Cases: Rs 65,099
PLO1178MK Side Rack: Rs 22,199
Givi XS320 Tank Bag
The 15-litre tank bag has to be fitted in conjunction with the specific tank lock fitting (BF25 / BF26), specific to the current Honda Africa Twin and Kawasaki Versys 650 models. It blends in nicely with the shape of the Honda's tank and has more than enough room for your whatever you usually carry in your pockets with space for more valuables. There's even a transparent upper window for you to keep your tablet in vision if you're using maps while touring.
XS320 Tank Bag: Rs 15,399
BF25 Tank Ring: Rs 1,399
Givi TN8400 Crash Guard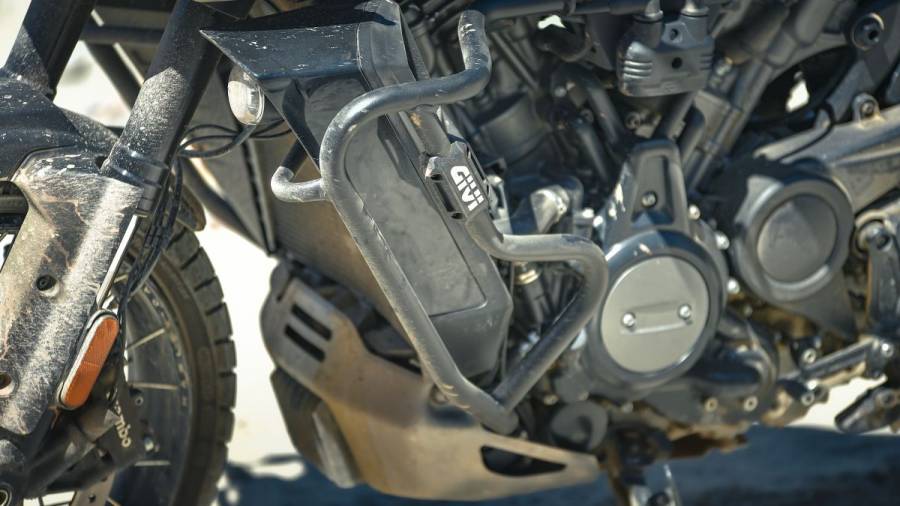 The Harley-Davidson is a handsome motorcycle, and the crash guard sync well with the big ADV bike's character design, while also providing you with the reassurance that your engine will remain in top running order in the event of a tip over with the additional protection.
TN8400 Crash Bar: Rs 19,999
Givi TRK52B Trekker Top Case
The top case is very solid looking, just like the motorcycle itself. A lockable 52-litres of storage space means that you can store your full face helmet as well some other items that you don't have to carry it along with you safe when you're done riding. You'll want to have the water proof inner bag handy just to make sure your luggage stays dry while giving your pillion additional backrest support with the add on TRK52B.
TRK52B Trekker Top Case: Rs 35,499
SRA8400 Top Rack: Rs 20,799
T511 Waterproof Inner Bag: Rs 6,299
E133S TRK52B Backrest: Rs 4,499
Givi TRK33 Trekker Monokey Side Cases
The Givi Trekker series are the new adventure touring cases utilizing a unique full and partial lid opening system. Made from a combination of polypropylene and aluminum panels, the Trekker series with its patented latching system now offers the convenience and security of GIVI hard cases in a more rugged style for the adventure touring rider.
TRK33 Trekker Monokey Side Cases: Rs 65,399
PLO8400MK Side Rack: Rs 22,199
Givi 8400DT Windscreen + 8400 Fitting Kit
Givi windscreens are among the best in the business. The brand has received accolades from adventure touring riders for decades now offers a replacement windscreen for the Harley Pan America that's 1 ¾" taller than the stock unit.
8400DT Windscreen + 8400 Fitting Kit: Rs 11,198
Givi ES8400 Side Stand Enlarger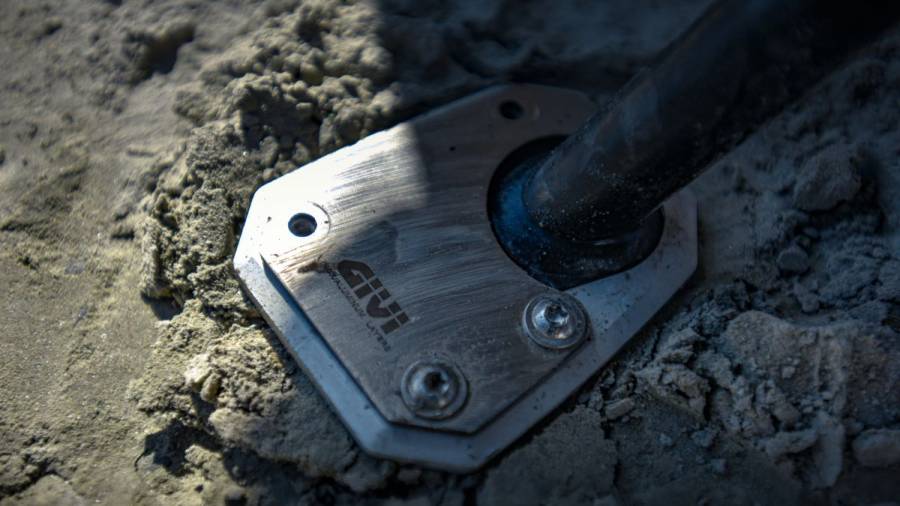 The stand extensions made by GIVI widen the support base of the side stand of the motorcycle and consequently reduce the risk of the vehicle falling when parking on muddy, sandy surfaces, on grass and even on asphalt on the hottest days.
Givi ES8400 Side Stand Enlarger: Rs 4,899
Givi TN7413 Multistrada V4 Engine Crash Guard
Designed for both, the on and off-road enthusiast Givi Crash Bars grant a rugged and aggressive look as well as offering better overall protection to the Multistrada V4. Made from robust one inch tubing, GIVI Crash Bars are a great addition for seekers of adventure.
TN7413 Multistrada V4 Engine Crash Guard: Rs 33,599
Givi EA115GR Waterproof Seat Bag
Roll top closure and seam sealed construction keeps your stuff super dry and multiple lashing points enables easy tethering of this 40-litre seat bag to your bike.
EA115GR Waterproof Cylinder Seat Bag: Rs 8,299
Givi EA115CM 40-litre Waterproof Seat Bag
Very similar to EA115GR on the Multistrada, the camo EA115CM with its roll-down closure system that ensure that it stays waterproof. You also get a carrying strap and a shoulder strap for ease of transportation.
EA115CM 40-Litre Waterproof Saddle Bag: Rs 8,299
Givi GRT719 Rucksack with Integrated 3-litre water bag
Four of the riders had this backpack on our trip and thanks to the perfect adherence to the rider's body and the 2-litre HydraPak Elite bag, the rucksack kept things simple and nice and light at the back, particularly suitable for off-road use with its breathable back panel.
GRT719 Rucksack with Integrated 3-litre water bag: Rs 9,499
Bikenbiker Quad Lock Handlebar Mount
Gives you the flexibility to mount your phone in a convenient and visible location using a rotating head and includes an extension arm if extra clearance is required.
Quad Lock Handlebar Mount: Rs 5,399
Available at: www.bikenbiker.com/
Price (Ex-Delhi)
Starts Rs 15,95,000
Price (Ex-Delhi)
Starts Rs 20,45,000
Price (Ex-Delhi)
Starts Rs 18,99,000
Price (Ex-Delhi)
Starts Rs 16,90,000
Price (Ex-Delhi)
Starts Rs 16,01,500
Price (Ex-Delhi)
Starts Rs 6,79,000
Price (Ex-Delhi)
Starts Rs 19,19,000