2019 OD SUV Slugfest: Value
A passing knowledge of economics will tell you that 'a good deal' might mean different things to different people. Someone will go out and buy any one of these SUVs and be perfectly content with it, while another SUV's value proposition might put them off. So for the 14 SUVs in this SUV Special, we've decided to take a subjective look at which of these SUVs, simply put, gives you the biggest bang for your buck.
We've taken into account the on-road Mumbai prices of all the SUVs. To add perspective, we have also accounted for these SUV's price ranges as well as how they stand in this regard concerning their immediate competition. To give you an idea of the ownership experience, we've also mentioned, wherever noteworthy, the kind of warranty and service packages that come with the SUV in question.
In this consideration, the three premium brand SUVs here find themselves at a disadvantage. The high customs duties these cars incur or the premium their makers charge hurt their value proposition. The CBU-import Volvo XC90 T8 Hybrid is the best example. It costs Rs 1.6 crore, but to its credit never feels unreasonably overpriced. The rich, feature-packed interior and the very versatile hybrid powertrain see to this. At Rs 99.52 lakh, the BMW X5 feels like a tough sell despite the much lower price. This is mainly because of how close this amount is to a similarly equipped seven-seater X7. But the German claws back considerable ground when you find that it promises the most hassle-free ownership experience of these three. The two-year standard warranty is the segment norm, but BMW offers many extendable warranty packages. Further, its thoughtful service packages mean that you won't worry about maintenance all that much. A buyback option when you want to sell the car is a tremendous value add too.
The Jeep Wrangler sits in a unique position. As something to use as a luxury SUV or for going off-roading in, it's `75.9 lakh price gets in the way. It's presence and the single-minded focus is endearing. For this JL-generation platform, Jeep has also taken major strides forward in how much like a modern car this feels to use, both on and off-road.
The Ford Endeavour establishes its value in perspective. Its `40.86 lakh price tag seems high in isolation, especially alongside the Mahindra Alturas G4. It brings to focus its iffy NVH levels and an extended warranty package that feels like it serves only half its purpose. But then, look at the Ford alongside its competition like the Toyota Fortuner and the Endeavour's combination of great presence, punchy motor, rugged off-road equipment and good features list begin to make a lot of sense. Ford's transparent servicing prices are another plus.
The new generation of the Honda CR-V has got good looks, a nice standard features set, smooth powertrains and a thoughtful cabin. It stops short of being closer to the best quite simply because of its pricing, especially the petrol. You pay Rs 33.49 lakh for a 2WD petrol AT but don't get the third-row seats.
The Mahindra Alturas G4, conversely, gives you seven seats and a whole lot more at Rs 37.3 lakh. It's the most refined of all ladder-frame construction SUVs in this range and is packed to the brim with features. Many of them segment-firsts. You also get incredible space and soothing on-road manners. Prices start as low as `33 lakh for a diesel auto. Mahindra has upped the value quotient even further through the very thoughtful Purple Club rewards program. You get points for your spends on the Alturas G4, which can then be redeemed for services, warranty extensions, Mahindra Adventure outings and so on. Another benefit is the buyback scheme. There's a three year/unlimited km standard warranty and an available two year/1,50,000 km extension, a fairly standard offering to round off a great value package.
The Jeep Compass Trailhawk finds itself in an odd position. It costs Rs 33.49 lakh in the Optional form here. The base Trailhawk costs `32.53 lakh and loses out on the stand-out panoramic sunroof and a few other features. Further, this version loses many of the creature comforts found on the more cost-effective Limited Plus trim. The Trailhawk was meant to provide the convenience of an automatic gearbox to the many city-dwelling Compass buyers. It does that but charges an exceptionally high premium. You get decent off-roading capability for this price, little of which will see real-world use. Having said that, if you are one of the select few who wants an off-roader in a compact SUV package, and are ready to pay the premium that warrants, you should ignore this score and just go ahead and buy one.
The Renault Duster, now on its second facelift, is the oldest car of this group. But it remains relevant for someone who wants a tough no-nonsense SUV with a reasonable set of features. This is a factor of Renault dropping prices. The diesel manual Duster in its top-spec RXZ trim is what we think they would go for, given its `14.63 lakh on-road price. A price that puts this within touching distance of the sub-4 metre crowd.
Renault offers a wide array of drivetrain options too. There's the AWD variant at Rs 15.1 lakh if you want toughness. Or for more convenience, there is the AMT at the same price, both diesels. City-slickers have the CVT petrol at Rs 11.68 lakh.
But if the Duster's refinement or dated interiors put you off, the Nissan Kicks comes in to fill the void. Mechanically identical to the Duster, the Kicks is a more upmarket proposition. But at the Rs 16.5 lakhs for the top-spec XV Premium diesel seen here, there are much more modern and more feature-packed cars available. The petrol version is more value given its `11.2 lakh starting price but has a limited number of variants. Nissan's five year/1,00,000 km warranty package at no additional cost however is a great bet.
The Hyundai Venue and Mahindra XUV300 are the two newest entrants in the hot sub-4 metre SUV space. The Venue's pricing has turned the segment on its head completely. Its starting price of Rs 7.64 lakh undercuts everything else in the segment but handily this isn't at the cost of quality, features, technology or a range of refined drivetrains. You get the best quality cabin in this segment and firsts like connected-car tech and a dual-clutch transmission, as on the top-spec petrol AT costing Rs 13.08 lakh. The only real drawbacks are that there is no top-spec automatic and the slightly cramped cabin.
The XUV300 is, conversely, the most spacious and feature-packed. There are great safety features too. It loses ground when you see the high prices, and find that a lot of the features are concentrated on the top-spec cars. Like the CR-V earlier, it prices itself into a disadvantageous corner. Prices start at `9.43 lakh for the base petrol and go up to a significant Rs 15.27 for a top diesel AMT.
The Tata Harrier is so much car for the money that it can't be bad value ever. Add to that it's comfortable rear seats and good proportions. The problem arises when you find that the MG Hector does all this and more for very similar prices. The Harrier's limited drivetrain options also hold it back. You get an FCA-sourced diesel engine paired with a manual gearbox starting at `15.97 lakh and going up to Rs 20.33 lakh for the top dual-tone version.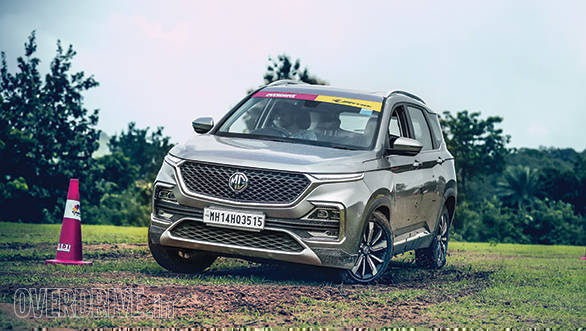 The MG Hector and Kia Seltos have taken the game forward when it comes to packing as much value as possible into a package. It's no coincidence that they all are the debut offerings from two entirely new brands. The Hector and Seltos have both made enough of an impact, in a way that the rest of the industry will have to take notice. At first glance, the Hector attracts through the space, presence and features it gives you for the price. But the Hector's trump card is an industry-beating five years/unlimited km standard warranty. This is backed by very well-thought-out service packages which start as low as Rs 25,000 and finally ends with the three-year buyback plan where you are assured 60 per cent of the car's value. Prices for the Hector start at `14.42 lakhs for the base petrol, the top diesel comes in at `20.47 lakh.
The Kia Seltos, on the other hand, is all about the experience. It's pricing undercuts seemingly everything but with no apparent compromise. Kia has packed its first SUV for India with loads of premium features previously unseen and finished it in a level of detail and quality that is strikingly close to some premium offerings. A lot of thought has gone into how the Seltos feels to drive, apparent from the four gearbox options and three engine options. This and the way the variants have been split into two distinct lines means that there is a Seltos out there to meet every need. Prices start at `11.32 lakh for the base petrol manual in the Tech line and go up to `19.23 lakh for the top tech line diesel-auto. The top GT Line cars are the GTX Plus turbo-petrol manual and the GTX turbo-DCT, both of which cost `18.91 lakh. The pre-paid warranty plans and fully digitized after-sales experience should help even further.
As you see in our scores, none of these SUVs is 'bad value'. There is some or the other appeal to each of them. More than anything else, this parameter seems to highlight why we like SUVs to begin with. They seem to provide versatility unmatched by other bodystyles. And be able to do everything any other car can do, but with an added touch of authority.
Read the rest of the 2019 OD SUV Slugfest 2019 below:
Watch the 2019 OD SUV Slugfest video below:
Price (Ex-Delhi)
Starts Rs 74.9 Lakhs
Price (Ex-Delhi)
Starts Rs 32.75 Lakhs
Price (Ex-Delhi)
Starts Rs 28.27 Lakhs
Price (Ex-Delhi)
Starts Rs 6.7 Lakhs
Price (Ex-Delhi)
Starts Rs 17.79 Lakhs
Price (Ex-Delhi)
Starts Rs 53.9 Lakhs
Price (Ex-Delhi)
Starts Rs 9.95 Lakhs
Price (Ex-Delhi)
Starts Rs 27.7 Lakhs
Price (Ex-Delhi)
Starts Rs 7.95 Lakhs
Price (Ex-Delhi)
Starts Rs 12.9 Lakhs
Price (Ex-Delhi)
Starts Rs 9.5 Lakhs
Price (Ex-Delhi)
Starts Rs 8.49 Lakhs
Price (Ex-Delhi)
Starts Rs 13.69 Lakhs
Price (Ex-Delhi)
Starts Rs 29.98 Lakhs
Price (Ex-Delhi)
Starts Rs 80.9 Lakhs