2019 OD SUV Slugfest: The Mega SUV Special
Last year, we at OVERDRIVE did the biggest SUV story ever for our anniversary issue. This time again, we gathered 14 of the most popular SUVs and put them through our rigorous and revealing evaluation procedure. Please note this is by no means a direct comparison test. And while we tried to get all the popular SUVs that were launched since September 2018 (our last anniversary issue), logistical constraints, availability of vehicle and time, may have led to us missing out on some.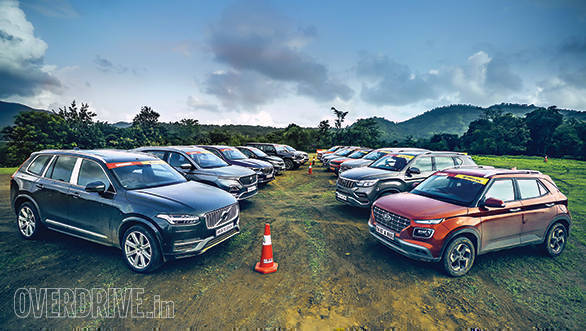 We have taken a selection of SUVs from across segments like compact, premium, luxury, upper-luxury and hardcore SUV, and subjected them to close scrutiny based on our Seven Parameters Formula. The parameters that we have evaluated and given scores on are – Presence (Evaluator: Bob Rupani), On -Road performance (Evaluator: Rohit Paradkar), All-Terrain Performance (Evaluator: Bob Rupani), Interiors (Evaluator: Simran Rastogi), Features (Evaluator: Rohit Paradkar), Fuel Efficiency (Evaluator: Abhay Verma) and Value (Evaluator: Tuhin Guha). As you can see, we have different members of our team looking after various parameters. The reason we decided to split the parameters amongst ourselves, was to give each evaluator a specific task/tasks that they could get fully immersed in. In a sense, it could be termed as parameter specialisation.
SUVs are meant to be all-rounders with a large range of abilities and functions. So our Seven Parameters Formula is designed to closely examine and analyse them. All the vehicles that were brought together for the SUV Special were put through a detailed and meticulous inspection and we even laid out our very own off-road course to study their all-terrain performance. And thanks to all the evaluators, we have some very insightful findings, that go beyond a regular review, to share.
But before that, let's just look at why in recent years, the entire Indian auto industry has been mainly an SUV story. As we all know, crossovers and SUVs are the fastest-growing vehicle type not just in India, but also all over the world. So what is drawing an increasing number of people to them? One of the biggest USPs, or salient features, of SUVs is their high seating that provides a commanding view. Because you sit higher in SUVs, you generally look over the bonnet and have a better view of other road users. In some SUVs like the Jeep Wrangler, it almost feels like you have an aerial view. The good thing about this elevated view is that while making the occupants of the vehicle feel nice, it also provides the driver with better all-round visibility. This can give the driver just that little bit of extra time to react, which can prevent an accident and save lives. Some studies have also shown that many people feel safer and more assured when they have a commanding seat position with a better view of the traffic around them.
There is also the fact that getting in (ingress) and out (egress) of an SUV is easier than in a hatchback or sedan. The raised stance, higher ride height and H-point, all make it easier to enter or exit an SUV as you don't have to bend or stretch and this is much appreciated by those who are not as fit or as active as they once were. It also helps in making a 'dignified entry' at a function where people are waiting to see or greet you.
Another thing that SUVs generally deliver, is space. This is because they have higher roofs, lower floors and the two box layout also increases the volume of the passenger compartment. Rear seat passengers are more comfortable as the roof lines on most SUVs (unlike in most sedans and hatchbacks) do not sweep or angle down at the back. And due to the larger volume, space in the boot is higher and allows one to carry far more than you can in similar-sized sedans. Thanks to the body style, and the fact that the boot area is not distinctly separated from the cabin, SUVs are also pet-friendly, especially when you are travelling. In a sedan you cannot lock your pet away in the boot. But in an SUV, you can safely and happily put your pet in the boot. This way they will not have a free run of the seats and it's also better for their safety and yours.
Then there is the safety aspect. Almost everyone feels that they are safer in an SUV, which may or may not be the case, as a lot depends on the body design, construction and various other safety features. But the general impression is that SUVs are safer because they are larger, heavier, and look more solid and strong. The bigger size and bulk also makes people believe that in case of an accident with a lighter and smaller vehicle, they will inflict more damage than what they will suffer. While this may be partly true due to the various laws of physics which say a heavier object will transfer more energy in a crash, personally I am against this line of thinking, because only looking at your safety and not that of others, is a selfish approach. In any case with the growing number of SUVs on our roads, the chances of meeting your match have increased substantially. So you are not going to get a tank to protect yourself, while harming others, are you?
Most people are also under the impression that unlike sedans, SUVs can go anywhere and our findings on this have been detailed in the All-Terrain Performance Parameter. But one thing is for sure, the higher ride height and ground clearance of SUVs is very useful on our less than perfect roads. As the vehicle has a high stance, the suspension travel is usually also more and this aids in cushioning the impacts of potholes, craters, bumps, speed breakers and all the deformed surfaces we face while driving in India. The high stance can also be useful on flooded streets.
It is this versatility that has helped make SUVs so popular. You can drive them in the city or go on long road trips on highways. They are equally comfortable on smooth roads and bad, and when the paved road runs out, some of them have the capability to still keep going. It is these factors that have made SUVS the sweethearts they are.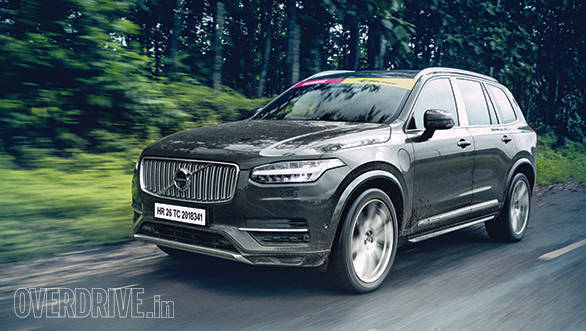 As far as us Indians are concerned, I think there is one more thing - prestige and status. It was in the 80s and 90s that we started seeing the rich and well-connected importing SUVs like the Mitsubishi Pajero, Toyota Land Cruiser, Range Rover, etc into India. Many came in through the direct import against licence or NRI transfer of residence route. All these SUVs are big, luxurious, striking and expensive and were used mainly by industrialists and businessmen, or film stars and politicians. Back then (and even to a large extent now), these SUVS were out of reach for most of us, and became a symbol of success for many. It led to dreams of earning great wealth and acquiring these status symbols. About a decade back, the dream started coming true, when smaller and more affordable SUVs and crossovers began coming into our showrooms. They are more affordable and the fact that regular consumers and not only the rich can now purchase and afford to run SUVs, has led to them becoming the fastest-growing segment. And the fact that people like them has driven manufacturers to introduce more SUVs than sedans. In fact it almost appears like Indian automakers are not making cars anymore. Almost every new vehicle launched now is an SUV, and this amplification of choice, is further advancing the appeal and sale of SUVs.
Read the rest of the 2019 OD SUV Slugfest 2019 below:
Watch the 2019 OD SUV Slugfest video below:
Price (Ex-Delhi)
Starts Rs 53.9 Lakhs