2019 OD SUV Slugfest: Conclusion
The OVERDRIVE team took three whole days to test these SUVs through those 7 parameters. Several debates and arguments later we reached our decision on every parameter. Some of these tests were objectively conducted, some are subjective. The one thing however that clearly comes across, especially if you go through the points table is that none of these SUVs is sorely lacking. Each of them has unique characteristics and perform certain tasks better than others. However there are leaders in this test and there are those that do get left behind. Also since this is not an apples to apples comparison test, you should be looking more closely at the points table to understand what SUV would suit your requirements and needs. Here however is what the overall scores mean.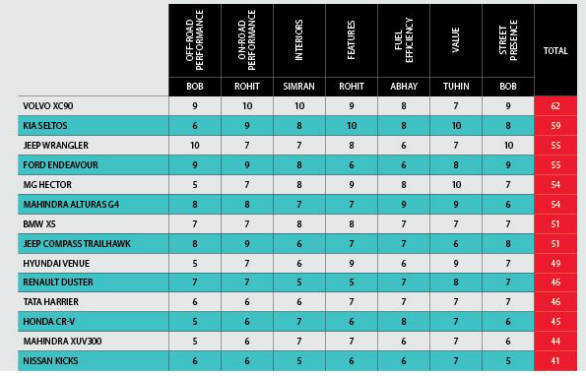 At the fag end we have the Nissan Kicks which could certainly do better if its feature set and its powertrains could be improved. It has a good value proposition, but isnt as contemporary overall as its made out to be. Despite being the newer launch, it fares worse off than the Renault Duster which aced the SUV comparison we conducted last year. The Duster, in fact, continues to offer some strong attributes, good value, street presence and great on-road and off-road abilities that hold it in good stead, making it a better buy than most in its segment.
We were also expecting a lot more out of the XUV300. We were impressed by its build quality, its spacious and well-built interiors and its features, but clearly it isnt enough. Bogged down by weak fuel efficiency, dynamics and other aspects like its dowdy steering the XUV300 could be so much better with some minor tweaks.
The CR-V was a bit of a shocker placing itself at the lower end of the scorecard. Over a decade ago, the CR-V was the benchmark for SUVs that made their way into our market. Things have changed dramatically and Honda have just not been able to move the goalposts far ahead enough for the CR-V to be a strong player in the market any longer. With the all-wheel drivetrain, the CR-V is a reasonably good all-terrain vehicle but in 2WD guise it lacks the appeal consumers are looking for.
Toward the middle we were pleasantly surprised to see the Tata Harrier performing consistently well. Its strengths lie in its design package, its value proposition, efficiency and a plethora of features but Tata needs to work harder on the mechanical aspects. Refinement, on-road manners and even interior quality need improvement.
The Venue also finds itself somewhere in the middle but the points table clearly indicate it's the SUV to have if you're on a budget, looking for something compact, with a great set of technologically advanced features and a fantastic value proposition. All attributes that ideally point it towards millenials who are more conducive to contemporary technologies over mechanicals.
Up next are the Jeep Compass Trailhawk and the BMW X5, both of which end in a tie in the points table. Fantastic on-road manners, great street presence and reasonably good off-road abilities make the Compass Trailhawk a keeper. And the fact that some of its characteristics were more valued than what BMW could achieve is a testament to how well Jeep India has executed this package.
That is not to say the BMW is poorer in this evaluation. It is however easy to get swayed by its powertrains, the fit and finish, the quality of the interiors and even to a large extent its abilities in the rough. But its too gimmicky, too flashy and it's not going to attract many with the way it looks.
Another surprise can be found one position above the BMW. The Mahindra Alturas pleasantly surprised us with its range of abilities complemented by some sensational value offerings made available by Mahindra. And bear in mind this is still a ladder-frame platform with a mechanical transfer case giving a big win for old-school SUVs with oomph, style and an understated maturity to boot!
The Alturas finds itself tied with the MG Hector which is also very, very impressive. Its laden with tech, has the best value proposition amongst this crop of SUVs, is backed strongly by MG, is attractive and imposing to look at, and in the same vein, has very pleasant interiors. We were quite surprised by the quality of its trappings and the well-built cabin. Clearly its Britishness has a lot to do with its status on this scorecard.
Moving up the order we find a tie yet again betwen the Ford Endeavour and the Jeep Wrangler. Interestingly both of these have some of the best off-road packages you can buy in India today. But, while they are tremendously capable vehicles to drive where only dirt exists, they are equally impressive on tarmac. The Wrangler especially impresses with its powertrain, the fluidity with which its power and torque explodes, and that too from a four-pot mill, is nothing short of exhilarating. Change the highway tyres it comes with to a mud or all-terrain pattern and you've got an SUV that can ford obstacles as easily as the BJP did in the recent elections!
What did not surprise us was the Seltos, Kia's first offically made in India offering. It is quite simply a cut above all else at a price point that is just too hard to ignore. At its price point, it offers the best in this class value. There is no obfuscating the fact that this is one of those of those vehicles that come our way very rarely. Our road test
and comparison story which you will find elsewhere in this magazine, specifically with the MG Hector, willl only go to strengthen its position here
in this comparison.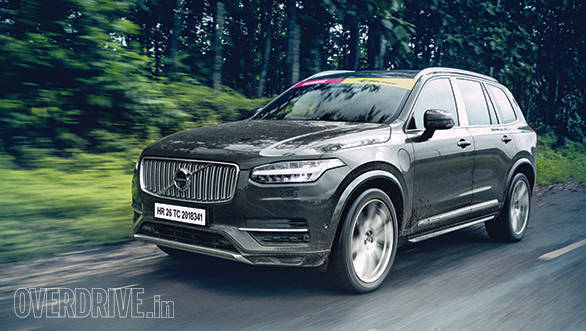 And that brings me to that one SUV which unanimously had us fawning all over it throughout the duration of this test. Over the three days of this comparison we had to constantly yank people out of its cabin and get to work. The soothing lounge-like interiors, the business class-like cockpit with its reclining massage seats and foldaway tables, are simply to be experienced to be believed. It is without a doubt the benchmark in this comparison, acing so many parameters with straightforward dignity, polish and confidence. It plays so many parts so satisfactorily, that nothing else here could come even close to emulating what it delivers. Its price may bring on questions about how it could win this test, but that is in a way the whole point of this exercise. To find the one SUV to beat them all, the one that leads the way and sets the standards, and we did find it. And, we found it very appealing!
Read the rest of the 2019 OD SUV Slugfest 2019 below:
Watch the 2019 OD SUV Slugfest video below:
Price (Ex-Delhi)
Starts Rs 74.9 Lakhs
Price (Ex-Delhi)
Starts Rs 32.75 Lakhs
Price (Ex-Delhi)
Starts Rs 17.79 Lakhs
Price (Ex-Delhi)
Starts Rs 53.9 Lakhs
Price (Ex-Delhi)
Starts Rs 12.9 Lakhs
Price (Ex-Delhi)
Starts Rs 9.5 Lakhs
Price (Ex-Delhi)
Starts Rs 8.49 Lakhs
Price (Ex-Delhi)
Starts Rs 13.69 Lakhs