2019 OD SUV Slugfest: All-terrain performance
Though SUVs are meant to be able to take you anywhere, let's be honest, few people these days buy them for their all-terrain capability or off-roading prowess. Nor do they use them to embark on adventurous drives, or make their own roads through tough terrain. The furthest beyond paved roads that most venture is the dirt track leading to their farmhouses! It's like buying a Swiss Army knife to chop vegetables!
But folks still like to believe that their SUV can go anywhere, even if it's just a two-wheel drive. The raised stance and higher ground clearance is undoubtedly better for dealing with our badly broken roads and massive potholes and huge speed breakers. The additional height may also be useful while driving through flooded streets. But one must bear in mind that just because a SUV has a high stance, does not mean it can tackle slushy tracks, steep gradients or sandy and rocky surfaces. Its all-terrain capability depends on various factors like ground clearance, if it's a pure two-wheel drive, or does it also come with all-wheel drive or four-wheel drive? How long are its overhangs and which are the all-terrain driving aids on offer? Does it have advanced modern day features like terrain administration systems, etc? All these things determine how the SUV performs, when the paved road runs out.
Earlier SUVs were mainly based on body-on-frame platforms, and were far more rugged and basic, used mainly by the military, forest departments, emergency services and some serious outdoorsmen. But now most modern day SUVs have a unibody construction with their monocoque platforms being shared with other sedans, hatchbacks or even MPVs. In most cases the mechanical underpinnings are the same as a regular car, so it's unreal to expect any serious all-terrain ability. This aspect of the SUVs performance is sacrificed by many manufacturers for better comfort and car-like performance. Amusingly, though most people like the SUV body style and higher stance, they prefer to have a car-like driving experience.
Nevertheless, some hard-core enthusiasts like me continue to believe that having an SUV without even some sort of all-terrain capability is like having a gun, without any ammunition! And we at OVERDRIVE are also aware that there are enough of you enthusiasts out there, who would like a SUV with all-terrain abilities to allow you to continue motoring, when the paved road runs out, as it often does in the interior and prettier parts of India.
And that is the reason we have included this parameter of all-terrain capability and off-road competence in the SUV Special. But before proceeding ahead, here is a disclaimer - we have not printed the ground clearance figures in this test, though we have looked at them. Why? Because after the Automotive Research Association of India (ARAI) introduced its new rule that ground clearance measurements must be done with the vehicle loaded to its maximum authorised gross vehicle weight (GVW), many manufacturers are not inclined to share this figure. In fact several have stopped putting it in their brochures, websites, etc. A few in fact continue giving out the earlier figures. This leaves people struggling to get accurate information. Earlier ground clearance was calculated in the unladen state. Due to this alteration in the method of measurement, the actual ground clearance has not changed, only the way of measuring it has. To put it simply, if a vehicle has a ground clearance of say 200mm and then you load it with its approved vehicle gross weight, the suspension obviously compresses and the lowest part of the vehicle in relation to the ground surface will be reduced by about 20 per cent, making the measurement 160mm or so.
So could we not have measured the ground clearance and shared the figure? Of course we can. But what method should be followed- laden or unladen? And for the measurements to be accurate and fair, one would require a bit of infrastructure, like an absolutely level ground, proper weighbridge, etc. There is also another practical aspect. Normally when ground clearance is measured, what's taken into account is the distance between the ground and the lowest point of the centre most part of the vehicle. But you could have things like an exhaust muffler mounted low at the rear, making it prone to damage. So the floorpan design and layout is obviously an important practical aspect while going off-road and clearly a flat floorpan is more beneficial. Its things like this that we have also looked at.
A couple of other figures we would have loved to have included is water wading depth and approach and departure angles. As we have seen recently, flooded roads are becoming increasingly common in our monsoons. As most SUVs have a higher stance, they can be driven in deeper water. But before doing this, one should know the recommended water fording depth of the vehicle. Because driving in water deeper than it is designed for, can lead to serious damage to the vehicle, and possibly its occupants. Unfortunately not all SUV manufacturers are willing to volunteer this information. Same is the case with approach and departure angles. Some manufacturers of SUVs known for their all terrain ability do share such information, but it would be unfair to only carry their figures.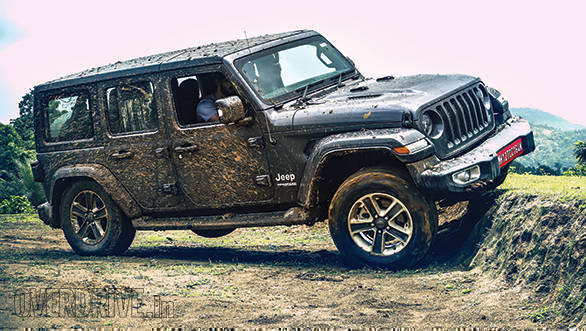 Given this, we laid out our very own little off-road trail and drove all the SUVs through it. We closely studied their performance and looked closely at how they perform away from tarmac. And here is what we found - the new generation Wrangler features even more of the famous Jeep 4X4 capability and is without any doubt the best off-road performer. It has the traditional body-on-frame construction and the suspension, steering, engine, gearbox, etc, are all engineered to deliver on road-performance without sacrificing off-road capability. The Wrangler proudly boasts of one of the best 4X4 drivetrains, with a two-speed transfer case with a proper low-range. The gear and axle ratios allow the Wrangler to climb over high rocks and enable optimal grip in low-traction conditions. The ground clearance, approach and departure angles, water fording depth, are all top-class and there are strong skid plates to protect the critical components. And how can one not mention the amazing wheel and axle articulation that allows the Wrangler's tyres to maintain contact with the ground even in acute off-road terrain? Put simply, the Jeep Wrangler is in a completely different class when it comes to off-road performance.
Next up is the Ford Endeavour. Its ground clearance is exceptional and it too has a proper 4WD drivetrain with the transfer case containing an additional set of gears with a far lower ratio. You can select 4WD low and change the gear ratios to deliver max torque and power at much lower engine and vehicle speeds. It also has an outstanding Terrain Management System with modes like auto, sand, snow/mud and rock. It comes with an electric locking rear differential and hill descent control and launch assist, all of which make the Ford Endeavour a seriously capable off-road machine. Such all-terrain capability is now getting rarer with each passing day.
The biggest revelation has to be the Volvo XC90 T8 plug-in hybrid. I am truly astonished by its all-terrain capability. Volvo has never positioned the XC90 as an off-roader or even been vocal of its all-terrain ability. And it's so stylish, luxurious and expensive, that its one of the last vehicles one would want to go and play in the mud with. But when I took it on the off-road track OD had laid out, I was simply blown away with its excellent off-road manners. It is deceptively accomplished in the loose and in the off-road mode its air suspension raises the height substantially. The traction control, electronic stability control, ABS, and all the other electronic driving aids, combine so very effectively, that the Volvo XC90 has an extraordinary and almost gecko-like grip on difficult terrain. Select the off-road mode and the air suspension not only raises the height substantially, but the engine response, gear-shift points, steering etc are all adjusted to enhance all-terrain ability. The hill descent control is also activated automatically, but one needs to be careful not to damage the low profile street-biased tyres. Despite these tyres that are more suited for high speed driving, the Volvo XC90 is incredibly sure footed and the most comfortable and classy SUV to drive off-road.
Interestingly, in the Volvo XC90 Hybrid, the electric motor situated at the back above the axles drives only the rear wheels. The front wheels are driven via the petrol internal combustion engine. In the off-road mode, both the petrol engine and electric motor, work in tandem and jointly deliver a staggering 400Nm plus 240Nm (electric motor) of torque! There is no propeller shaft or even differential connecting both, and in this space is placed the battery pack. The battery always maintains a 'reserve charge' in case it is called on to do duty in off-road mode. In any case, the battery is also charged on the move by the engine and through regenerative braking.
The Jeep Compass is up next, but it's the Trailhawk variant that carries the Trail Rated badge, which is a symbol of it superior all-terrain capability. Jeep has increased the Compass Trailhawk's ground clearance by lifting the suspension, redesigning the bumpers to improve the approach and departure angles, and enhancing its water wading depth. The Trailhawk also has thick steel skid plates to protect the underbody and all-terrain tyres with better side wall protection and extra grip for better traction off- and on-road. But the best and most innovative trick it brings to this 'off-road party' is the Jeep Active Drive 4x4 Low. Jeep describes this as "An additional ratio in the drivetrain that allows for added traction, to tackle extreme off-road conditions". In reality it is a very clever use of the 4WD Low button, which when pressed locks the transmission in first gear! Normally you need a proper two speed transfer case to lower all the gear ratios, but in the Trailhawk, the first gear already has a low-range like 20.4:1 drive ratio. So there is no actual reduction of the first gear via 4WD Low. And when you press the low button, the drive mode you are asked to switch to is rock mode, because unlike the other versions of the Compass which have modes like auto, sand, mud and snow, the Trailhawk also has a rock (or crawl) mode. With 4WD Low selecting first gear, the rock mode comes into action and also relaxes the throttle response to prevent the vehicle surging forward. This allows one to carefully go over larger obstacles without damaging the underbody. The point to be noted is that the Jeep Compass Trailhawk comes with a 9-speed automatic gearbox. And the default gear for it to start in is second. It's only when you press the 4WD Low button that the Trailhawk starts in first gear and stays in it. Jeep deserves full marks for using such an inventive approach as the Trailhawk is able to deal with terrain you would normally only tackle in a proper four-wheel drive.
The Mahindra Alturas G4 has a proper body-on-frame construction and also a drivetrain with a four-wheel low range two-speed transfer case. This gives it appreciably good off-road capability. But it's a bit on the heavier side and the side footboards tend to brush against the ground. Having shorter overhangs would also be of help off-road. The Alturas has an interesting steering direction display in the dash, but it only comes on when one is parked with the handbrake activated. It is a sensible safety feature to prevent one from pulling out of a parking spot with the wheels pointed in the wrong direction. But strangely, you cannot call up this display on the move, where it could be helpful, especially while driving off-road. This is a nonsensical kind of wasted opportunity. And Mahindra has also done this in the XUV300.
The Renault Duster comes in an AWD (All-Wheel Drive) version, but as the name suggests, it does not have four-wheel low range. Despite this, the Duster is remarkably good beyond tarmac. The ground clearance is first rate and the Duster has very short overhangs with excellent approach and departure angles. The Duster is light on its feet and its good balance and nicely engineered AWD system, endow it with far better off-road performance than most would expect. Its compact dimensions also mean it's fairly easy to drive off-road and loads of fun to throw around.
The BMW X5 is again another SUV that surprises with its all-terrain capability. The air suspension allows the vehicle height to be adjusted and raised substantially and the off-road package it's offered with comes with some serious underbody protection and four driving modes like sand, rock, gravel or snow. In rock mode the air suspension automatically raises the ride height to its maximum level. I am not sure how many would want to go rock-climbing in such a premium SUV, but if you do go off-the beaten track, it's unlikely to let you down.
After these are the two-wheel drives like the Nissan Kicks, Tata Harrier and Kia Seltos. The Nissan Kicks of course shares its platform with the Renault Duster, but is not offered with AWD. Still it's fairly accomplished on the unpaved stuff. The Tata Harrier and Kia Seltos, notwithstanding the fact they are two-wheel drive, are offered with terrain drive modes. While the Harrier has modes like rough and wet, the Seltos boasts of mud, snow/wet and sand. These modes basically work with the traction control; stability control and brake assist system to prevent or limit wheel-spin and help put power on to the ground in loose and slippery conditions. The throttle response is also altered to increase the all-terrain ability to some extent. Again it's an inventive approach to enhance all-terrain ability.
The Honda CR-V is available in both two and all-wheel drive versions. And though the AWD drive one has better ground clearance, it's still not enough to go very far away from paved roads. The MG Hector is purely two-wheel drive and with its long wheelbase and somewhat smallish tyres, cannot lay any great claim on all-terrain performance. But the ground clearance is not bad. The Mahindra XUV300 and Hyundai Venue, though also two-wheel drives, have the compact dimensions and short overhangs and ground clearance, to manage at least some bit of the rough stuff. And thanks to their nimbleness are also enjoyable off-road. But like I said in the beginning, most people will only use their SUVs for city crawls and not crawling over rocks and cliffs.
Read the rest of the 2019 OD SUV Slugfest 2019 below:
Watch the 2019 OD SUV Slugfest video below:
Price (Ex-Delhi)
Starts Rs 74.9 Lakhs
Price (Ex-Delhi)
Starts Rs 32.75 Lakhs
Price (Ex-Delhi)
Starts Rs 28.27 Lakhs
Price (Ex-Delhi)
Starts Rs 7.53 Lakhs
Price (Ex-Delhi)
Starts Rs 17.79 Lakhs
Price (Ex-Delhi)
Starts Rs 53.9 Lakhs
Price (Ex-Delhi)
Starts Rs 9.95 Lakhs
Price (Ex-Delhi)
Starts Rs 27.7 Lakhs
Price (Ex-Delhi)
Starts Rs 7.95 Lakhs
Price (Ex-Delhi)
Starts Rs 12.9 Lakhs
Price (Ex-Delhi)
Starts Rs 9.5 Lakhs
Price (Ex-Delhi)
Starts Rs 8.49 Lakhs
Price (Ex-Delhi)
Starts Rs 13.69 Lakhs
Price (Ex-Delhi)
Starts Rs 80.9 Lakhs