2019 International Women's Day - Saluting the women with a passion for automobiles
Today is International Women's Day, an occasion which, for once, deserves all the hype it can get. This is true none more so than now. We absolutely need an instance where we can celebrate women for who they are and what they mean to society. To tide over the many times where we still tend to forget so easily.
The automobile world has been especially guilty of this. Driving, riding and talking about cars and bikes has been seen as a male-dominated affair. Women being assumed to not have the interest and sometimes the skill to not participate. But like for everything else, that's just not true.
So OVERDRIVE decided to settle this for good. Here's some of India's biggest female automotive influencers, what they do and why they do it. Most importantly, the running theme here is that they seem to do it equally well. We chose social media influencers because of their widespread recognition and how relatable they are to present society.
On being asked why she does what she does, Priyanka Kochhar says, "Motorcycles give me a rush I can't seem to find in anything else. They are definitely one of the greatest discoveries of my life." The best reason to ride two wheelers in our books.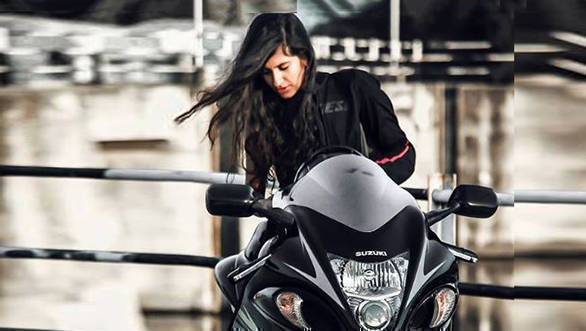 Kochhar moonlights as a model but now spends most of her time on the saddle. She seems to bring style and wit to something which can become staid quite easily. Her status in this field also helps her address social issues and educate audiences. Battling some initial criticism, she learnt riding on a Royal Enfield. Her page is now full of kit like the Triumph Thruxton R, Ducati Panigale 959, Kawasaki Ninja H2 and MV Agusta and also the occasional Porsche 718.
Gul Panag wears many hats. She started off as a beauty queen who then made the switch to Bollywood. But this is only what she is known best for. She also happens to be an entrepreneur and an activist of gender, political and environmental challenges. She's also a travel junkie, an avid reader and a keen marksman.
Image
Between all of this, she is very passionate about all things automotive. Adept at dune bashing in the Thar and traversing Ladakh's tricky terrain, she owns two customised SUVs. She's a supporter of new-age mobility too, routinely driving a Mahindra e2o and supporting the Mahindra Formula E outfit. Bikes are a passion too, right from Royal Enfields to Triumphs.
Alisha Abdullah (@alishaabdullah)
102k followers
Alisha Abdullah's back-story is in the mould of most racing athletes, She started driving go-karts at nine and had won her first go-karting championship by the time she was 13. This base and encouragement from her father, RA Abdullah, a seven-time INMRC champion means that she is now one of India's biggest female figures in motorsport. Uniquely, she's been successful in both, car and bike racing.
Image
Her biggest achievements have been wins in the JK Tyre Superbike Championship, Formula racing and the Polo Cup. She's also raced in the Toyota Vios Cup in Thailand where she scored a podium finish to become the first Indian woman to do so internationally. All of this while dodging the usual motorsport hurdles of sponsorship and injuries.
She's also deeply into fitness and has also been in a few movies. But here's what takes the cake, Abdullah has set up her own academy to nurture motorsport talent. A move that means her success can inspire and help others, and one that we quite desperately need in India.
Kalyani Potekar (bikergirl_93)
63.9k followers
Kalyani Potekar hails from Dewas, a small city in Central India. The 25-year-old motorcyclist owns a Triumph Street Triple and has been into motorcycling since the age of 18.
She is a national racer and enjoys the adrenaline rush of drag racing too. Kalyani has represented India in the FIM Asia cup of road racing at Thailand and Taiwan and finished in third place. She aspires to upgrade and race internationally.
"With the roar of the engine, I could feel the adrenaline rushing through my veins. The feeling when I ride is no other feeling. It's a therapy which gives me wings to fly and be free. Motorcycles are the best thing that ever happened to me."
Anam Hashim (@anamhashim21)
54k followers
A niche-buster if ever there was one. Anam Hashim is one of few women in the already organised stunt riding scene in our country. Her machine fits her international skill levels and comes with all manner of mods to help her pull off those moves.
Image
Like most others here, her motivations started young. She was fascinated by stunts and motorcycles both, so her current vocation is a logical progression. Along the way she's also picked up a very impressive record. She rode a TVS Scooty Zest 2,150 km to Khardung La.
Pratiksha Das (racerchick_11)
44.7k followers
Pratiksha is a final year student of Mechanical engineering and enjoys racing. She hopes to start something of her own someday, preferably something related to motorcycling and travelling.
"I have always been fascinated by superbikes and supercars. When I was pursuing my automobile diploma, my friends motivated me to take part in drag race in March 2016 (car). My performance was appreciated by many. In June 2016, I got selected for India's first female racing team (TVS) and that's how my journey started, in racing. Apart from racing, I also enjoy long rides and love to explore new places on wheels. Racing is an art of balancing your ambition and skills, being a man doesn't make a difference."
Mira Erda (@mira_erda)
24.6k followers
Mira Erda has been a part of Indian motorsports since 2010, the year she began competing in the Indian National Karting Championship at the age of nine. She graduated from karting to the Formula LGB4 series in 2014, securing the Rookie of the Year award. In 2017, she graduated to the Euro JK Series, which she also competed in, in 2018. Although Erda was long-listed for the W Series, she didn't make it through the selection rounds. In 2019, she is set to compete in another season in the Euro JK Series, where she hopes to improve her results.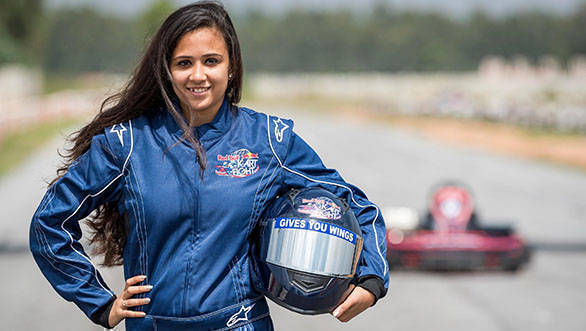 On why she becam a race-car driver, Erda says, "I grew up on a go-kart track. The passion for speed has just made me who I am today. The passion makes me want to live my dreams of being able to race with cars all my life and to make my presence felt in the world of Motorsports. Being a girl, I just love racing in fast cars and there's nothing different in that. Once the helmet is on, I am a Racer and the want for pushing the cars to their limits will always make me do what I'm doing."
Kavita owns a Triumph Bonneville along with a Kawasaki ER-6n. She loves exploring different locations on her motorcycles, and makes videos on them.
"Why I ride a motorcycle? Well, frankly I don't know. I was just drawn to it. At first it was curiosity, but when I started riding, I was addicted. I feel free when I ride my motorcycle, just she and I exploring newer terrains. The more I knew about her, the more confident I got. And now there is no going back!"
Aishwarya Pissay (@miss.pissay)
17.3k followers
As we type this out, Aishwarya Pissay has just completed the first day of the 2019 FIM Bajas World Cup, finishing the 31st out of 37 starters. It is the second international event for the Indian racer and rally rider. Over the course of the last couple of seasons, Pissay has made a name for herself, having won the women's category of the 2016 Honda One Make Championship, the women's category of the Indian National Rally Championship in 2016 and 2017, and the women's category of the Indian National Motorcycle Racing Championship in 2017. She also won the TVS Ladies One Make Racing Championship in 2017, after which she was signed on by the TVS Racing team. Although her 2018 season was truncated after a serious injury sustained at the Baja Aragon Rally, Pissay is determined to excel in 2019. We're waiting to see the results!
"Automobiles don't discriminate gender, it brings out the best in me every time I sit on it.", Pissay says. Sums up quite nicely what we've been trying to say here.
Also Read
Women who've made an impact in the world of racing
First Lady: Jamie Chadwick on her MRF Challenge 2019 championship title
Price (Ex-Delhi)
Starts Rs 86 Lakhs
Price (Ex-Delhi)
Starts Rs 15,30,000
Price (Ex-Delhi)
Starts Rs 34,50,000
Price (Ex-Delhi)
Starts Rs 12,15,800
Price (Ex-Delhi)
Starts Rs 8,84,000