2018 Yamaha YZF-R15 longterm review: Introduction
Yamaha India launched the first version of YZF-R15 about a decade ago, a true supersport that brought an interesting and involving flavour for a maturing market. I have fond memories of riding that motorcycle, so it goes without saying that I was very excited when I was handed the key to the R15 Version 3.0.
To me, the YZF-R6/R1 inspired design is what made the bike appeal to me, after all, as a photographer, good design always catches my eye. In fact, I'd go as far as labelling the new motorcycle as the most proportionate looking YZF-R15 to date and probably the best looking as well.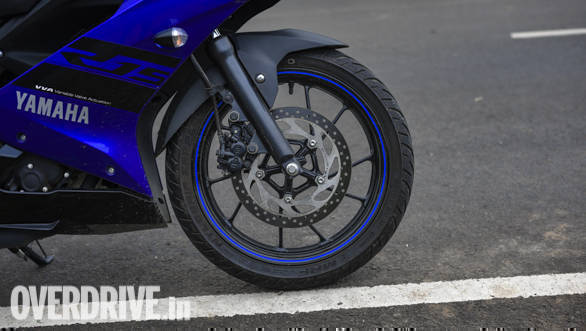 The brakes offer superb bite and feedback. But I did miss ABS in the rains
The Metzeler tyres instill a lot of confidence
After riding the super smooth Yamaha FZ25 as my daily commute to office, I was eager to see how the YZF-R15 would perform and initial impressions are very good. My route to office is a mix of open highways and traffic infested streets. On the open roads, the bike feels planted which goes a long way in boosting confidence. I also love the brakes that offer good bite. This along with the Metzeler rear on our test bike ensures that I have a big smile on my face, astride the R15. In fact, the R15 has become my happy place and I have some elaborate plans for the bike, during its tenure in the OD garage. But first, it's time to take the bike to the ghats on a weekend. Things are certainly looking good.
Acquired:  Jul 2018
Inducted at:  1,195km
Total mileage: 2,112km
Fuel: 23 litres
Economy:  40kmpl
Next update: The R15 heads for a blast up the ghats
Price (Ex-Delhi)
Starts Rs 20,39,233
Price (Ex-Delhi)
Starts Rs 99,200