2018 Maruti Suzuki Swift AMT longterm review: Wrap up
There's no two ways to put it – the Swift is pretty much all the car I could want, or need. Especially in its diesel form, with the added bonus of it being an automatic. I can barely believe that last bit myself, what with it being an AMT gearbox and all that, but it's true. As big a fan that I am of a sweet, high-revving petrol motor and a slick manual gearbox, when it comes to keeping your sanity in the city intact, I'd say go automatic any day of the week!
I'd only recently moved to Mumbai, and nothing, I repeat, nothing, can prepare you for just how mind-numbing peak hour traffic can be – especially in the monsoons. In fact, the first few weeks were spent behind the wheel of an SUV, that too with a manual gearbox and a heavy clutch! So experiencing the same traffic in a tiny hatchback that did all the work by itself was a real treat. I even managed to pack in half my life (luggage and odds and ends), moved straight out from the aforementioned SUV and into the Swift with its seats down!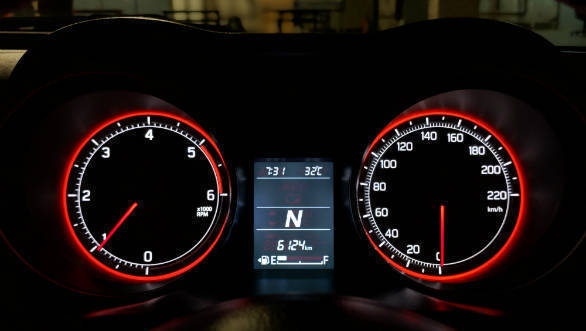 The dials look sporty
To recap, the Swift in the OD garage is a ZDi AGS, which means it's got a 1.3-litre diesel under the hood and a five-speed AMT. This is important to note, since there's no way to tell that by looking at the car. Maruti Suzuki is moving away from variant badges on most of its Nexa-distributed cars and it makes for a great clean look – pun intended, since it makes washing the car easier too. There's just the one badge to obsessively clean muck buildup around. Except the front grille, with its multiple slats, would be any Parsi's nightmare! I know it's an area I try to deep clean every once in a while but the good news is it doesn't look too in-your-face dirty even if you don't. Compulsive cleaning aside, I find myself looking back at it quite often, after I've parked it. That's the first good sign, isn't it?
For a mass-market car, the seats are sporty and comfortable
Next good sign is just how effortlessly it transforms from city-car to highway cruiser. The AMT does its job well in the city, only sometimes lurching forward instead of creeping, which is more than I can say for its other AMT counterparts. The shift from first to second can be accompanied by a longer pause than expected, but it's only an issue if you're trying to make a gap in traffic. Honestly, I'm used to it now and have learnt to drive around it – getting off the throttle for an instant helps it loads.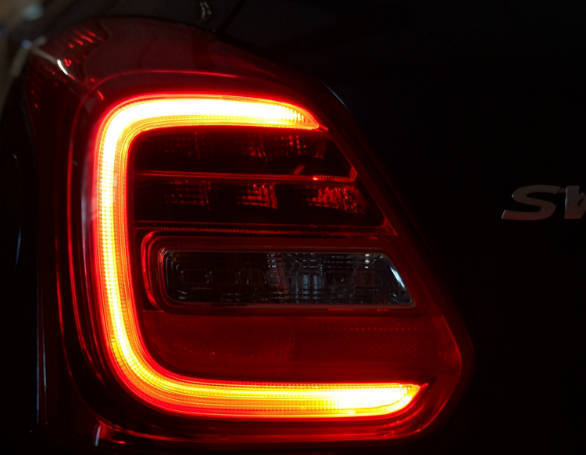 But then when you're, say purely for example, running late for a shoot outside the city, it's more than happy to sit at highway speeds and give you the right gear when you need an overtake. Also, because it's only five gears, versus a more complicated seven-speed, it's not constantly switching gears on you to keep it in its optimal rev range, which makes it feel more natural to drive. Which at 100-120kmph is just between 2,000-2,500 revs, so it's fairly relaxed there too with plenty of torque still left. This of course reflects in its fuel efficiency, which reiterates my point of it being the only car you'll ever need. Through the worst of traffic, it's never dropped under 16kmpl! And on those high speed highway runs, it's usually closer to 17-18kmpl. Even though its tank is relatively small at 35 litres, that's a significant cruising range of over 550km!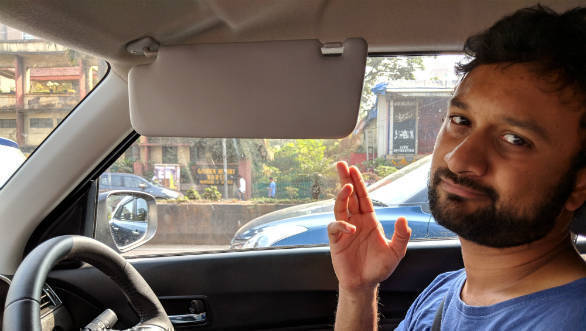 The Sun shade actually does fails to shield the face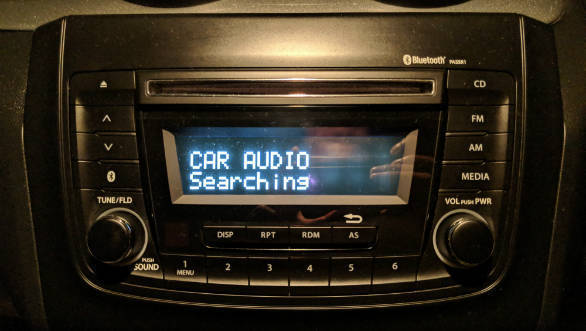 The Bluetooth is iffy at times
I've spent most of my time behind the wheel, a very nice place to be despite the vague and hyper-reactive steering. That same nature makes it want to attack a corner, and I'm more than fine with that. I'd just perhaps like to see fatter rubber, with a lower sidewall section for more grip and less initial roll when you turn in. I know there are Swift owners out there with this setup, so weigh in please! It might make the already slightly-stiff ride worse, but I'm okay with that. For people using the Swift as a regular family car first, I've found dropping tyre pressure by 2-3psi to help, without impacting fuel efficiency. And for the same car to show characteristics that make it good in the city, fun outside it and still be efficient – I really don't see why you'd look anywhere else than at the Swift for an all-purpose car.
Acquired: Mar 2018
Last reported at: 6,124km
Total mileage: 7,762km
Fuel: 99 litres
Economy: 16.6kmpl
Price (Ex-Delhi)
Starts Rs 5.73 Lakhs