2017 Indian National Motorcycle Racing Championship: Young and younger
Sixteen-year-old Senthil Kumar rides a bicycle around on most days, except when he is trading grid positions with seasoned racers in the 2017 MRF MMSC FMSCI Indian National Motorcycle Racing Championship. Within two years, the Coimbatore teen has quickly climbed the leader board in the Honda One-Make Championship. He stood fourth in the points tally as the racing began at Round 4 of the championship, before a collision meant he could not finish the day's race and slipped down to seventh position. However, for someone who has only been racing for two years, Senthil is aiming high. The youngest participant in INMRC says his goal is to race in premier-class international motorsport events before he turns 23.
It's a lofty goal, of course. But Senthil comes from a crop of young riders who are examples of the rapidly dropping age as far as racers in the country go. Logically it's simple. If someone hopes to make it abroad as a racer (a competitive racer who can actually aspire to a career in the sport) he or she needs to start early. Very early. Way earlier than Senthil began, of course. But it's a start.
Senthil Kumar (No.63) is all of 16 and is already being groomed for international races by Honda.
Speak to Senthil and it's evident that he's quite keen on learning as much as possible in a bid to make it. "I am constantly learning. I study the styles of senior racers in the circuit and also observe the moves of international racers in Moto3 and other championships. This helps me decide when to make my move against any competitor," he says. "Us younger boys have less fear while attacking on a racetrack. This gives us an edge over the older participants," he continues. Although he's quick to admit that this lack of fear (some would say lack of experience) can be nullified by the fact that the old hands are armed with more knowledge. So clearly, as far as learning goes, there's a long way to go.
But Senthil, who is still studying, believes that he is growing with each race. "I intend to race in the Moto3 class of MotoGP before I turn 23," he says. He's ambitious, but realistically there are going to be quite a few stepping stones along the way to Moto3. He's only just been racing in the Honda One-Make Championship and the Stock (up to 165cc) class of the national racing championship on his Honda Ten10 Racing CBR 150.
Of course, Senthil's not the only one who caught our attention at the track. Rajiv Sethu, also a Honda Ten10 Racing rider, has been at the head of the Super Sport Indian (up to 165cc) class leaderboard for most of the season. This year he's also made the leap to the Asia Road Racing Championship's AP250class. And there's talk of him participating in the upcoming Thai Talent Cup on a Honda NSF250. Sethu has been racing since 2014, and as someone who wants to race hard and win, the accidents he's dealt with are par for the course. Injuries to the leg and hip, and crashing at 185kmph, are all part of the game when you want to become Pro Stock champion, which Sethu was in 2016.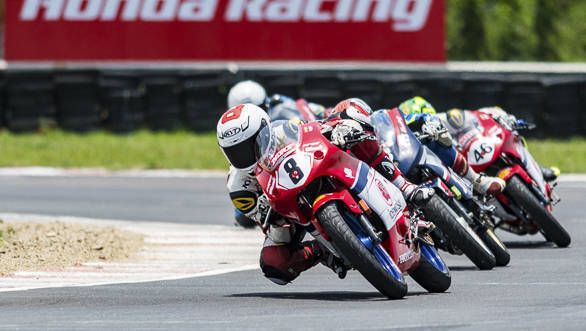 At 18, Rajiv Sethu (No.8) leads the Super Sport Indian (up to 165cc) class of INMRC, while also competing in the Asia Road Racing Championship in AP250 class.
Rajiv is willing to put in the hard work that he believes it will take in order for him to achieve his goals â€" Moto3, possibly also Moto2. The timeline that he has in mind is "the near future". Which is why, in order to realise his dreams soon, he's been training six hours a day. "My bosses at Honda Ten10 Racing as well as my mentor Sarath Kumar motivate me every day to push harder and become better," he says. There's also the fact that since he's younger, he believes he's still able to learn and adapt quickly.
Talking to both these riders it's clear that they have the ambition and drive to actually go out there and try to make their dreams of international motorsport come true. But even the most optimistic of people will need to accept that in order to make it in motorsport, it takes a lot more than passion and hardwork. There needs to be a clear route charted out, the right sort of people in place to help you traverse this course, and a support system in place too. In the form of Honda Ten10 Racing, with Ramji Govindrajan and Sarath Kumar as mentors, both Senthil and Rajiv have something of an advantage. In fact they've got the experience of people who've already tried their hands at it, to help them along.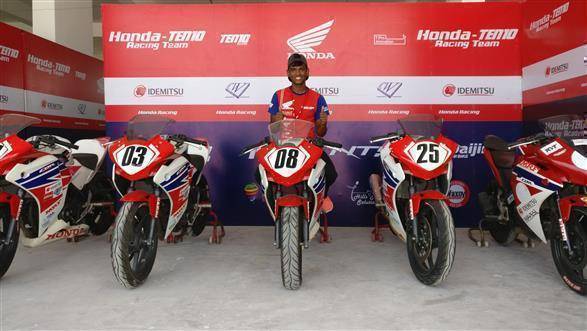 It's the initial support system or framework that Honda Motorcycles and Scooters India hopes to provide. And it's for this reason that Prabhu Nagaraj, VP of customer service, HMSI, believes that it's not an impossible dream to see young riders racing internationally soon. "We saw the talent in Senthil early on and asked him to race for us. He is being trained to compete at the international level. He may represent us at the Asia-level soon, and move up to Moto3 races in coming years," he says. "With motorcycle racing turning into a good career option, and more platforms emerging in India, it is only a matter of time before young winning racers emerge from the country," he says. It's a sunny outlook to have. But the fact remains that our riders are still starting out too late. And most of them only get to train at the MMRT. As opposed to European riders, most of whom start racing when they are around the age of five, and have a multitude of tracks to train on, race on, and continuously hone their skills.
There's been progress though, feels veteran motorcycle racer and MMSC working committee member Subhash Chandra Bose. He feels the younger lot that are coming into racing are a clean slate, and that there's hope yet to train them and make racers out of them. "When the younger boys pick up their riding skills on the racetrack, they are easier to train, work harder and can actually last long enough in the circuit to eventually reach the international level," he says. It wasn't quite so easy in his day though. There were no teams back then, racers would have to build their own bikes, set up their own bikes, and race them. There was the additional requirement of technical knowledge â€" not just the skill of racing. "Now with factory teams helping them with the technical aspect, the young racers can focus more on skill. But they should not forget to pick up enough mechanical know-how to be able to explain to their technician what they want to be improved or changed on the motorcycle," says Bose.
Which means that things in motorcycle racing in the country certainly are changing, even if the change is slow. It's a positive sign, and it's change in the right direction. But the cogs must not stop turning. There's a lot still to be done.