2016 Volvo 9400 first drive review
I have always wanted to drive an automobile powered by a high displacement engine that makes upwards of 400PS and around 1,000Nm of torque. Like everyone else at OVERDRIVE, I too believed that I would get this dream opportunity someday. However, I had never imagined that it would be a 14.5-metre-long mammoth with eight wheels and air suspension!
So, when Volvo offered me a chance to drive two of its new bus models at its test track in Bengaluru, I was quite surprised. What got me interested was its 2.3-kilometre-long track, which has a skid pad, a small artificial hill section, a few tight corners and a wide patch for testing the brakes. Well, I wasn't going to attempt drifting a Volvo bus, but you do get the drift right?
Frankly, I have always wanted to drive a Volvo bus. Since 2006, I have been witnessing them pulling away from traffic lights with a sense of calmness, grace and pace that belies their size. Also, while other heavy vehicles are always struggling to breathe on hill roads, Volvo buses continue to pull away without any drama. In fact, majority of us have seen Volvo buses changing direction and coming to a complete stop at a moment's notice without any drama.
Yes, we all know they are comfortable to travel in. But what are they like to drive? Are they easy to manoeuvre, park and reverse? How good are the brakes? After spending over an hour behind the wheel of the Volvo 9400 14.5 metres and the Volvo 9400 12 metres, I have found the answers to those questions.
Standing tall
When it comes to describing the stance of an SUV, we automobile journalists rarely fail to use the word 'imposing'. After standing face to face with the Volvo 9400, I literally got to experience what an imposing stance means. The 9400 14.5-metre and the 9400 12-metre buses have a width of 2.6 metres and a height of 3.6 metres. Yup! It took me a while to digest those numbers.
In terms of styling, Volvo buses have always been pleasing to the eye. Unlike majority of other buses, Volvo buses aren't based on a truck chassis. Volvo designs buses from ground-up for passenger applications. Its new bus range gets new paint schemes and body graphics, making their competitors look even more outdated. The paint and build quality continues to be impressive.
Comfort orientation
Volvo says that during its 15 years of operations in India, over 6,000 buses have been sold. The company attributes its success to its focus on designing a comfortable and ergonomically ideal cabin. A lot of importance is given to the driver's cabin right from the seat, steering and pedal positioning to the seat comfort. The seat is perfectly cushioned and offers the correct amount of support. No wonder Volvo bus drivers can cover over 200 kilometres at a stretch without feeling tired.
I found the driver's seat to be as comfortable as some of the mid-size sedans. The seat can be adjusted for height and length which makes it easy to find a comfortable driving position. The best bit is that all controls fall easily to hand one doesn't need to stretch to operate any switch. The analogue speedo and the tachometer get large dials which are easy to read.
The parking brake lever is located on the dashboard on the right side of the steering wheel. The parking brake gets engaged by simply pulling the lever down which requires minimal effort. To disengage it, the lever just needs to be pulled up and let go. Given the length of the buses, it is important for the driver to constantly look out for other vehicles on its sides and be aware of what the rear wheels are up to. What makes it easy for the driver are the huge electrically adjustable wing mirrors which eliminate the dreaded blind spots.
All Volvo buses get a rear engine configuration. As a result, the driver is metres away from the noise and vibrations of the diesel engine. This allows for a calm and quiet driver environment which ends up reducing stress and fatigue. This is the reason why Volvo bus drivers never seem to lose their cool. For a bus or commercial vehicle, the cabin is very well insulated, and one can barely hear the outside world. Volvo also offers an air-conditioned cabin, which is standard. After spending half an hour in the driver's seat, I was so comfortable that I was confident of driving it to Mumbai. If only I had a commercial vehicle driving licence!
Behind the wheel
I got to drive the smaller Volvo 9400 12-metre bus first. It is powered by a 7.7-litre 6-cylinder Volvo D8C engine which makes 334PS and 1,200Nm of torque. Yes, those numbers are genuine for a bus which can ferry over 35 passengers. The peak torque is delivered from 1,200-1,600rpm. The engine is mated to a 6-speed manual gearbox. Surprisingly, the clutch pedal doesn't require too much effort to engage, and it is much lighter than, say, the Duster.
Despite being allowed to drive on an empty track, I was initially sceptical about the steering response and the power delivery because I had never driven a Volvo bus before. So I stepped on to the accelerator pedal as lightly as possible, but still the 9400 12 metres surged forward with the enthusiasm of a small car. The gearbox is a bit rubbery and has long throws. However, the shift pattern is akin to that of a regular car. Hence, getting familiar required very little time.
The large steering wheel is easy to hold, and Volvo has set up the power steering system perfectly. The steering is light at low speeds which made it easy to manoeuvre the bus thorough the tight corners which are around 12-14m wide. Now, unlike a car, driving a bus requires a different technique. First, one needs to always steer with both hands. Second, while turning the wheel, the arms should never end up crossing each other.
The Volvo 9400 12-metre bus is powered by a 7.7-litre 6-cylinder Volvo D8C engine
Third, you always need to watch the mirrors while negotiating bends to keep a track of the rear wheels. Considering the length of the bus, one needs to take a wider line around corners so that the rear wheels don't end up leaving the tarmac and the rear end doesn't up scraping the pavement or parked cars!
The large windscreen coupled with the huge wing mirrors offers fantastic all-round visibility, and you are always aware of your surroundings. That's why it's become a common sight to find Volvo bus drivers navigate thorough rush-hour traffic without requiring a helper to assist them in spotting hazards.
As an automobile manufacturer, Volvo takes safety very seriously. The approach is same for Volvo's heavy vehicles division as well. All Volvo buses, irrespective of the model, come equipped with front disc brakes and ABS as standard. I was keen to find out how a 16,200kg bus travelling at 60kmph would react to the brake pedal being slammed hard.
At the designated brake testing section of the test track, I did exactly that. The Volvo 9400 came to a complete halt in a rather short stretch of tarmac. Even more surprising was that there was no sound of tyres screeching, no drama whatsoever. Think of it, I have never heard of a Volvo bus suffering from brake failure or rear ending a car. Have you? Both buses get ESP (Electronic Stability Programme) as standard.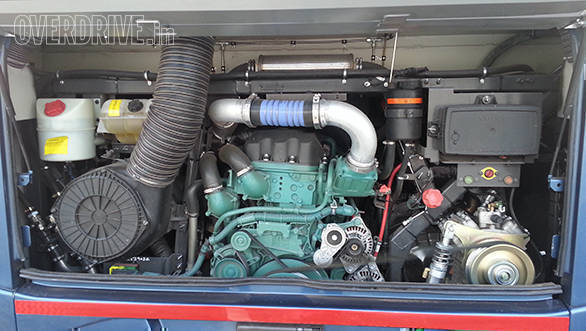 The Volvo 9400 14.5-metre bus is powered by a 10.8 litre 6-cylinder engine
I also got the opportunity to drive the Volvo 9400 14.5-metre bus. This one is powered by a Volvo D11C 10.8 litre, 6-cylinder engine which makes 415PS and a massive 1,980Nm of torque! This engine was coupled to a 12-speed AMT gearbox. Unlike the other AMT transmissions that we have experienced in cars, this unit changes gears very smoothly. It also gets two steerable axles which reduce the turning radius significantly to just 11.07m. Compared to the 9400 12-metre bus, manoeuvring the 9400 14.5-metre bus required more concentration, particularly around the tight bends.
After driving both buses around the Volvo test track for over 10 laps, I got a fair idea of the handling and braking capabilities of both mammoths. However, I was yet to test their capability to negotiate tight turns on the skid pad. After taking multiple turns lock to lock, I manoeuvred the mammoths in a figure eight pattern. There was a lot less body roll than I had expected, and both buses stuck to the lines without any protest. Yes, I did leave behind a few tyre marks. And that's not something one gets to do often in a Volvo bus.
After driving both buses to my heart's content, my respect for Volvo buses increased by a couple of notches. Volvo buses are so technologically advanced and powerful and come equipped with such safety and comfort features that even a newbie like me could drive them for over half an hour at a stretch. What caught me off guard is that I didn't expect them to be as easy to drive as a hatchback.