2016 Volkswagen Vento Cup race experience: Dream weekend
Volkswagen Motorsport India started something wonderful this year, at least for us journalists. From the second round onwards, two publications were invited to participate in each race weekend of the one-make Vento Cup championship. This is no 'fun media race'; the journalists are given a car, racing overalls and are treated exactly the same as any of the other 15-odd drivers competing in the national series. The final round of the 2016 championship was my turn to represent OVERDRIVE!
Initially, I thought it would be a great idea racing at the final round, who doesn't want to race at the BIC? But after the first driver briefing I wasn't so sure; the last thing I want to do is be the idiot who comes in the way of a two-way fight for the championship. By the end of Free Practice 1 though, it dawned that there might be other factors at play as well. My FP1 wasn't great - the moment I left the pits, I realised the steering wheel was misaligned to the right. Not wanting to waste valuable track time, I stayed out for the full session but hard braking was difficult - my brain kept wanting to straighten the wheel, and the car kept wanting to snap sideways as a result. It was a slow session but good enough to reacquaint myself with the BIC.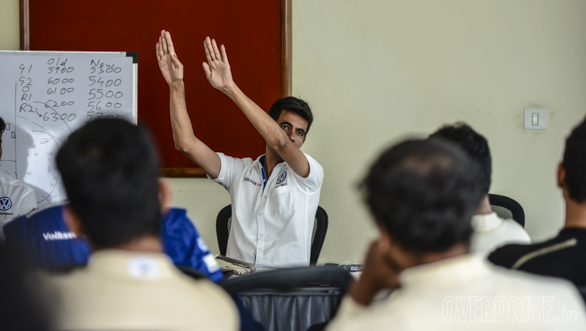 If your car goes like this, things are going very, very wrong
The other factor I was talking about was fuel. FP2 was ultimately cancelled on account of poor fuel quality that was causing turbo failures. It was hard to source good quality high-octane fuel from Uttar Pradesh and while the team worked on that, the focus shifted to saving the engines. An emergency briefing was held for all drivers, and we were informed that the shift indicator lights were being reduced by 500-800rpm from the redline to protect the engines. We could choose to ignore them, but like most of the grid, I decided to take the cautious approach. Lap times were slightly off all weekend as a result, but somehow, Ishaan Dodhiwala, the championship leader, put in a spectacular 1:25.938s lap. In second, 1.3s down was championship contender Karminder Singh and a further 1.6s off was, surprise surprise, yours truly!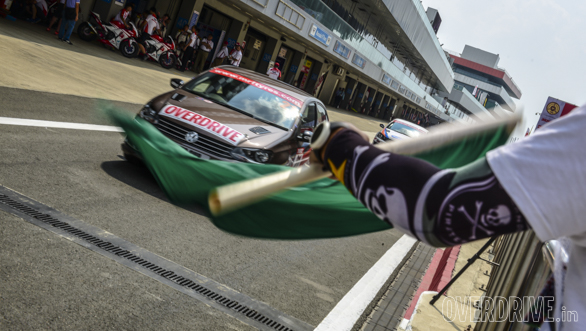 I was hoping for a top six start but this was most unexpected! It turns out that Niranjan Todkari suffered a blown turbo that ended his session while Keith Desouza's blew right on the last corner of his flying lap. Keith limped across the line and still got fourth. Can't imagine what his pace would have been if the turbo survived!
Drivers are encouraged to handle their own car set-up
So there we were at the start of Race 1, just two cars ahead on the grid and a typhoon of butterflies in my stomach. The nerves, of course, disappear the moment the lights go green and adrenaline takes over. I got a pretty good launch, but behind me Keith with a fresh turbo got an even better one and had the run-up inside me on Turn 1. Not wanting to mess up the championship (Keith was running third at the time), I chose not to block but to follow and try to keep pace with the top three who were quicker. Interestingly, I found that Keith and Karminder weren't pulling away as I expected. In fact, Keith was soon challenging Karminder for third with me right behind! This went on for two laps but neither of us could find a way through. On the third lap, I got a great run out of Turn 3 and was reeling in Keith on the long back straight. "This is it; I'm going for glory," I told myself! And then I did the one thing Keith had earlier warned me about in the pit lane - I tried diving through under the brakes into the slow Turn 4.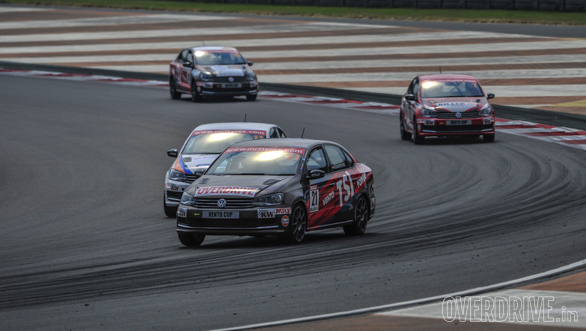 The problem with doing this is that you're getting on the brakes at about 200kmph and then shedding three gears while simultaneously trying to take a rather tight turn. More often than not, the front wheels get overwhelmed, lose grip and you understeer right off the track. I imagine Keith had a good laugh at my foolishness as he watched me violently scrub the front tyres and go at least 10 feet off the circuit. That one rookie move dropped me from third to sixth.
Cursing, I resigned myself to sixth when came one of my favourite moments of the weekend. On lap five, I caught up with the three cars that were scrapping ahead of me and trying to draft each other on the back straight. In the middle of the chaos, I managed to sneak past all three and somehow hold it on the brakes into Turn 4 to reclaim third! The order was completely changed now, and I had Aditya Pawar behind me followed by Gowdham Murugan and Keith in sixth. All I had to do was hold the position for three laps.
Time for rookie mistake number two. With two laps to go, I snuck a glance at Aditya Pawar looming in my mirrors and tried to brake as late as possible into Turn 4. I braked too late. Cue the horribly helpless tyre scrub and anger at having just given away third place. With another lap I could have perhaps repassed Pawar but eight laps is all you get, and despite scoring my best-ever finish, I was pretty bummed out.
After just missing out on the podium in Race 1, I was very keen to make it happen in Race 2.
Race 2 on Sunday would prove to be more difficult. A reverse grid start meant the running order of the top eight would be reversed for Race 2. That put me in fifth place with two very fast championship contenders behind me and Niranjan Todkari, who fought his way to eighth in Race 1, on pole. There was a bit of a scare at the start when launch control refused to engage, but I got it to work less than a second before lights went off. The launch wasn't perfect but it wasn't the disaster that could have been if the system did not engage.
Try as I might, the first few corners are a blur. I do remember trading a few places including passing and being repassed by Karminder Singh who flew past us at the start. When the melee settled, I found myself in third ahead of Ishaan Dodhiwala. Eventually, Ishaan found his way past after a few laps. However, soon after, poor Niranjan had car trouble again, taking him out of contention. Meanwhile, Gowdham got a drive through penalty for cutting a corner. By the halfway mark, I was comfortable in third behind Karminder and Ishaan. Keith was some way back and he simply had to bring his car home to seal third in the championship ahead of Niranjan. "Yes! Third place is mine!"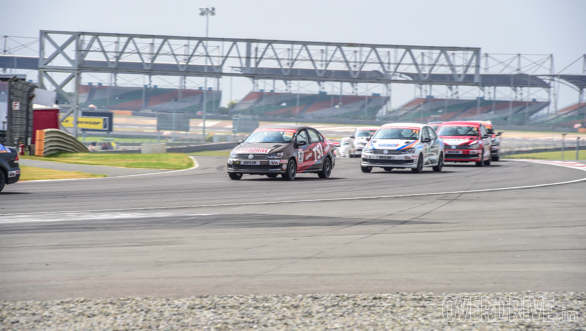 Not so fast. A big shunt by Amit Mete on Lap 5 brought out the safety car for two laps and bunched us all up together. This was not good for me. Like the other drivers, I had an allocation of six tyres for the weekend. After two days of practice, qualifying and the big understeer moments in Race 1, my tyres were finished. Without the safety car I could have managed as I had a decent lead over Keith, but he was right back on my tail as the safety car pulled back into the pits with one lap to go.
I was on a mission. After the disappointment of the previous race, I really wanted third place, but the tyres didn't have enough to support the pace necessary to stay ahead of Keith. That one lap was a messy mash-up of either understeer or big oversteer on the exit kerbs. Watching from the pits, Volkswagen Motorsport boss Sirish Vissa later asked me what the hell I was doing - apparently it looked more rallycross than racing! I think Keith could have attempted a pass but didn't want to risk it - he even gave me a small bump exiting the final corner. I like to assume it's the automotive equivalent of a pat on the back saying 'go for it son!'. Ahead, Ishaan Dodhiwalla took second behind Karminder to seal a well-deserved championship win.
Making it to the podium and post race press conference at a track as special as the BIC was a thrilling experience!
So that's the secret, shorter is faster apparently! Champion Ishaan Dodhiwala on the left, championship runner-up Karminder Singh and yours truly on the right
And that's how I got my first top three in qualifying, first podium, first-ever press conference and received my upteenth reminder that racing is the ultimate rush. If you can afford it, the professionally run Vento Cup is one of the best platforms available in India and also a great stepping stone into foreign championships. Do it!
Price (Ex-Delhi)
Starts Rs 8.78 Lakhs