2016 Nissan GT-R first drive: Ultimate Spa experience
We Indians have been going on pilgrimages for centuries. Sometimes up to the high mountains, sometimes to religious sites on the banks of holy rivers and sometimes to shrines deep in the jungles. Religion has been driving India and giving our people solace for many millenniums.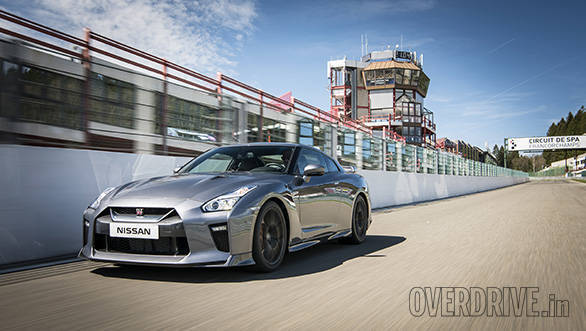 Like a good God-fearing Indian, recently I also embarked on a pilgrimage. But it was not to any religious place. It was to a place where speed is worshipped and failure to carry it into corners is feared. A place that is holy for motor-racing enthusiasts. A place that is often referred to as the most beautiful race circuit in the world. A racetrack that is the favourite of many celebrated champion drivers. A circuit considered to be the ultimate challenge. And one that is as legendary as Le Mans, Indianapolis or Monaco. Yes, I went on a pilgrimage to the Circuit of Spa-Francorchamps. Despite its name, the circuit is not in Spa but lies in the vicinity of the town of Francorchamps within the boundaries of the municipality of Stavelot.
When we Indians go on a pilgrimage, we use various modes of transport. The wealthy fly to the places like Tirupati. Others go by trains, buses and sometimes even bullock carts or camel carts. The truly pious walk to the holy site, often barefoot. Some even crawl on their knees or roll like Lotan Baba (or the rolling saint), who literally rolls his body along the ground when he is on a pilgrimage. At places like Vaishno Devi Temple, pilgrims can trek up the high mountain, take a helicopter, ride up on a pony, or even be carried up in a palki or palanquin.
So what did I use for my pilgrimage? Obviously a car. But not just any car. A car that has become an icon. One that has always been known for its understated styling combined with power-packed performance. A car that often decimates its rivals in acceleration times, top speed, grip and handling. One that does 0 to 100 kph in 2.7 seconds! A car whose specially tuned version holds the record for the fastest drift at over 300kmph!
Yes, I went on a pilgrimage to the Circuit of Spa-Francorchamps in the new Nissan GT-R. Need I say more? Well, if you insist, Spa is one of the most historical tracks that was cut short and changed in the 1970s due to safety concerns. It remains one of the most testing circuits demanding the best from drivers. At a little over 7km, it is one of the longest tracks in the F1 World Championship. It's twisty with dramatic elevation changes and famous for the "Eau Rouge" corner, a plummeting right-left-right kink that has tested the bravery of F1 drivers for decades. Spa-Francorchamps is surrounded by a forest of fir trees, also making it one of the greenest racetracks in the world.
And what about the new Nissan GT-R? As mentioned earlier, it's been known for its understated styling. Very honestly, I have never been a big fan of the GT-R's looks. I believe a sports car should look sexy and also be fast. But GT-Rs have never been sexy, only fast. So what is the new facelifted one like? In my opinion, it's the best looking GT-R till date, but frankly I still don't find it sexy. It has loads and loads of street presence and lots of aerodynamic styling aids to reduce drag and increase grip. In the new version, the trademark V-motion grille has been enlarged to improve airflow and engine cooling. The new front spoiler reduces drag and increases down force. The side skirts jut out more prominently and manage air in a better manner. The redesigned rear is wider with a larger air diffuser, and there are air vents next to the quad exhausts that also aid airflow. The traditional four rear lights are set in deeper for better air management, which has been the main focus of the designers. They have also concentrated their efforts on increasing rigidity and improving high-speed stability. The body shell, bonnet, boot and even windscreen are now said to be more rigid.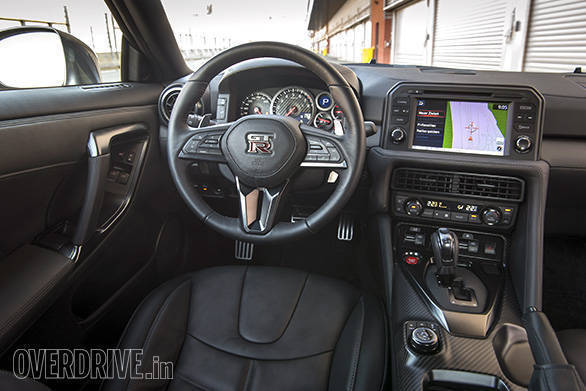 There are several changes on the inside too. The dashboard is all new with an 8-inch touch panel monitor. Some lighter material and seats have been used to keep weight in check. The feel and finish of the leather interior is very good. There has been reduction in the number of buttons from 27 in the previous model to 11 on the present one. Now shift paddles have been put at the back of the three-spoke steering which means you can change gears while turning without taking your hands off the steering. What I also like is the large and easy-to-read instruments with the carbon-fibre finish dials. The driving position is comfortable and what's really nice is the view. Unlike many other sports cars where visibility is often restricted by the sloping A-pillars, etc. the GT-R offers a nice all-round view.
Nissan says it has significantly improved NVH by using an acoustic glass windshield, active noise cancellation and new sound-damping materials. The active noise cancellation is said to identify and reduce undesired low-frequency sounds by using microphones that emit sound waves through the noise cancellation speakers to offset unwanted sounds.
The new Nissan GT-R continues to be powered by a twin turbo V6. But it now makes 562 bhp, 20 horses more than before. Maximum torque is 637 Nm and Nissan says it has managed to increase the power and torque output by revising the ignition timing and increasing the boost from the turbo's. The engine continues to be assembled by technicians called Takumi, meaning master artisans, and a plate on the engine displays the name of its craftsman.
The engine now discharges its exhaust gases through a new titanium exhaust system that manages high temperatures better. This system features Active Sound Enhancement that plays recorded engine sounds through the music system. Despite this the GT-R does not score in sound. The exhaust note is somewhat shrill and lacks bass, and the GT-R does not pop or crackle at all. Instead of a rock star, it sounds like a bathroom singer.
Nissan has fine-tuned the 6-speed dual-clutch automatic transmission that now provides smoother shifts in a quieter manner. Power goes to all four wheels through this transmission and depending on the situation; all the power can go to the rear wheels or be distributed equally or in different percentage through all four wheels.
The suspension has also been tweaked to help put down the additional power. The dampers have been retuned to deliver better cornering performance and also superior ride comfort. The suspension, of course, continues to have three modes: Normal, Comfort and R, which is basically sport mode.
We drove the GT-R from Dusseldorf to the Circuit of Spa-Francorchamps and even managed to get some awesome track time there. But it was raining constantly, and in many places it was really foggy too. The wet conditions and low visibility obviously made it more challenging, but the GT-R was well up to the task and felt really stable and assured at all times. What stands out is its ride quality in Comfort mode. Unlike many other sports cars, it does not batter or bash you and offers a fairly comfortable ride making it a good touring machine.
Push down hard on the pedal and the GT-R alluringly wiggles its behind and instantly reminds you of the punch it packs. On the track, which was really wet and slippery, the GT-R inspired unimaginable confidence. Under hard acceleration and braking, it was a little skittish but the electronic driving aids discreetly step in and quickly straighten things out. The traction and stability control do offer a fair amount of liberty. When they step in, they do so in such a discreet manner that you feel you are responsible for the corrections, which massages the ego. The all-wheel drive obviously results in better grip, but it's the seamless combination with the aerodynamics, suspension, structural rigidity, driving aids, etc. that make the GT-R a truly good handling machine. In the conditions we drove in, many of its rivals may have struggled, but the GT-R was in its element and proud to show off its performance prowess as well as its brilliant driving dynamics.
The Nissan GT-R has been through many updates and this new version is the best yet. It's better looking than all its predecessors and packs more performance too. It retains its ability to take on rivals like the Porsche 911 and Audi R8 and can even take on the likes of Maserati, Lamborghini and Ferrari. That too at a much lower price point. Sadly, it's still not sexy looking. And neither does it sound good.
Nissan will launch the GT-R in India this festival season and the price should be in the range of Rs 1.75-2.00 crore. Hardcore fans of the GT-R are obviously excited by this, and those who manage to get their hands on it will be rewarded by a really well-engineered sports car which is deceptively fast and very capable of putting its power down onto the road in a most pleasing and confidence-inspiring manner. It may not have the sex appeal or the sonorous sound of several of its rivals, but it can run with the best and hunt down the fastest. Without ever breaking into a sweat.
Also read:
Image gallery: 2016 Nissan GT-R first drive
Image gallery: 2017 Nissan GT-R
Price (Ex-Delhi)
Starts Rs 2.12 Crore
Price (Ex-Delhi)
Starts Rs 2.55 Crore
Price (Ex-Delhi)
Starts Rs 1.38 Crore