2016 Lamborghini Day in Tokyo
It's easy to wonder what the connection between the Japanese and Lamborghini is, they're both from massively different places and cultures. There is however one very strong link - passion. The Japanese are famed for their limitless quest for perfection in every facet of life and that Italians, well they build Lamborghinis! Chatting with Andrea Baldi, Lamborghini Head for the Asia Pacific region, I learnt something very interesting that better explains the love Japan has for Lamborghinis. Despite being a right hand drive market, almost all Lambos sold in Japan are left hand drive. Why? Well apparently the buyers want their cars exactly as they were intended to be by design. Converting to right hand drive, even by the factory is seen as messing with the beautiful original formula. It's a phenomenon Andrea says he sees in very few places - Japan is the among the few countries that legally allows both left and right hand drive cars.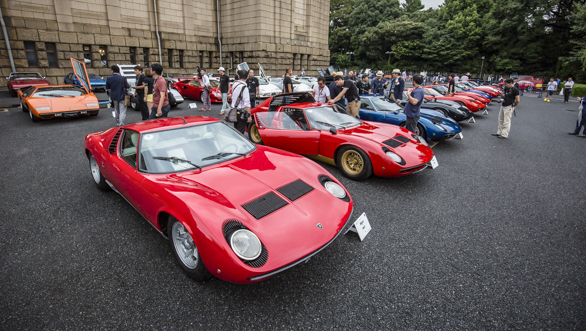 It was a rainy day but most owners were so personally invested in their cars' well being that they wiped them down each time the rain stopped!
As you might expect, the Lamborghini Day in Tokyo was something extra special. It began with a Lamborghini special Concours d'Elegance show that had a line-up of some of the most beautiful cars I've ever laid eyes on. Occupying a spot of pride on the front row was not one, not two, but ten pristine Miuras, some that looked like they'd just come out of the showroom. The Miura's voluptuous curves and knee buckling silhouette transcend it from automobile to art form and it was a rare sight to catch so many together. What better way to celebrate fifty years of the grand daddy of mid-engined supercars!
Behind the Miuras was a row of Countach's in different forms, dating from the early 70s, to the late 80s and all simply spectacular. I always thought the Countach was a bit outlandish, but finally seeing them in the flesh has made me a huge fan. The design has immense street presence and could easily pass off as something from the 90s, it just doesn't look forty years old! Behind the Countachs was a collection of the lesser knowns, the Islero, Jalpa, Jarama, Silhouette, and Urraco. Perhaps the only car missing was the Espada grand tourer.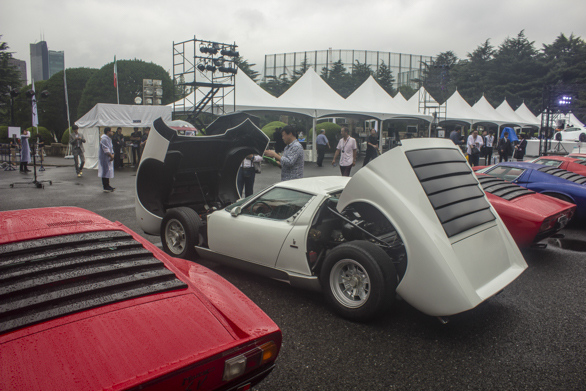 Judges for the Concours show go over the wild looking Countachs.
That wasn't all though. To the right of the main display was a number of Diablos in all manner of specs including one cool GT racing version. Next to the Diablos was an original 350GT, the very first Lamborghini sports car, flanked by its successor, the 400GT. Finally, there was also a super rare LM002 SUV in bright red. Using a V12 engine from the Countach, this will forever be the maddest, most badass SUV ever made. Unless Lambo goes and makes a limited edition Urus with a 750PS V12 from the Avenatdor SV. Highly unlikely, but if anyone can pull it off, it's these guys!
Knowing how easy it is to get lost surrounded by such cars, Lamborghini wanted to remind its guests that the company isn't simply living on its laurels but is striving to be an innovator and leader. Lightweight is the focus to the future and to that extent, a workshop was on the company's advancements with its favourite material, carbon fibre. With their engines already pushing 750PS, the company's target is now losing weight rather than gaining power. The road to that, Lamborghini firmly believes, is paved in carbon fibre. To that extent, the company has invested heavily into the material, and already has a laboratory running in Seattle, USA. Taking it a step further, the Lamborghini Day was also witness to a signing of an agreement with Mitsubishi Rayon, a Japanese chemical giant and one of the world leaders in the material.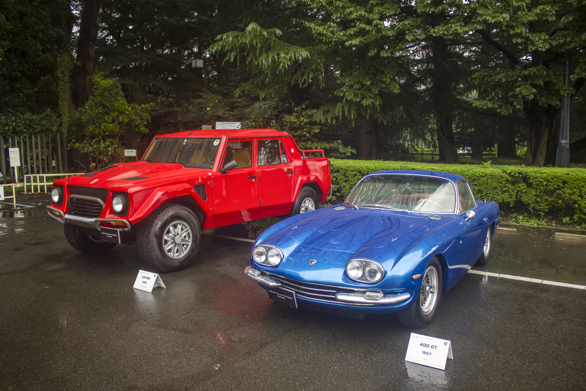 A rare and massive LM002 SUV dwarfs the 400 GT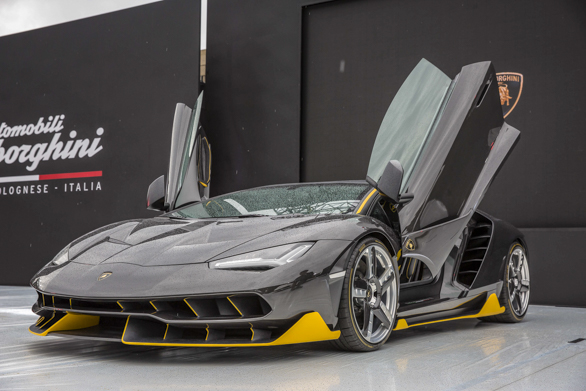 The Lamborghini Day saw the Japanese launch of the Centenario, a wild machine based on the Aventador SV and limited to just 40 units worldwide, 20 Coupes and 20 Convertibles
We were lucky to touch and feel a sample airvent made in Lamborghini's trademark forged composite material at the show. Aside from being incredibly light, it looks different from the familiar, old school carbon fibre weave pattern but offers big benefits. The material is suitable for high volume production, cures faster and allows easier surface to surface bonding. It looks pretty cool too! The goal is to keep increasing the use of such materials into the cars and in the company's words, "there is no such thing as too light"!
A sensational end to the day came in a parade of about 65 modern Lambos driving through the heart of Tokyo. A scene out of a movie, the streets came alive with lurid Lamborghinis and their screaming exhaust notes! There was a great mix of Gallardos, Huracans, Aventadors, a few insane Aventador SVs and even an orange Countach. Car person or not, everyone pretty much stopped in their tracks to take in the spectacle. That's the real beauty of Lamborghini organising events like, it allows them to share the passion with regular folks who can never own such exotica and love them all the more for it.
Marcello Gandini : Maestro of Design
The latest book from writer and seasoned auto journalist Gautam Sen is all about Marcello Gandini. Often rated the greatest designer of all time, Gandini has visioned multiple icons including the Lamborghini Miura and Countach, Lancia Stratos, Ferrari 308 GT4, Bugatti EB110 and many, many more.
The book follows Gandini's journey as a designer while focussing on the large number of legendary cars that were his visual creations. Gandini's 14 years of service in Italian design house Bertone saw over 70 different designs that made it to this book and there are many more that either did not see the light of day or were kept confidential. His time with Bertone no doubt helped the design house become one of the biggest in Italy in the 60s. Filled with facts and stories and featuring over a hundred of his many designs, more than 900 images (many never seen before), Marcello Gandini: Maestro of Design is an account of a living legend of automotive design. Available at daltonwatson.com
When Bob met Marcello Gandini
Marcello Gandini is a design legend. Every serious automobile enthusiast knows this. But few know that he is also a very down to earth and humble person. So humble that he feels kind of embarrassed to talk of his designs and incredible creations. And amazingly, he has kept no record or details of the vast work done by him!
Gandini has visited India a few times and on a couple of occasions I was very fortunate to spend a fair amount of time with him. On one visit when he was in Bombay with his wife and daughter, they along with my friend Gautam Sen, came over to my home for a meal. I gifted Gandini a khadi kurta, and he immediately asked where he could change in it. He ate the homemade Indian food wearing that kurta, and he and his family were fascinated to see our cook making hot chappatis and serving them straight of the pan. Gandini said, "You are lucky to have a live bakery in the house serving you freshly made Indian bread". When my wife told him most middle class homes in Indian cities have a cook to serve fresh hot rotis, the Gandini family was quite shocked. They said, in Europe it was only the very wealthy, who could afford to have a cook in the kitchen.
Next day I and my wife took them out shopping, and I recall Marcello Gandini being fascinated by all the silver jewelry shops on Colaba Causeway. He looked at the silver trinkets closely and said, "I love your Indian ethnic designs, they are so original". The words of a born designer. But being the fool I am, I did not take a single photograph with Gandini because I was just overwhelmed being in the company of this design genius. I am still kicking myself for not capturing all those memorable moments in a camera. - Bob Rupani
Price (Ex-Delhi)
Starts Rs 4.78 Crore