2016 Goodwood Festival of Speed: What we spotted on Friday
There are few things in life that come close to watching an Auto Union Type C, a gleaming silver beast of a machine that was built in 1936, power its way up the hill climb at the Goodwood Festival of Speed. I must be excused for the fact that I didn't manage to take photos of the car as it actually went up the hill, because I was so startled by what I was seeing, that I quite forgot to press the trigger on the camera. I only managed the shot when Nick Mason (yes that Nick Mason, Pink Floyd's drummer Nick Mason) managed to bring the car back down the hill the next time around. Anyhow, that experience of watching one of the most iconic racecars of its time, of all time really, in motion, is something unparalleled. From the odd black and white photo, to a living, grunting machine in the metal - it's something else entirely. Which is why I spent the first day at the 2016 Goodwood Festival of Speed, with my jaw hanging open much of the time and my head swivelling rapidly from side to side. "Oh look, there's a Blitzen Benz!" and "Oh look, there's a Bugatti Type 59!" and "Oh look there's John Surtees driving by!" It's really all too much. All the people who had been to Goodwood had told me that it was such a sensory overload, you wouldn't know what it felt like until you went there yourself. They were absolutely correct. Here's what we spotted on the first day of the 2016 Goodwood Festival of Speed:
1. That lovely Auto Union Type C. Back in 1934, Auto Union began to build a series of cars that were bonkers. The Type A and Type B were followed by the Type C that was built in 1936. It was powered by a 6L V16 engine, and with Bernd Rosemeyer behind the wheel it took the racing world by storm. This example at the FOS in 2016 was raced by Hans Stuck in the German and Tripoli Grands Prix and placed second.
2. Jehan Daruvala. The Indian racecar driver has just managed to win a race at the Hungaroring, taking first place in the Formula Renault 2.0 NEC round and moving into the head of the championship standings. It was nice to see that he swapped his slick racing machine for a bright red Sunbeam V12 'Tiger', that, given that it was built in 1925, is just a little older than what he's used to driving. Apparently the car will also be driven by Nico Hulkenberg late this weekend. Daruvala is in esteemed company.
3. Resting it's tired old tyres is the Benz 200HP "Blitzen Benz". Built in 1909, the 21.5-litre 4-cylinder car managed to go up to a mind-boggling 125mph. By 1914 it had managed to make it all the way to 144mph. A phenomenal speed for its time. At the 2016 Goodwood FOS it's being driven by a Mr William Evans, who wasn't near the car when we spotted it. But it didn't matter. It really seemed like there was no point speaking to a driver. Just staring at the car was enough!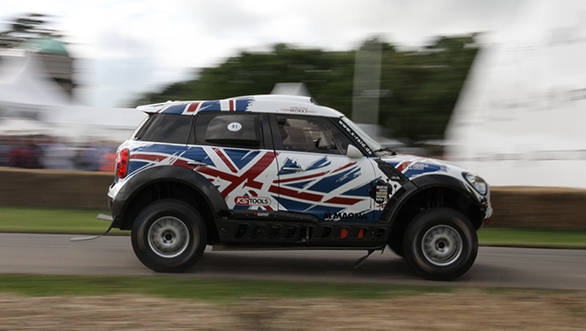 4. Dakar machines at the Festival of Speed are a huge crowd pleaser. We realised this because when the Mini All4 Racing, driven by Harry Hunt, went past, the crowd began to cheer. Not as much as they cheered for the Kamaz T4 Dakar truck that Airat Mardeev drove. Mardeev made sure that the largest machine at the Goodwood FOS slid all over the place and scared the crowd a little. More cheering followed!
5. The Drivers Club at the Goodwood Festival of Speed is very exclusive. It's a place where only drivers actually piloting machines at the FOS are allowed to relax a little. When they're outside, they're either driving or being mobbed by fans, taking selfies with them and signing autographs. Which is why you'll see a huge crowd of people waiting outside the Drivers Club, trying to stop them for the aforementioned selfie or autograph. Here's former F1 world champion Emerson Fittipaldi signing a thing or two.
6. John Surtees is a legend. Not only did he win seven motorcycle world championship titles, he then went and added a Formula 1 win to his list of accomplishments before going over the pond and taking to the Can-Am series. Surtees drove the Lola-Chevrolet T70 Spyder winning the inaugural title in 1966. He's piloting one such car at the 2016 Goodwood FOS. And, at the age of 82, he's showing no signs of slowing down!
7. Another person flying the tricolour high at the 2016 Goodwood FOS is Karun Chandhok. The Indian driver, who has driven everything from F1 to Le Mans to Formula E, has recently been appointed official driver of Williams F1's heritage division. This year he's been driving the Williams-Renault FW13B from 1990 and the 1983 FW 08C, which you see in these photos. Karun really is something of a Goodwood veteran at this point, and he's in huge demand with the fans.
8. One of the new cars that really had people interested. The all-new Bugatti Chiron, named after French racecar driver Luis Chiron. The Chiron, with a top-speed of 236mph, is the fastest car at the FOS this year. It's also quite a looker.
9. One of the very best things about the Goodwood Festival of Speed is that it's probably one of the only places in the world where you look up at the sky and see cars! This year, the central feature at the Festival of Speed is a piece designed by Gerry Judah, celebrating BMW's centenary.
10. Ken Block in his Ford Focus Hoonigan Gymkhana car. Hugely popular driver at Goodwood and pretty much everywhere else we've been!
Here's one of the Lancia Stratos cars that made it to the 2016 Goodwood FOS. Terrific to see the machine in action
Back in 1952, Ferrari decided they'd conquered F1 and so sent their cars over to the Indy500 to compete there. This Ferrari 375 'Grant' Piston Ring Special is one such example
The Renault RS01 was built in 1977 and made its debut at Silverstone where it retired after 16 laps. The turbo-powered car was dismissed by rivals and then swiftly copied! Here Rene Arnoux drives it up the hill
The Lotus-Ford 59 is a part of the collection of cars that James Hunt drove in his career. This F3 car saw him to four wins. Although he was at that point already dubbed Hunt The Shunt
Also part of the James Hunt collection was the Wolf-Cosworth WR7 that Hunt drove. It wasn't the most reliable car, and was the car that ultimately resulted in him retiring midway through the season
The McLaren-Cosworth M23 that was built in 1976 was raced by James Hunt in early 1977. Here, driven by Charles Nearburg
One of the Ford GTs, fresh from its outing at the 2016 edition of the 24 Hours of Le Mans
The 1950 Ferrari 166MM Barchetta was one of Ferrari's most successful racecars ever - winning the Mille Mignia twice, winning at Le Mans and also winning the 24 Hours of Spa
The car that gave Bugatti it's last Grand Prix 1-2 at Spa-Francorchamps in 1934 - the Bugatti Type 59
The 1966 Lotus-BRM 43 that won Jim Clark the 1966 US GP
Here's Lorina McLaughlin in the Arrows-Megatron A10B - a car that was raced in the final year of F1's turbo era