2016 Goodwood Festival of Speed: Paradise on earth
Good heavens, I'm in a PG Wodehouse novel!
That's the thought that popped into my head as I crossed the grounds at Goodwood Estate, tramping over the grass to make my way towards the exhibits. I really did feel like I was at Blandings Castle, and that I was headed in the direction of Lord Emsworth's pride and joy, that imperial porcine beauty, the Empress of Blandings. Fortunately, before I could start using terms like "Tally ho!" or calling people I didn't know "Gallahad", and if we got on really well, "Gally", I was forced to snap out of my reverie.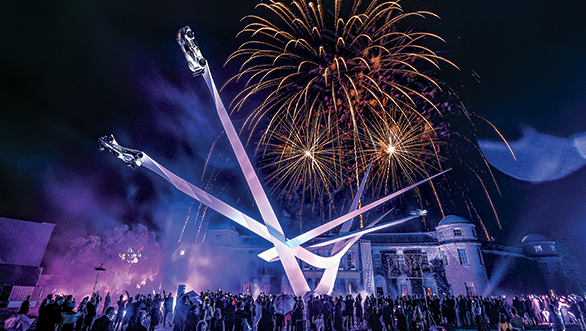 A firecracker of an event, the Goodwood Festival of Speed is!
What did it was the massive earth-shattering sound emanating from a very, very large car to my right. It would have put the Empress to shame, both in terms of size and ability to grunt. It terrified me, as it appeared to cough and sputter and shake and shiver, somewhat angrily, blowing smoke and muck my way as I retreated. A few seconds later, with the marshals clearing a path for it, the Beast of Turin exited its parking slot and chugged its way towards the holding area where all the cars were to wait before they could go for their runs at the FOS's famed hillclimb. It was fascinating to watch that Fiat S76, originally built in 1911 to break the land speed record, take its place alongside other machines from its era in the holding area as a part of the Clash of the Titans exhibit at the Festival of Speed. And, as I discovered over the next two days, it was only one of many such goosebump-inducing moments that I'd experience at the FOS.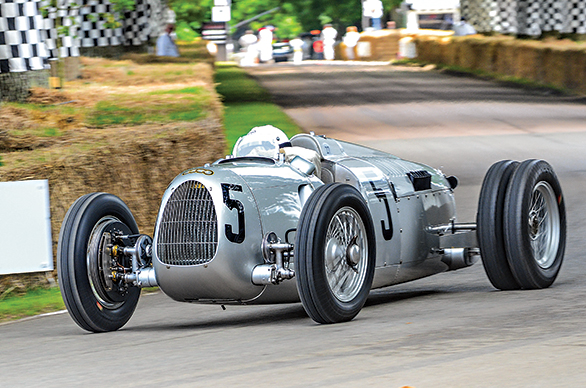 The Auto Union Type C piloted by Nick Mason at the 2016 FOS
The next goosebump-inducing moment came when I saw the Auto Union Type C make its way up the aforementioned legendary hillclimb. It was a car that I'd first encountered many years ago in the pages of a book, the name of which I cannot recollect right now. I'd never thought I'd get to see it in this lifetime, much less see it in motion. But there it was, that gleaming silver example, its 6.0-litre supercharged V16 engine helping it go as fast as it could up the course. What's more, the man piloting the car was Nick Mason. Yes, that Nick Mason –– Dark Side of The Moon, Pink Floyd, and all of that. It was a part of the Pre War Power exhibit that included the likes of the Mercedes-Benz W125 Streamliner too. Unfortunately, the W125 was a static display. But, rather than being disappointed that it was a static display, I was just happy that it was there at all!
Legends like John Surtees walk through the paddock at the Goodwood FOS.
In fact, the more I walked around the Goodwood Festival of Speed, the more convinced I was that a certain Charles-Gordon Lennox, Earl of March and Kinrara, was a genius. After all, it was an epiphany that he had many years ago that led to him opening the delightful Goodwood FOS back in 1993. He threw open the gates to what is essentially his house, allowing a whole host of automotive enthusiasts to stampede through the place, take a good look at many marvellous motorsport wonders, and go home deliriously happy, slightly high on adrenaline and petrol fumes. It was Lord March who was responsible for this motorsport extravaganza, and when I caught sight of the Honda RA300 that won the Italian GP at Monza in 1967 with John Surtees at the wheel, I was overcome with a deep feeling of gratitude towards the good Earl.
Here's Jackie Stewart going by in the 1962 BRM P57
When I caught sight of Jim Clark's 1966 US GP-winning Lotus-BRM 43 making its way over the course, the green and yellow livery gleaming in the sun, my sense of gratitude deepened further. When I caught sight of the McLaren-Cosworth M23 that took James Hunt to his 1976 championship title, I was all ready to go up to Lord March and give him a good old-fashioned Wodehouse-ian "squeeze" and tell him that he was a very good egg. Fortunately, when I did run into Lord March, introduced to me by Karun Chandhok, better sense prevailed, and other than a polite handshake, smile and exchange of pleasantries, I did nothing to embarrass the magazine that I write for.
The No.24 Hesketh 308B that James Hunt took pole with on its race debut in 1974
Back to Chandhok though. He's a good person to take a tour of Goodwood with, especially since he's driven at the Festival of Speed every single year since 2010. He knows all of the cars, the history behind them, will introduce you to people at an alarmingly rapid rate, and all this while walking so fast that you can barely keep up. And, of course, like a good automotive enthusiast (one of the main reasons he's been appointed the official driver for Williams F1's Heritage Division), his eyes glaze over when he catches sight of cars on his bucket list. You can read all about the top 10 cars from the 2016 FOS that have this effect on Karun on www.overdrive.in.
Meanwhile, my own eyes were glazing over as I wandered around the FOS.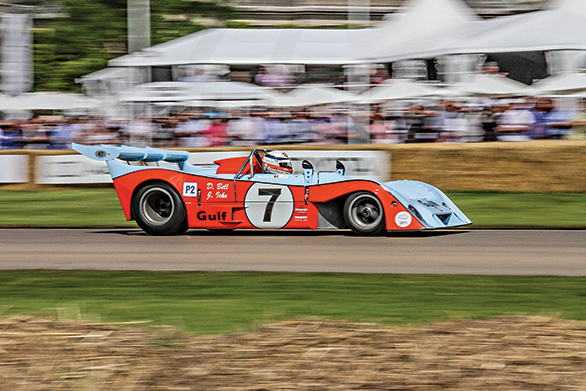 Derek Bell was nice enough to chat with us when not in his Gulf liveried Mirage Cosworth GR7
There were a number of cars that can be held responsible for said glazing over – including the Mirage-Cosworth GR7 that Derek Bell and Mike Hailwood drove at the 1974 1,000km of Nurburgring. Imagine how wonderful it was to realise that it was Bell himself who was at the wheel of the car for its hillclimb runs. The five-time Le Mans winner was also driving the Bentley Bentayga in the Supercar Run at the FOS that weekend, which meant that he was a very busy man indeed. Even so, he managed to take the time out to tell me about the ultimate race of his life, during a somewhat bumpy ride in a golf cart piloted by a driver who I do believe was having the race of his life!
Nico Rosberg wowed the crowds in the Mercedes-Benz F1 W05 Hybrid from 2014
Bell told me that it was the 1983 edition of the 24 Hours of Le Mans, where he and Jacky Ickx were trying to win for Porsche for the third straight time, having already won there in 1981 and 1982. It was a race where they were on pole position, but Ickx got hit on the first lap, and the time that it took in the pits for them to repair the damage, meant that they were soon a lap down. But they did what any respectable pair of racecar drivers would do –– they drove like hell. "It wasn't easy because it was the days of fuel consumption, and we needed to drive with the boost down, be quick in the corners, save fuel and catch the winning car that was a lap ahead of us with the same amount of fuel," Bell says as we fly towards the supercar paddock. By the time it was 6am, they were still a lap down. By the time it was 11 in the morning, they were back on the lead lap, when Bell's car ground to a halt. But he did what he'd been trained to do in such a situation, "Got the bodywork off the back of the car, changed the sensor on the flywheel, changed the coil, did something in the distributor area, changed the ECU back in the car, and carried on driving".
Rene Arnoux drove the Renault RS01, the car that started F1's turbo revolution
By the time he handed the car back to Ickx, it meant that they'd lost two laps, but with Ickx pushing very hard they managed to get back into the lead lap. Two and a half hours from the end, Ickx handed the car back to Bell. "The brake discs were cracked through, but if we had to change it we would lose four minutes, which we couldn't afford. So I went back on track, and though I was told to drive slowly –– good drivers don't go slow –– I drove as fast as I could. It was some sort of Derek Bell brain that kicked in –– if I drove fast, the brakes would heat up, expand and glue together!" And that's what he did. The pair finished second that year at Le Mans.
What a sight - Airat Mardeev in the Dakar Kamaz roaring past the hay bales at Goodwood
I was still gaping as Bell said goodbye and leapt into his Bentayga for his run on the hill climb. It's really this experience that defined the Goodwood Festival of Speed for me. The possibility that you can go up to your motorsport heroes –– the ones made of metal and the ones made of flesh and blood –– and talk to them. I mean that seriously.
The Brawn GP that wowed everyone back in 2009 by completely dominating the championship and winning the title on its debut
I even caught one chap whispering lovingly to a Ford GT40. "You're a beauty, aren't you?" he kept repeating as he gazed at the car. I realised then that the FOS is possibly the only place on earth where such behaviour isn't termed wildly inappropriate. And Bell was just one of the people who told us what the race of their life happened to be.
Karun Chandhok was busy doing runs up and down the hill for Williams - here seen in the 1982 Keke Rosberg FW08
Another five-time Le Mans winner Emanuele Pirro spoke of one particular karting race, where he raced in a practice kart, not even a works kart, that resulted in him becoming National Karting Champion that year. It was a race where he did every single thing on his kart himself, and it's a race that sticks out in his memory, five Le Mans wins or not!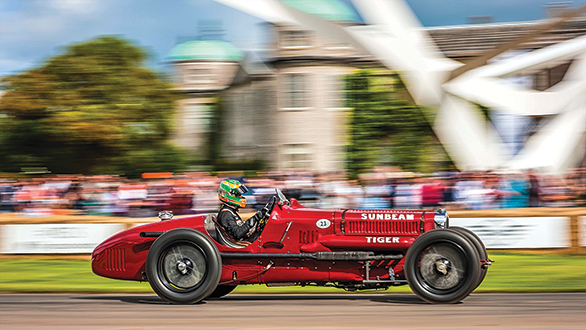 Here's young Jehan Daruvala making his Goodwood FOS debut in the Sunbeam 'Tiger' from 1926
John McGuinness told us that it was the Senior TT win in 2015 that he really remembers the most, because it came at a time when people already believed that he was too old to win any longer. And McLaren's test team manager, Indy Lall, told us that back when he started out at McLaren, as a young gopher for the team, he decided that if he had to be a gopher, he'd be the very best gopher in the world! It's what eventually led to him becoming a permanent member of a team that demands perfection.
And Tom Sykes wheelied past Goodwood House, causing fans to cheer!
It was these encounters that swished through my head as I continued to walk through the paddock at Goodwood on the very last day of the FOS. I watched as Olly Clark set the fastest time in his Subaru Impreza Gobstopper II.
Olly Clark - the fastest man at the hill climb this year in his Subaru Impreza Gobstopper II
And I watched as a bunch of fans cheered and whooped with delight. It was around this time that I happened to see Keanu Reeves saunter by, with most people quite oblivious to his presence. After all, Goodwood was about all things automotive and motorsport. Reeves, then, was there as just another fan. And it was heartening to know that the Goodwood Festival of Speed was that sort of event –– an event that celebrated the automotive and nothing but the automotive.
I hope I get to go back.
Price (Ex-Delhi)
Starts Rs 4.1 Crore