2016 Force Gurkha Rainforest Challenge India
Having lived in metropolitan cities all my life, for me the term 'off-roading' signified treading over whatever was left of city roads that had been battered by a good monsoon. So, when Bert told me to cover the most extreme off-roading competition in India, I wasn't quite sure of what to expect. At that point, the only bit which got me excited was that the event was being held in Goa.
A week later, I was at the Rajiv Gandhi IT Habitat in Dona Paula, trying to find traction in ankle-deep slush. A few metres ahead of me, a heavily modified Maruti Gypsy with at least two feet of ground clearance was effortlessly scaling a three-foot wall. I looked around to find a Mahindra Thar, taller than me and devoid of occupants, parked halfway up a seemingly impossible rocky incline. The driver was getting breathless trying to place bridging ladders ahead of the front wheels while the co-driver was contemplating which tree to fasten the winch on. That's when I got acquainted with the real version of 'off-roading'.
As you can see from the pictures, the 2016 Force Gurkha Rainforest Challenge India was unlike any other off-roading event in the country. Held in Goa from July 22 to 29, the event had 30 teams take on fast-flowing streams, scale 80 degree inclines, crawl over rocks the size of hatchbacks and even manoeuvre through three-foot deep slush pits. First held in 2014, the event was divided into four competitive stages –– Prologue, Predator, Terminator and Twilight Zone.
As their names suggest, the difficulty level increased by a huge margin with each passing stage. What didn't change was that all the stages ended up testing the participants' driving skills, technical expertise and fitness levels. Each team comprised a driver and a co-driver, who were awarded points upon completing a stage within the time limit. If they fail to complete it, broke any rules or caused damage to the environment, then they would be penalised accordingly.
Some stages required excellent coordination between the driver and the co-driver to complete it
In the initial stages, excitement seemed to be getting the better of a few competitors. In their zeal to complete a stage quickly, participants ended up damaging the bodywork of their machines, breaking driveshafts and snapping winch cables. David Metcalfe, the course master of RFC India, reminded participants that a slow and steady approach always gets the job done. "Analyse every challenge before attempting to conquer it. Don't forget that to win the competition, you will need to finish it," he kept on repeating with a smile on his face.
Scaling up 80-degree inclines on a surface comprising of rocks ain't so easy
That got me thinking about what would be the right way to crack the RFC. With no one from the core managing team around, I decided to try my luck by asking a marshal. Srivathsan Vallabhan who has been an official at many motorsport events revealed that winning the RFC is all about getting the least penalties. He reasoned that it's not the fastest but the cleanest run that guarantees a podium. In order to finish fast and score maximum points, participants drive aggressively. But they usually end up knocking down a peg or bunting which attracts a penalty and does more harm than good.
While some relied on the winch, others just powered up the three-foot high wall
To keep penalties at a minimum, excellent coordination between the driver and the co-driver is critical. On the technically challenging as well as physically gruelling stages, some teams started making mistakes which created friction. However, the team comprising of Indian motorsport legends Jagat Nanjappa and Chethan Chengappa really stood out. Apart from negotiating all stages in a calm, cool and composed manner, Jagat and Chethan even switched seats multiple times and delegated work equally. Watching them tackle every stage was a delight as they seemed to do things a lot more effortlessly than others. The most impressive bit is that in their first RFC attempt, they finished seventh overall. Chethan was happy that despite the fact that their jeep was running leaf spring suspension, they fared quite well in most of the stages. Jagat was content that being first-timers, they had put up a strong fight. His only grouse was with the metal winch cable that kept getting stuck. With fewer penalties, they would have finished on the podium, he said.
Climbing up a flight of stairs ain't easy if you are doing it in a hardcore 4X4
Just like the previous two editions, participants at the 2016 Rainforest Challenge India insisted on pulling Metcalfe's leg, joking that he enjoyed breaking cars. Of course, David was unfazed by all of this, replying with the calmness of a monk, "I have designed the stages in a manner such that people are forced to think differently. No 4X4 school will teach you how to winch out of a 90-degree turn. But these challenging stages will separate the men from the boys based on their analysing skills and plan of attack." Like he said, just textbook knowledge was certainly not enough ammunition to help one win the RFC.
In one stage, participants had to drive through a three-foot deep slush pit
All teams at the RFC 2016 had armed their vehicles with an array of modifications and top-notch off-roading equipment. Having surveyed all vehicles, Luis JA Wee, founder and creator of the Rainforest Challenge, remarked that these machines could easily take on the best in the world. Ashish Gupta, founder and director of Cougar Motorsport, pointed out that the amount spent by participants on vehicle modification ranged between Rs 15-30 lakh, which was an indicator of just how seriously they took the competition at the event.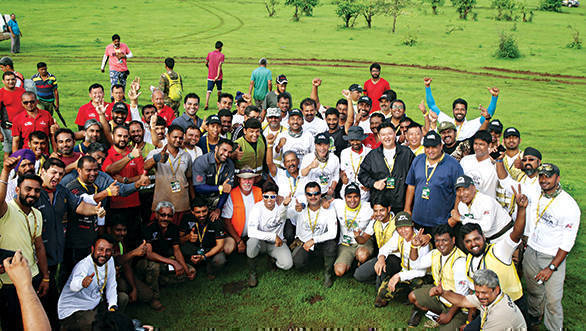 Unlike other competitive motorsport events, participants at the Rainforest Challenge displayed excellent camaraderie
The level of modifications including the flawless quality of the work done had to be seen to be believed. Most of the vehicles were equipped with coil-spring suspension, differential lockers, hydraulic steering, high-speed competition tyres and the best set of knobby tires that money can buy. "Teams who have competed earlier realised that to tread across diverse terrain, the entire vehicle needs to be upgraded instead of few individual components like suspension or axles," commented Ashish.
The final two special Twilight Zone stages tested the drivers' ability to manoeuvre the vehicle around a tight course
What surprised me the most was that the 4X4s were attracting a good amount of attention. Honestly, the number of spectators at the RFC was far less than the usual turnout at a local cricket match. But many Goans and even tourists had turned up to watch the stages while braving the incessant downpour, mosquitoes and endless amount of slush. Even more surprising was that these people had made it to some of the stages that were held in Quepem and Morlem, places that are around 50km from Panjim. And the spectators were curious too. I spotted several of them, seemingly fascinated by the machinery, asking the participants what sort of modifications had been carried out on the machines, and wanting to know how much the modifications had cost. Some of them were even pleased that an event of this calibre was being held in this country. Of course, there were also 'selfie' seekers, and a significant number of vehicles are likely to have made it to various social media feeds.
Most of the technically challenging stages required participants to think differently
The final Twilight Zone, which was the most gruelling leg of the event, was divided into three stages. The first one required teams to complete a roughly 5.5km loop through a rainforest within 10 hours. Before the start of this particular leg, the organisers had said it was compulsory for all teams to help one another. Teams had to ensure that no one got stuck or left behind. With every team getting 100 points upon completing the stage, the focus was to encourage camaraderie among the participants.
One team that stood out completely in this stage was that of Abhinav Reddy Nukala and Laxmikanth Reddy Thota. They didn't let go of any opportunity to help others. They received the Jungleman Award for being the most helpful team during the forest stage. This is the second consecutive time they have won this award, which just goes to show that they are all round nice guys. I experienced it first hand, too! They didn't just help fellow competitors, when they saw me running around taking photographs, they gave me a bottle of water and some boiled eggs to snack on. They also reminded me that just like vehicles, the human body too needs fuel to keep running optimally. And, as I snacked on what they'd so kindly offered me, I couldn't help but agree with them.
Abhinav Reddy Nukala and Laxmikanth Reddy thota received the Jungleman Award for being the most helpful team
The 2016 Force Gurkha Rainforest Challenge will be remembered for years to come. This is because it was the first time an Indian team won the Rainforest Challenge. What made the victory even sweeter was that despite being privateers, they scored more points than the factory-backed Force Motors' teams. Gurmeet Virdi and co-driver Kirpal Singh Tung, representing Gerrari Off-Roaders, secured first place overall as well as in their class. The victory didn't come easy though. In two different stages, their vehicle's steering rod got damaged. As a result, Gurmeet had partially lost steering control. To make the vehicle change direction, Kirpal was getting off and physically rotating the wheel towards the intended direction! Despite their gallant efforts, they couldn't complete one stage within the time limit and ended up with zero points. At the start of the last two stages, 40 points separated them from the top team.
Negotiating this 80-degree decline was a lot more difficult than what the picture suggests
Not letting go without putting up a fight, Gurmeet drove flawlessly and won the event. It was a moment of joy not just for him but other Indian competitors as well. Watching them unfurl the Indian flag was a proud moment. Having bagged this year's trophy, they already have their goals set for next year. "In 2015 we had competed for the first time, and we lost 260 points in penalties. This year our goal was to keep penalties at a minimum, and we lost only 40 points. For next year we work on reducing this number," said a beaming Kirpal.
Gurmeet Virdi and co-driver Kirpal Singh Tung were the overall champions
Just like the organisers had promised last year, the 2016 Force Gurkha Rainforest Challenge turned out to be a lot tougher and more gruelling for the participants. According to David, the skill level of the competitors has gone up considerably and they have managed to learn a lot in a short span of time. He mentioned that although the stages were designed to take them out of their comfort zone, the participants fared much better than last year. He also promised that next year's event will have a lot more mud and slush, and be technically more challenging. Having witnessed the skill level of the competitors, I am confident that they will be able to tread through it. Bring it on, then!
Price (Ex-Delhi)
Starts Rs 13.59 Lakhs
Price (Ex-Delhi)
Starts Rs 9.8 Lakhs