2015 MotoGP season preview
With Marc Marquez having dominated the last two seasons of MotoGP, clinching the world championship title in his debut season in the premier class and then defending it successfully in 2014, there's one question playing on the minds of most fans. The question of whether or not Marquez will be able to do it again. Whether or not he'll be able to win his third MotoGP title in a row, putting to shame the rest of the grid. The truth is, it's up to the rest of the grid to try and stop him. Here's a look at the teams and riders who matter the most in the 2015 season of MotoGP.
Team: Repsol Honda
Riders: Marc Marquez (No.93) and Dani Pedrosa (No.26)
There was pressure on young Marc Marquez's shoulders at the start of the 2014 season of MotoGP. The Honda team was expecting him to go out there and win them another championship title. The rest of the world, it would appear, was waiting for cracks to appear in the smiling facade of Merciless Marc. Well, he wasn't perfect at every race - the fall at San Marino was an indicator that he wasn't invincible. But, given that he had already won the first 10 races of the championship, it did prove that the Marquez-Honda combination was still leagues ahead of the rest. Not even his team-mate Dani Pedrosa could come close.
Going into the 2015 season of MotoGP, Honda are keen that their ace rider, ably aided by his Spanish team-mate, will bring them a third championship title. At the first round of pre-season testing, Honda showed up with a total of 10 different motorcycles to test. With Pedrosa and Marquez agreeing on the chassis that they liked the best, and with Marquez topping the test sessions, shattering the lap record at Sepang, it seemed like things were looking good for Repsol Honda. The final test session at Losail might not have gone according to plan, with Ducati showing up to spoil the party. But for the moment, it still seems like Marquez is the man to beat, with Pedrosa likely to be a podium regular. Honda still looks good.
Team: Movistar Yamaha
Riders: Valentino Rossi (No.46) and Jorge Lorenzo (No.99)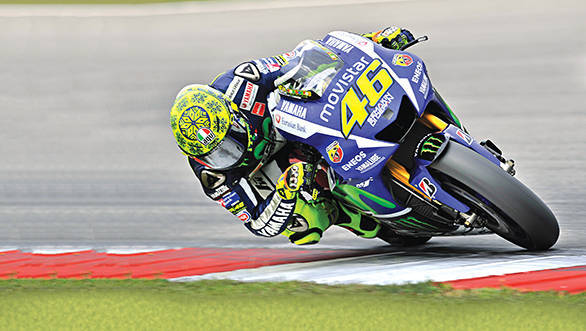 Yamaha showed tremendously resurgent form towards the second half of the 2014 season. Of the last nine races, with the exception of Aragon where he retired, Valentino Rossi made it to the podium every single time, winning at San Marino and at Phillip Island. The combination of Rossi and Silvano Galbusera appeared to be working just fine. What's the verdict after pre-season testing though? Well, it would appear that Yamaha is doing okay, but it still has some way to go before it can catch and pass Honda. Jorge Lorenzo will want to give chase after the beating that the team took in 2014, as will Valentino Rossi. Podiums from both are what we expect. But taking the title back from Marquez will be hard for both of Yamaha's world champions.
Team: Ducati
Riders: Andrea Dovizioso (No.4) and Andrea Iannone (No.29)
Ducati. They've been infamous over the last few years for making motorcycles that their riders found difficult to manage, with the word "understeer" being bandied about a good deal. Casey Stoner's title on the Ducati aside, there were the Rossi years. Where try as he did, the MotoGP legend couldn't get the bike to do what he wanted it to. But the Italian team finally got its act together, bringing on board renowned designer Gigi Dall'Igna and hoping that he'd be able to sort things out - namely the understeering mess that had been left behind by Filippo Preziosi.
Well, at the second round of testing at Sepang, when the Ducati GP15 made its debut, one thing was clear. The motorcycle was a step forward. Neither rider complained of any understeer. But there was something better that Ducati had in store. And this was on display at the final round of testing at Losail. Those GP15s blitzed everything in sight, Hondas included.
What can we realistically expect from the two Andreas in 2015 then? Well, Dovi had five front row starts in 2014, we can expect that to continue in 2015. And he's likely to be a podium challenger too. Iannone? This one's still a bit of a loose canon. But the difference in 2015 is that he'll be a loose canon on a very fast motorcycle. The GP15s could well be a real challenge for Honda. Now it depends on whether or not their riders are going to be able to do what it takes.
Team: Suzuki Ecstar
Riders: Aleix Espargaro (No. 41) and Maverick Vinales (No. 25)
Why do we think you ought to keep an eye out for the Suzuki team in 2015? Well, for one, they are making their return to a MotoGP (with the exception of the race that Randy de Puniet did for them last year) after a three year hiatus. More than that, though, is the fact that they have two very young and very talented riders on their roster. Aleix Espargaro, who impressed everyone last year, finds himself with a well-deserved proper factory ride. And Maverick Vinales is all set to show the world what he is capable of in his debut season in the premier class.
While the GSX-RR still isn't on par with its competitors in terms of power output, there's plenty of work going on with the boffins at Suzuki still trying to find a PS here and a PS there. The two riders have said that they are moderately happy with the motorcycle, claiming that the front-end feel and chassis are comfortable. With whatever we've seen in testing, and once Espargaro recovers from the knee injury he picked up during the off-season, he's going to impress this year too, with points-scoring finishes being regular affairs. Giving him a run for his money will be young Maverick, who has managed to repeatedly be the fastest rookie during testing.
Team: Aprilia Racing
Riders: Alvaro Bautista (No. 19) and Marco Melandri (No. 33)
There's one thing that Aprilia have made quite clear to everyone - that is that 2015 is their development year in MotoGP and nothing more. Let's not forget that the team were all set to make their MotoGP return in 2016, and then advanced that by a whole year. The plan is to get all the niggles sorted through this year, to develop the bike as much as possible, so that come 2016, they look in decent enough shape to take the challenge to the Japanese teams at the front of the grid. At the moment, they are nowhere close. Post-testing, neither rider has been particularly thrilled with the chassis on offer, the RS-GP. But there's one thing that the team appears to have got right, with the new pneumatic valve engine proving to be consistent.
During testing, Alvaro Bautista has steadily made progress, improving his laptimes when compared to those  of Marc Marquez. His team-mate, Marco Melandri seems a little less than happy to have left the WSBK pack in order to make a MotoGP return. Aprilia have a long way to go this year. As do their riders.
Team: LCR Honda
Riders: Cal Crutchlow (No. 35) and Jack Miller (No. 43)
Good ol' Cal. It's been a tough few years for him. And, to be honest, we've been a little confused. Will he ride for Ducati, won't he ride for Ducati? You gave us a headache there, Cal. But all's well, that ends well, with Crutchlow signing on for a season with the LCR Honda team. The biggest challenge that the British rider has to face in 2015, however, is just how physically demanding the RC213V is when compared with the other MotoGP machines that he's ridden. His pace during testing was good, with the second Sepang test seeing him manage to run third fastest. But in terms of real world race pace, we've got to see where he will stand.
Then, there's his team-mate. Jack Miller has made the jump from Moto3, straight to MotoGP, bypassing Moto2 entirely. This means he has to contend with 160PS more power than he's used to, on a much heavier machine. But while he hasn't been the fastest of the rookies in the pack, he's certainly been the rookie who has improved the most. The demands made of him are very simple - he needs to try and enter the points over the course of the year. Well, it's easier said than done, given the pack of riders he has to contend with. But we've got some faith in Jack.
Team: Monster Yamaha Tech 3
Riders: Bradley Smith (No. 38) and Pol Espargaro (No. 44)
Just when the Monster Yamaha Tech 3 team was set for a season where they could be as close as possible to the factory Yamaha team, things got very challenging indeed. With Ducati and Suzuki elbowing their way in, there's a good chance that the Tech 3 riders will fall behind. Well, the factory has done its bit, giving them a factory gearbox that ought to make their lives easier thanks to the seamless shifts it offers.
Testing was a mixed bag though. Espargaro did well during the first round of tests, then crashed twice and ended no higher than eleventh place during the final tests. Smith was lacklustre during the first set of tests and then impressed with his pace during the final tests. We'll have to wait and watch to see what these two can pull out of the bag in 2015. Their performance this year will set the stage for future MotoGP contracts.
Price (Ex-Delhi)
Starts Rs 1,02,700