2014 MotoGP preview: Meet the riders
What's so special about the 2014 MotoGP grid? That it has 11 world championship winners, with 26 titles between them across three classes. If that doesn't promise close racing, we don't know what will. Here's a look at the class of 2014 and how we think they will perform in the upcoming season of MotoGP as the racing kicks off this weekend!
Name: Marc Marquez
Team: Repsol Honda Team
Number: 93
2013 results: 334 points - 1st
Marc Marquez is the rookie who came, saw, conquered and how! Right from his very first test session astride the Honda RC213V, young Marquez was on the pace. The then reigning Moto2 world champion was at once hailed as MotoGP's next big thing. And he did everything to live up to that reputation, getting on the podium in his very first race, winning his second race, and thus besting Fast Freddie's record for youngest ever MotoGP winner. Marquez had a few hairy moments along the way, failing to impress Jorge Lorenzo when he outbraked him and made him run wide at Jerez. Marquez even managed to administer some stern medicine to the Doctor himself at Laguna Seca. As the season wore on it was clear that Marquez was the man to beat, but the man that could not be beaten. With the exception of Mugello, where he crashed, and Phillip Island, where he was disqualified on account of a royal gaffe on the part of the Honda team, he finished on the podium in every single race. Youngest ever MotoGP world champion. Check. Ahead of the 2014 season, Marquez showed that he was on his way to a second season of domination, setting the fastest timing during the first round of testing at Sepang. Then he went and broke his leg during a dirt bike training session. The 21-year old rider thus had to sit out the subsequent tests at Sepang, Phillip Island and Losail. When Marquez takes to the grid at for the season-opening Qatar GP, it will be with three days' worth of testing. By his own admission, he isn't in the best physical condition and is not aiming for more than points at the first race. But there is an entire season that will follow. Another Number 93 wash? We think it looks very likely.
Name: Jorge Lorenzo
Team: Movistar Yamaha MotoGP
Number: 99
2013 results: 330 points - 2nd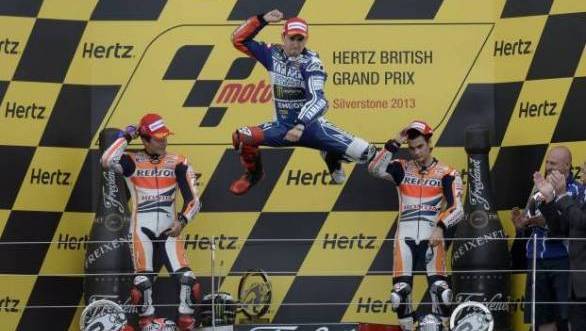 Defending world champion Jorge Lorenzo had a tough 2013 season. He broke his collarbone at Assen, had surgery to the afflicted area, and got back on the motorcycle in time for the race, finishing a heroic fifth. Then, the very next race at Sachsenring, he crashed once again further injuring the same collarbone and having to sit out the German round. When he came back, though, he finished in the points at Laguna Seca, and in the subsequent nine races made it to the podium every single time, aided no doubt by the seamless shift gearbox on the M1. He challenged Marquez for the title all the way to the very last race at Valencia. Now he'll be hoping to do better than he did last year. World champion in 2010, 2012. 2014?
Name: Dani Pedrosa
Team: Repsol Honda
Number: 26
2013 results: 300 points - 3rd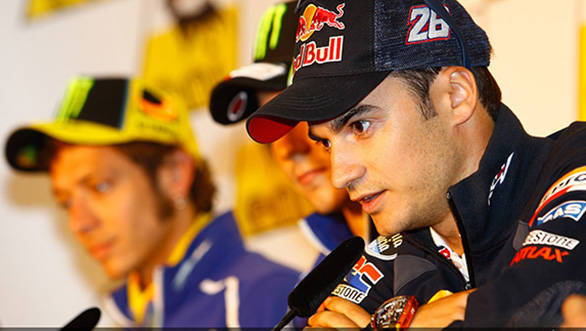 Every year at the start of the MotoGP season the world asks whether it will finally be Pedrosa's year. So far that year hasn't arrived. And somehow, we're beginning to lose hope for Dani boy. The fact that team-mate Marquez goes into 2014 as reigning world champion (injuries aside Marquez is now more confident than he has ever been before) will also be a thorn in Pedrosa's side. That aside, Pedrosa still has one very fast Honda to ride, and he's pretty skilled at riding it too. Unfortunately, 2014 might not be so much about Pedrosa's abilities as much as it will be about the abilities of the other riders on the grid.
Name: Valentino Rossi
Team: Movistar Yamaha MotoGP
Number: 46
2013 results: 237 points - 4th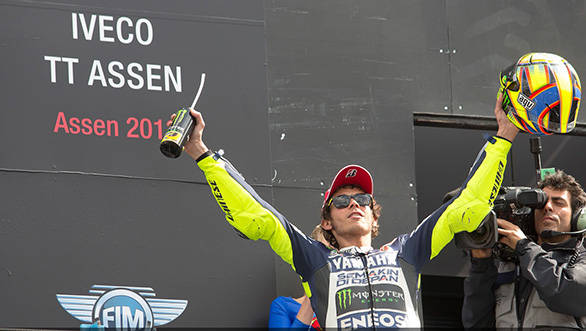 Is it ever going to be safe to discount Valentino Rossi from the reckoning? We certainly wouldn't do that. Rossi might have turned 35 earlier this year, but the ruthless determination that characterises the 9-time world champion hasn't faded at all. His resolve that he wants to return to his winning ways is evident - he got rid of long-time crew chief Jeremy Burgess. Silvano Galbusera is now in charge, and Rossi says he feels good with his new crew chief in place. Pre-season testing saw the good Doctor lose his cool when it came to the Bridgestone rear tyre choice - Rossi declared they were "f***d". But he went fastest at the Sepang test two days later. Will he be able to take more than just the lone win of the 2013 season? That will decide whether or not Rossi remains in MotoGP beyond 2014 - his 19th season in MotoGP. Like we said before, we wouldn't ever count him out of the championship.
Name: Cal Crutchlow
Team: Ducati Team
Number: 35
2013 results: 188 points - 5th
Last year Cal Crutchlow managed some pretty heroic stuff astride the Tech 3 Yamaha. The crowning glory was probably his pole position for the Dutch TT at Assen, where he eventually finished the race third behind Valentino Rossi and Marc Marquez. Crutchlow also achieved his highest ever MotoGP championship finish, with 5th overall, a steady improvement from his 2011 debut. And when hopes of him replacing Rossi at Yamaha faded away, Crutchlow had had enough of sitting on the sidelines. And hence the hugely risky Ducati move. Pre-season tests haven't been too bad for Crutchlow. But if Ducati's track record is something to go by, 2014 could be a frustrating year for Crutchlow. The silver lining though is that they are running in the open class.
Name: Alvaro Bautista
Team: GO&FUN Honda Gresini
Number: 19
2013 results: 171 points - 6th
Let's face it - Alvaro Bautista had more than his share of hairy moments in the 2013 season of MotoGP. Mugello, where he crashed into Valentino Rossi, was the worst of the lot. But Bautista, unpredictable, erratic, loose cannon, however you like to describe him, slowly and steadily shaped up through the season. Of course he tangled with Rossi on several occasions after that, but the moves got better. He tried hard to get onto the podium too, but could only manage to get as far as fourth place. For 2014 Bautista will really be hoping to stop being the best of the rest. The competition has gotten stiffer than last year though.
Name: Stefan Bradl
Team: LCR Honda MotoGP
Number: 6
2013 results: 156 points - 7th
Bradl made it to MotoGP in 2012, as the reigning Moto2 champion, no less. And a year after his debut, he started showing promise in the premier class of racing as well, although outshone by that other Moto2 world champion. The one moment from 2013 that he can truly be proud of is the pole at Laguna Seca. A pole that he got by beating Marc Marquez, no less. In the race itself, Bradl finished second, having to concede victory to Marquez, with Rossi finishing third. Bradl will want better results in 2014. We hope he gets them.
Name: Andrea Dovizioso
Team: Ducati Team
Number: 4
2013 results: 140 points - 8th
Andrea Dovizioso has one thing to look forward to in 2014 - and that is the fact that the Ducati he's riding this year is better than the motorcycle he was riding last year. Preseason testing has demonstrated that much at least. From six podium finishes in 2012, to a highest finish of fourth place at France last year, the going hasn't been that easy for Dovi since he joined the Italian squad. But the fact that Dovi will be racing in the Open Class means that he will have the liberty of more engines and more fuel. Yes, that same silver lining that might aid his team-mate Cal Crutchlow. It will also be interesting to watch the battle of these two team-mates.
Name: Nicky Hayden
Team: Drive M7 Aspar
Number: 69
2013 results: 126 points - 9th
The Kentucky Kid has seen some tough times since his 2006 MotoGP title. And the 2013 season was quite enough for Nicky Hayden. At least in terms of his partnership with the Ducati Team. Off to Drive M7 Aspar, then, for Hayden. While the motorcycle isn't the fastest there is, Hayden's staying positive ahead of his 12th season of MotoGP, saying that it's time for him to just go racing. Maybe switching back to a Honda will help Hayden. But we're not, and we don't think he is either, expecting to fight for podiums. This 12th season of MotoGP could be a toughie for Hayden.
Name: Bradley Smith
Team: Monster Yamaha Tech 3
Number: 38
2013 results: 116 points - 10th
Plenty confident is young Bradley Smith ahead of the 2014 season of MotoGP. The British rider might have only managed a 10th place finish in the championship last year, with a highest place finish of sixth at Catalunya and Phillip Island, but that isn't getting him down at all. Smith has declared that he might even manage to fight for a podium given that the season stretches out ahead of them 18 races long. What will he have to watch out for? Oh, he's got competition from his team-mate, the reigning Moto2 champion, Pol Espargaro.
Name: Aleix Espargaro
Team: NGM Forward Racing
Number: 41
2013 results: 93 points - 11th
Aleix Espargaro surprised the world when the first round of testing kicked off at Sepang, finishing as high as fifth during the three day test session. At the final round of testing at Qatar, the round that saw the factory riders sit it out as the Open Class riders battled for top spot on the timing sheets, Espargaro was it. He's said that he believes that Cal Crutchlow has already proved last year that the Yamaha can make it to the podium. Espargaro is aiming for just that. Honestly, Espargaro is one to watch out for this year.
Also watch out for:

Name: Pol Espargaro
Team: Monster Yamaha Tech 3
Number: 44
2013 results: (Moto 2) 265 points - 1st
Name: Scott Redding
Team: GO&FUN Honda Gresini
Number: 45
2013 results: (Moto 2) 225 points - 2nd
The top two riders in the Moto2 class last year might well carry on their rivalry to the MotoGP class as well. The rider with the advantage this year - Pol. After all he has the title on his side. And he has a factory ride to help him along. Redding will have to fight his way through this battle.
The rest of the grid:

Name: Andrea Iannone
Team: Pramac Racing
Number: 29
2013 results: 57 points - 12th

Name: Colin Edwards
Team: NGM Forward Racing
Number: 5
2013 results: 41 points - 14th

Name: Hector Barbera
Team: Avintia Racing
Number: 8
2013 results: 35 points - 16th

Name: Danilo Petrucci
Team: IodaRacing Project
Number: 9
2013 results: 26 points - 17th

Name: Yonny Hernandez
Team: Pramac Racing
Number: 9
2013 results: 21 points - 18th

Name: Hiroshi Aoyama
Team: Drive M7 Aspar
Number: 7
2013 results: 13 points - 20th

Name: Mike Di Meglio
Team: Avintia Racing
Number: 63
2013 results: (Moto2)18 points - 21st

Name: Karel Abraham
Team: Cardion AB Motoracing
Number: 17
2013 results: 5 points - 24th

Name: Broc Parkes
Team: Paul Bird Motorsport
Number: 23

Name: Michael Laverty
Team: Paul Bird Motorsport
Number: 70