2014 Formula 1 Preview: Engine manufacturers
Over the past few years, the engine freeze rule more or less limited engine development and their role in a race. This meant that most teams were on a level playing field as far as powertrains were concerned. The teams and spectators had shifted focus on aerodynamics and exhaust gas flow management through the diffuser instead.
But the 2014 rule change has put Formula 1 power units back in spotlight. So much so that four-time F1 driver and constructor champion Red Bull is staring at a difficult year ahead thanks to an unreliable power unit. On the other hand, the Mercedes team, which spent most of last season chasing Red Bull, have suddenly jumped to the front of the grid and have set the benchmark during the preseason tests.
With so much focus on powertrains,  we take a look at the three engine manufacturers - Mercedes, Ferrari and Renault - and how their power units have the ability to decide the fate of this season's championship.
Renault: reliability issues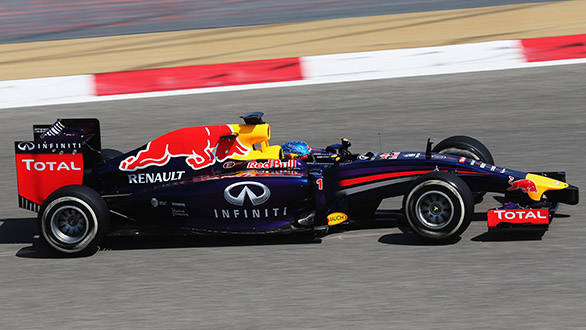 Power units are more significant in F1 in 2014, as is evident from the hampered progress of Red Bull
Since 2010, as we all know, Renault has been winning the battle among the engine manufacturers. While the French manufacturer's engines always lagged in terms of outright power compared to the ones from Mercedes and Ferrari, they more than made up for it with their phenomenal drivability and fuel efficiency, which turned out to be one of the key deciding factors during races.
But no matter how far ahead in the technology game you are, one small mistake and things can come tumbling down in no time.
This is what seems to have happened to Renault during the preseason tests. At Jerez, Mercedes and Ferrari-powered teams racked up lap after lap (875 laps and 444 laps respectively) in four days, while Renault-powered teams found themselves in the doldrums as Red Bull, Toro Rosso and Caterham could only manage 151 laps combined. Lotus didn't even take part in the test sessions, although the team claimed that this was intentional and had everything to do with the development pattern that they had chalked out for themselves.
Toro Rosso's decision to change their engine supplier couldn't have come at a worse time
Ironically enough, Toro Rosso this season decided to switch from the Ferrari power unit to Renault's. Clearly, this decision couldn't have been more ill-timed. On the other hand, Williams' gamble to switch from Renault to Mercedes seems to have paid off. The Mercedes power unit has brought smiles back to Sir Frank's pit garage following their worst Formula 1 season.
Although by the time Bahrain tests wrapped up, Renault seems to have covered some ground with the teams using its engine doing 1,492 rounds of the Sakhir track compared to 2,609 and 1,524 laps covered by Mercedes and Ferrari-powered cars respectively.
Red Bull, however, is still struggling. After being out of the pits for only 21 laps over four days in Jerez, the RB10 managed just 298 laps in all of the eight days of testing in Bahrain.
Lotus too was struggling at their first outing in their new car - the technical glitches with the power unit ensured a total mileage of 238 laps, almost a fourth of the best performing car in the grid.
Caterham, surprisingly, has managed to make the most of the Renault power unit, as its car seems to have suited the French mill the best.

F1 Engine Makers and Teams that use their power units
| | |
| --- | --- |
| | |
| ENGINE MANUFACTURER | FORMULA 1 TEAMS (Total laps in preseason tests) |
| Mercedes | Mercedes AMG (975 laps) |
| Ferrari | Scuderia Ferrari (875 laps) |
| Renault | Red Bull (319 laps) |
| | |
| ENGINE MANUFACTURER | #colspan# |
| Mercedes | McLaren (812 laps) |
| Ferrari | Sauber (776 laps) |
| Renault | Lotus (238 laps*) |
| | |
| ENGINE MANUFACTURER | #colspan# |
| Mercedes | Sahara Force India (761 laps) |
| Ferrari | Marussia (317 laps) |
| Renault | Scuderia Toro Rosso (460 laps) |
| | |
| ENGINE MANUFACTURER | #colspan# |
| Mercedes | Williams (936 laps) |
| Ferrari | - |
| Renault | Caterham (626 laps) |
| | |
Mercedes: In pole position
Mercedes seems have done everything right so far. Can they maintain this form? 
Numbers don't lie and they seem to be on the side of teams running on Mercedes' power unit. Williams and Force India have found themselves consistently hovering around the top of the pack registering 438 and 402 laps respectively in the second Bahrain test alone.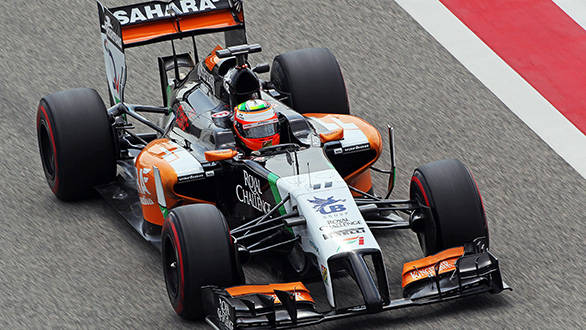 Force India have performed well during preseason testing. But can they become a force to reckon with?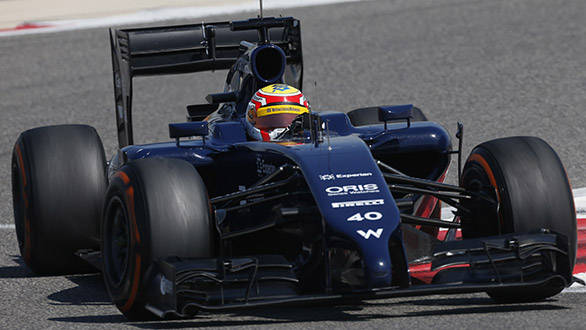 Williams have had a dream preseason test run, especially considering how miserable their last season was
Williams did face some issues with oil leakage and an engine change early on, but that barely affected its impressive run during testing. The Mercedes AMG team, who played underdogs to McLaren until two seasons ago, have come out the strongest in the grid.
Nico Rosberg set the track on fire during the first Bahrain test and Lewis Hamilton finished a close second to Felipe Massa (in the Williams) in the second test at the same track. The impressive pace notwithstanding, the Mercedes AMG team engineers would've been chuffed to see that the power units were largely trouble free. Their cars covered the most number of laps (975 in total) in all of the tests before the season opener. They started their race simulations right from the first test at Jerez when most of the teams were still learning about their power units and set-ups. They haven't looked back since and this sure is going to give them a head start when the five red lights go out at Melbourne.
McLaren have managed to rack up a sizeable amount of miles during the preseason tests
Mercedes AMG's dominance in preseason testing has somewhat overshadowed McLaren's performance in Jerez and Bahrain. But there were still enough signs during preseason testing to believe that it'll be a mistake to take them lightly come  March 14-16. Their new driver Kevin Magnussen threw up a bit of a surprise when he topped the timing sheets at Jerez. Since then, McLaren have been doing consistently well, piling up 812 laps in the entire preseason. Not bad by any means.
Ferrari: The dark horse
Reliable but lacks outright pace, will the prancing horse prove to be the dark horse this season?
Ferrari may not have stolen the show, but they have been hard at work, quietly honing their 2014 challenger before the season gets going. Both Kimi Raikkonen and Fernando Alonso have been lapping their Ferrari within a second or two of the Mercedes-engined teams and have managed 875 laps in total.
The timings during testing show Ferrari playing second fiddle to Mercedes as of now, but they sure look to be the dark horse in the long run. They have a reliable package in their hand and it's only a matter of time when the Maranello squad unleashes the full potential of their cars. Fernando Alonso even managed to do a race simulation towards the end in Bahrain. Apart from the outright pace compared to Mercedes, they don't seem to be going through any other crises. They do admit that they are not where they want to be right now, but its a long season that lies ahead. They will have to play catch up to Mercedes in the first few races for sure, and also keep an eye on the rear view mirror as Renault will try to claw back their lost glory.
Sauber's preseason tests have been nothing to write home about, but they might just improve as the season progresses
Sauber, have been reliably propelled by the Ferrari engine so far, as they have managed to cover decent mileage in all the tests, though losing out on outright pace to their nearest rival, Force India. Marussia on the other hand have struggled during the test runs, but it was mainly to do with their own internal problems rather than the Ferrari power unit itself. Having said that, the pace that they showed during their limited run was more than enough to take on their nearest rival, Caterham.
One idea, interpreted differently by three different engine manufacturers, was bound to create a flutter up and down the Formula 1 pit lane. Test sessions can only give a partial view as to who stands where. The rest we'll know very soon.