2014 Formula 1 Preview: Drivers (Part 1)
Name: Sebastian Vettel
Nationality: German
Team: Red Bull Racing
Driver number: 1
2014 will prove to be Vettel's biggest challenge yet. The RB10 looks far from perfect, and extracting good results will prove Vettel's weight in carbon fibre
Sebastian Vettel has made a terrific job of stamping his name all over the last four seasons of Formula 1. The one they call Baby Schuey pretty much came, saw and conquered, when it came to the years between 2010 and 2013, claiming four world championship titles along the way. But 2013 was the season where we saw the ruthless streak that Vettel had managed to disguise up until that point (of course there was that other episode when he referred to Narain Karthikeyan asa slow cucumber or some such). But it was Multi-21 that would go down in F1 history as one of those terribly controversial episodes (sharp intake of breath, et al). What happened was that Vettel, despite being asked by the team to maintain position, decided to go right past team-mate Mark Webber and take victory at the Malaysian GP. Well, he certainly didn't gain too many fansthere! If there's one thing we've noticed about Sebastian Vettel, it's that he has a tendency to get ruffled under pressure, although there have been exceptions like that brilliant performance from him at Abu Dhabi in 2012. Why all this talk of pressure? Well, because 2014 is the year of exactly that for Seb Vettel. For once, Red Bull, despite all of Adrian Newey's technical wizardry, have managed to get it wrong. The Jerez tests proved to be disastrous for the the team, while the two tests at Bahrain have proved to be slightly better. But Red Bull hasn't managed to take the challenge to Mercedes as of now. Melbourne will likely be an accurate measure of what will happen in 2014. For now, though, it looks like Sebastian Vettel's reign is set to end.
Name: Daniel Ricciardo
Nationality: Australian
Team: Red Bull Racing
Driver number: 3
Ricciardo goes into Red Bull Racing the team's Number 2 driver. It's now up to him to break out of that mold
Partnering Seb Vettel isn't an easy task. Mark Webber has felt the full impact of what it is like tobe number two driver in a team where Vettel is the undisputed number 1. Remember when back at the 2010 British GP the new front wing update went only to Vettel's car, leaving Webber in the lurch? Webber was no slouch at the race though, beating his team-mate to victory and yellingover the radio "Not bad for a number 2 driver!". Aussie Grit's Australian successor is going to have to do something similar if he wants to prove himself as Vettel's equal at Red Bull Racing.
The only advantage that Ricciardo has is that he has been a Red Bull Racing driver since he first tested for the team in 2009 and spent subsequent years as a test and reserve driver for the team and sister outfit Toro Rosso. His performance with HRT might not have been much to write home about, with 18th place at Hungary and India being his best finishes. But that was more to do with the ailing HRT car than anything else. Points-scoring finishes in 2012 and 2013 ensured he'd pip Toro Rosso team-mate Jean-Eric Vergne to the Red Bull Racing spot in 2014. Going into the first race of the season at Melbourne, Ricciardo has one advantage - he's set the team's fastest lap in the final round of testing at Bahrain with a timing of 1min 35.743secs. But taking the challenge to Seb Vettel - that's going to be something else entirely.
Name: Max Chilton
Nationality: British
Team: Marussia
Driver number: 4
Jules Bianchi might have outpaced him all of 2013, but Chilton's record of being the only driver ever to finish every single race in his debut season holds him in good stead
If there's one thing that Max Chilton can be proud of it is his Formula 1 record. Yes, the young Briton does have one of those. Chilton is the only driver in the history of the sport to have finished every single one of the races he has competed in during his debut season. In 2013, his first ever season of Formula 1, young Max brought the Marussia to the finish line in all 19 races that were contested that season. The only thing that marred his debut season was perhaps this - his team-mate Jules Bianchi was more impressive in terms of race pace and finishing positions innearly all of the races that were held. Failure to impress in 2014 might just mean Chilton's stint in Formula 1 will come to an end.
Name: Nico Rosberg
Nationality: German
Team: Mercedes AMG F1
Driver number: 6
Rosberg's proved he has the pace. What's different this year is that he also has the car. Now for some results!
After winning the first ever GP2 season in 2005, it was no surprise that Nico Rosberg would be snapped up by an F1 team. And so it was that at the start of the 2006 season, the young Rosberg found himself strapped into a Williams for the first race of the season. As things would turn out, Rosberg would spend the next four years driving for Frank Williams' squad, often proving that ifit hadn't been for poor machinery, he'd be up there with the best. The switch to Mercedes in the 2010 season, a season in which he outclassed his seven-time F1 world champion team-mate, established him as a driver to watch out for in the F1 paddock. Last year was possibly the first year in which Rosberg had a team-mate against whom an accurate comparison can be made. He might not have finished as high as Lewis Hamilton in the championship, but this year could well be Rosberg's year. He has set the fastest timing in the final official test session at Bahrain. Watch out for some head to head battles between the two Mercedes cars is what we say. Testing has proved that the Mercedes is the car to beat.
Name: Kimi Raikkonen
Nationality: Finnish
Team: Ferrari
Driver number: 7
Adjusting to Ferrari after two seasons at Lotus might be Raikkonen's biggest problem. That and a certain Spaniard.
Kimi Raikkonen back at Ferrari for 2014 - the team that rather unceremoniously ousted him fromhis race seat at the end of the 2009 season to make way for Fernando Alonso. Now, in 2014, Raikkonen and Alonso will go head to head as team-mates, which ought to be an interesting battle to watch. Since his return to Formula 1, after a two year hiatus that saw him dabble in the World Rally Championship and some NASCAR truck racing too, Raikkonen has been more thanjust convincing. In 2012 he put Lotus on the podium five times during the season, and at long last taking a victory at Abu Dhabi that year. He started the 2013 season on a high, winning the first round at Australia. Indeed through the first part of the season it looked like Raikkonen would be a serious contender for the championship. But towards the second half of the season Lotus had something of a downturn. Signing with Ferrari didn't really come as a surprise, given that Felipe Massa was certainly on his way out and Lotus' financial woes had left Raikkonen rather unhappy. Testing with Ferrari has revealed that Raikkonen certainly is making good progress, setting the team's fastest lap at Bahrain, one-tenth faster than team-mate Alonso. But there's the fact that Raikkonen's time is 3.2 seconds slower than the overall fastest timing set by Nico Rosberg, and the 2007 world champion has admitted to finding it difficult to find a comfort zone after switching teams. Ferrari might be a dark horse this season, but beating Mercedes won't be easy. Here, however, is another battle of the team-mates that we are keen on watching.
Name: Romain Grosjean
Nationality: French
Team: Lotus
Driver number: 8
2013 saw a calmer RoGro take to the track. But will an underperforming Lotus in 2014 ruffle his feathers?
How do you compress the complexities of Romain Grosjean into a paragraph or two? It isn't easy, we'll tell you that. But we've done a whole feature on good ole RoGro if you want to take a look at it right here.
That aside, RoGro, the man Mark Webber termed "First lap nutcase", has matured immensely since 2012. His performance at the United States GP last year was something of a coming of age for Grosjean. He held Webber off for a good part of the race, made it to the podium himself, and was finally praised for his performance by Aussie Grit. Indeed, he's certainly come a long way since the time he caused a massive pile up at Spa, and was then forced to sit out the Italian GP with a one-race ban slapped on him. Grosjean, by his own admission, declares that his improvement over the last few seasons is down, in good measure, to the fact that he has been working with a psychologist. But will we see Grosjean impress in 2014? Truth be told, of the two Lotus drivers around, he is almost certain to be the one who comes out tops. But Lotus has been struggling through testing. The team skipped the Jerez tests and chose to go straight to the Bahraain tests, where they didn't do that well. A part of this failure to perform can be blamed squarely on the trouble that Renault is having as an engine supplier. Lotus heads to Australia without having completed a single race distance during testing. Ouch. Grosjean has his work cut out for him this year.
Name: Marcus Ericsson
Nationality: Swedish
Team: Caterham
Driver number: 9
Young Ericsson's first goal in 2014 will be to beat his more experienced team-mate Kobayashi
Of the Renault-powered F1 teams, Caterham is unusual in that they didn't have the same sort of problems that rest did in terms of adapting to the powerplant they were handed. Marcus Ericsson has a challenge ahead of him in his rookie season of Formula 1, though. The task ahead is daunting - if Caterham is to continue its Formula 1 operations beyond the 2014 season, then they have to do well, which in turn means that Ericsson himself has to perform. So far his running hasbeen commendable. On his final day of testing at Bahrain the young Swede set a timing of 1min 38.083 seconds, which was faster than the timing set by Lotus' Romain Grosjean. Of course, his real battle in 2014 will be with his more experienced team-mate Kamui Kobayashi. Challenging the Japanese driver won't be easy, even if he's sat out one season of Formula 1.
Name: Kamui Kobayashi
Nationality: Japanese
Team: Caterham
Driver number: 10
Kobayashi's first task this year will be to ensure the F1 hiatus doesn't show once he's back racing
There's something to be said of racecar drivers who just want to race, as opposed to sit on the sidelines accepting test and reserve driver roles. Kamui Kobayashi is one such driver. When a driver turns down an offer from Ferrari, and chooses instead to get into the cockpit of a Formula 1 car and actively race, even if it's with a backmarker, we think it's worth doffing our hats to said driver. And in this case said driver is none other than Kobayashi. Let's quickly also add that the Japanese driver is driving for the Caterham team for free (even bringing in 1 million dollars worth of funding to the outfit). Testing hasn't gone as well as Kobayashi would like though. He'sdeclared that the team has a long way to go, with the times that Caterham set at the second pre-season test at Bahrain slower than last year's GP2 pole lap. But Kobayashi's had a good few years in F1, the highlight of which was undoubtedly the podium at Valencia in 2010. Under no circumstances will he want to be outdone by his rookie team-mate. Will the year away from F1 have slowed him down? We don't think so.
Name: Sergio Perez
Nationality: Mexican
Team: Force India
Driver number: 11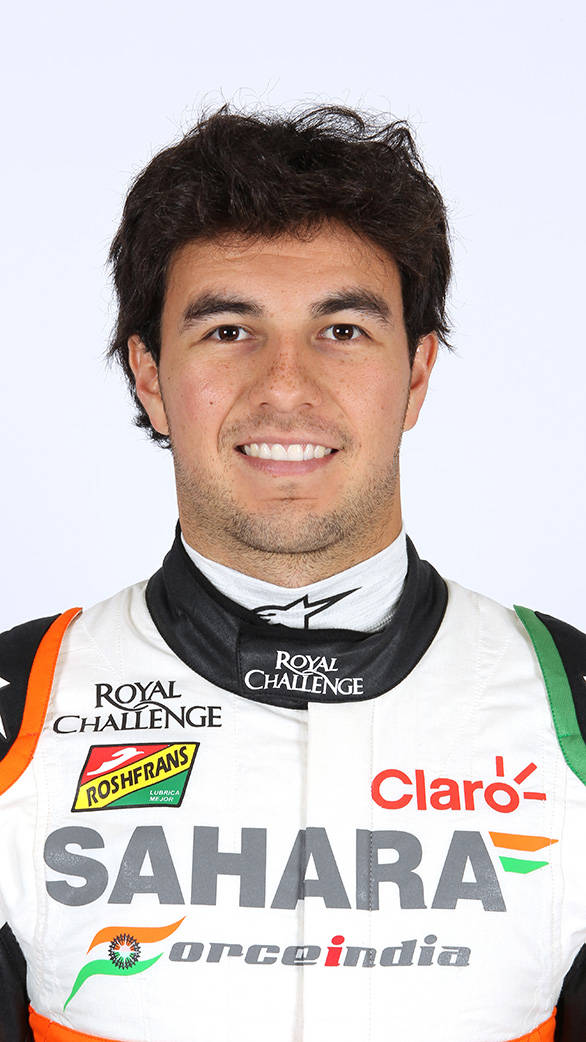 Sergio has topped the time sheets on two consecutive days of at the final round of preseason testing. A sign of things to come?
Sergio Perez's Formula 1 career has had its share of ups and downs. The Mexican driver who was a part of the Ferrari Young Driver programme did decently in his debut Formula 1 season, racking up points on more than one occasion. In 2012 though, Perez took his first Formula 1 podium with a second-place finish at the Malaysian GP. Third place at Canada and another podium, this time second, at Monza, rounded his season off rather nicely. Even though he was linked to a Ferrari deal, with many believing that it would be Perez who would take Felipe Massa's place when he was elbowed out of the way at the Scuderia, that isn't what happened. What did happen was that McLaren called upon the services of the GP2 runner-up, when Lewis Hamilton departed for Mercedes. And it was McLaren that to an extent was Perez's undoing, when he scored just 49 of the 122 points that McLaren ended the season with. And when Kevin Magnussen started showing up at races in McLaren hospitality, it was obvious that Perez's time at the Woking-based squad was up. And so 2014 sees Perez at Force India. How is it going for the 24-year old there? Topping timing sheets on two consecutive days of testing at the final round of pre-season testing in Bahrain isn't a bad thing, is it? He'll have to fight hard for positionwithin the team with Nico Hulkenberg raring to go, though!
Name: Pastor Maldonado
Nationality: Venezuelan
Team: Lotus
Driver number: 13
Just as Maldonado leaves Williams, the team suddenly seems to have gotten a whole lot better. Is the Lotus move a bad one, then?
So now Lotus has two drivers with a history of front wing benders, then! But credit must be given where it is due. Pastor Maldonado has had his moments in Formula 1, the highlight of which was pole position and victory at the Spanish Grand Prix in 2012. It isn't easy to forget the way Maldonado reeled in Alonso, making him believe he had a chance to catch the Williams up ahead, before he shot off into the distance once again. But Maldonado didn't impress much after that, and it was a good nine races before he scored points once again. 2013 was a dismal season for the driver, and he only managed to score one single point of 19 races that year - but the Williams FW35 wasn't the sort of car that could be banked upon for podiums or points for that matter. The move to Lotus might just have come at a really bad time. Just when Williams gets reliable Mercedes power and is looking set for a fairly competitive season, Maldonado finds himself with Lotus power to reckon with. And we've said it before. Of the two Lotus drivers, ourmoney is on RoGro.
Name: Fernando Alonso
Nationality: Spanish
Team: Ferrari
Driver number: 14
If there's one driver who can make a car punch above its weight, it is Fernando Alonso. We ought to see him challenge the Mercs in 2014
It's been seven years since Fernando Alonso was the young upstart raining on Michael Schumacher's parade. Seven years since Alonso's second world championship title. The Spaniard has had a chequered few years since that title in 2006. To begin with there was the season of conflict in 2007 at McLaren, when he struggled for supremacy within the team with rookie Lewis Hamilton stealing all his glory. But the years that followed at Renault and Ferrari proved that Alonso was probably the best driver of the F1 grid, irrespective of who won the world championship. An accurate measure of where the Ferrari ought to have been over the last few seasons lay in Felipe Massa's performance. The finishing positions that Alonso managed to get to were down to his talent and ability to flog the car and drag it by the scruff of its neck to podiums and wins. Ferrari has a tough job this year, with Mercedes proving they really are the force to reckon with in 2014. But if there's one man who can challenge the Silver Arrows, it is Fernando Alonso. The intra-team dynamic with Kimi Raikkonen will be interesting too.