2013 OVERDRIVE Independence Quattro Drive Day 4
Waking up in the morning to a cold camp, ice cold toilet seats and lukewarm breakfast isn't ideal. So, we were quite surprised at how enthusiastic our crew was. Maybe it was just the combination of a relatively late morning start and the prospect of a short run to Leh.
Getting out of Debring was fun, the rain in the night had left the tracks a bit wet and the Audis lapped it up. Of course, not all of our attention was on the track because we were, for once, surrounded by marmots that were happy to be seen, sunning themselves more or less ignoring our juggernaut of five fast Audis.
Joining the main road turned out to be an adventure in itself. The new road is elevated to prevent flooding and that meant we had to find a place to climb up onto it. It took only a moment but all Audis had one or more wheels in the air at some point. What a cool way to begin a day!
And then the perfect tarmac in a picture perfect setting took over. The speeds and spirits were high, but up ahead was the dreaded climb up to the fearsome Taglang La, the second highest motorable pass in the world.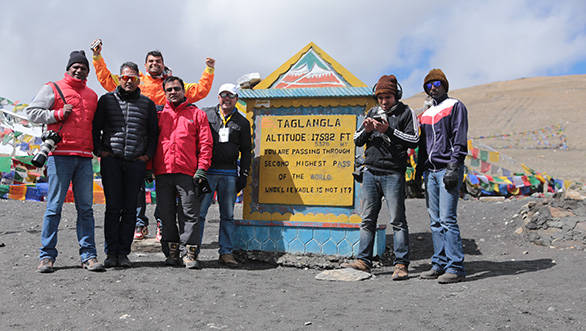 The excited OVERDRIVE readers with Shumi at Taglangla
The climb itself is epic. It goes on and on, and after a while you begin to wonder if it will ever come or this is just some impressively scaled Himalayan joke being played on us. But not this time. The perfect tarmac eventually gave way to a perfectly surfaced dirt road, almost three lanes wide.
"It's like Pikes Peak" squawked Vikrant on the radio as the speeds remained, erm, elevated. Along the way, scores of BRO workers yelled cheery "Juley!" greetings as we swept by being careful not to splash them in our enthusiasm.
And before we knew it, we were on top. Only a small part of the road is as bad as we dreaded, and reaching the Taglang La top is now a cinch.
Staying on it still isn't. None of us remember a crowd at the top and there is a reason. The pass is so high that as soon as you alight from the car, you realise that you should have picked Nautica's heaviest outerwear. It is cold and the wind is always fast and sharp. Then you realise that the Oakley's on the dash on the car belong on your nose because the sun is bright and instantly trying to burn skin. And finally, you realise that you are having trouble breathing because there is literally not enough oxygen to go around.
Suffice to say then that our departure from the top was rapid, as soon as the bare minimum of photography was completed.
The other side was eye-opening. First the roads were now wide and the tarmac-ing was complete. "It's like Pike's Peak this year" squawked Vikrant once more before disappearing around the first of the umptimillion bends.
After many plans that usually involved flying expensive machinery to Leh were hatched, we carried on
We stopped halfway down for a break and the discussion was mostly about how brilliant the road would be in something faster. Like an RS5 or an R8. Boys, it seems, will be boys. After many plans that usually involved flying expensive machinery to Leh were hatched, we carried on.
I was looking forward to the Rumtse-Upshi-Leh run. After the high passes, this part runs at the bottom in the valley and is absolutely stunning. Rumtse is green, has a white, gurgly river, traditional Ladakhi houses and an unchanging charm. Then come my favourite bits. I call them the Purple Mountains. It's an apt name because after a forest of Chortens, the brown mountains suddenly turn purple. Not a hint or a hue but fully-blown all-out purple. And when it rains, even the roads look purple.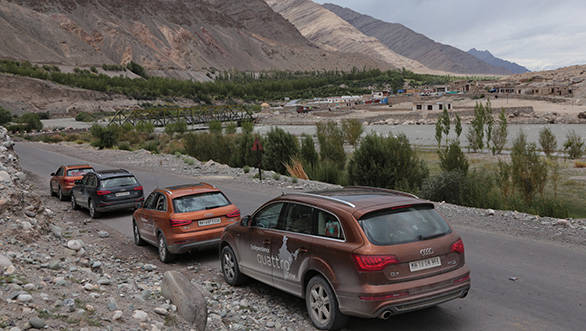 The Rumtse-Upshi-Leh run
Upshi is the sign that you are back in civilisation. You cross a bridge over the Indus and a small town full of places to eat momos, thukpa, etc., greets you. Upshi isn't much to look at but it is a clear sign that Leh is just around the corner.
What remains is a comfortable run on an undulating road that heads more or less straight to Leh passing first the Thiksay monastry, then the Shey Palace. The sole hiccup is Choglamsar, which should really be called Chokelamsar, because I've never seen its Main Street unjammed. Thankfully, a quick, scenic bypass routes straight into Leh.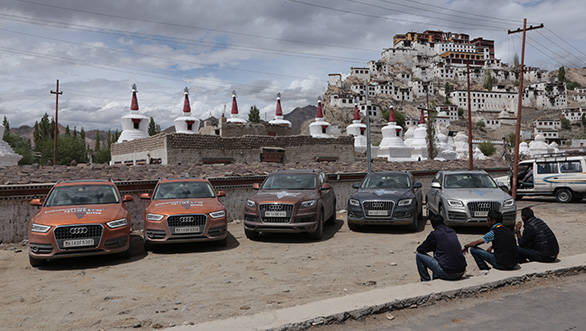 We stopped just before Leh
Leh. It's like Goa with an altitude. Minus the beaches, of course. But more on that on Day 5.