2013 Maruti-Suzuki Raid de Himalaya Day 1: Ahluwalia and Venuramesh lead the way
The 15th edition of the Maruti Suzuki Raid de Himalaya kicked off from Manali earlier today. The weather was cold, the scenery beautiful, and the feeling of anticipation before the contestants took off was almost palpable. After all, they were going to set out on one of the most punishing events to both man and machine. The first day of the event would see them traverse over three legs - between Dalog and Chamola, Luhri and Behna and Chimni and Khanag, over a total distance of 312 km. That meant that the 153 competitors had quite a task ahead of them.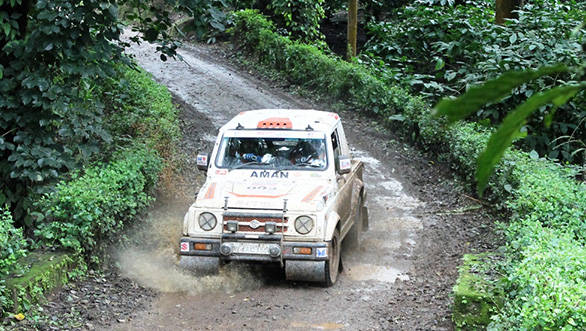 Having won the Dakshin Dare in their Gypsy, Amanpreet Ahluwalia and Venuramesh are currently leading the Raid de Himalaya
As it often happens with the Raid de Himalaya, going into the event, the clear favourite was Suresh Rana and co-driver Ashwin Naik. Rana already has a total of eight victories at the Raid, which makes the Maruti driver quite the favourite every time the Raid kicks off. But things didn't go his way on the first day of the event, with Amanpreet Ahluwalia and Venuramesh, who'd already won the Dakshin Dare earlier this year, moving to the head of the timing sheets. While Rana and Naik were 24 seconds behind, following in third were Harpreet Bawa and Virendra Kashyap.
The Adventure Trial category also saw upsets aplenty, with Satish Gopalakrishnan and Savera D'Souza not making it to the top of the timing sheets. The class leaders in the TSD category ended up being Jagmeet Gill and Chanden Sen, while Vishnu Singh and Adithya Anthony ended the day in second and Ashish Budhia and Arindam Ghosh came in third.
On two wheels, the leader at the end of the first day was Helmut Frauwallner, as CS Santosh crashed suffered mechanical failures with his motorcycle, resulting in a heavy time penalty.