2013 Kawasaki ZX-14R: What is it?
In the late 90s there was an unofficial race on between the Japanese manufacturers to build the world's fastest production motorcycle. This race focused on one thing and one thing only –building a faster production motorcycle than the other guy. This single minded quest for speed saw displacements grow along with wheelbases while handling and light weight became a secondary concern. Suzuki, Honda & Kawasaki tried to out do each other with newer faster models and this game of one-upmanship gave birth to some of the maddest badest superbikes ever. Today the factories have long since given up the battle in favor of more fashionable trends like emissions and trick handling but there are a few of these monsters that have stood the test of time. The ZX-14R is one of them and carries on this legacy of big mad motorcycles.
The ZX-14R carries the typical look of the bygone era- long wheelbase, wide aerodynamic full fairing and aggressive almost Ferrari Testarosa-esque air ducts that combine into one mean looking machine. I still don't know if I like the quad headlamps but it does look quite stunning in the traditional Ninja Green.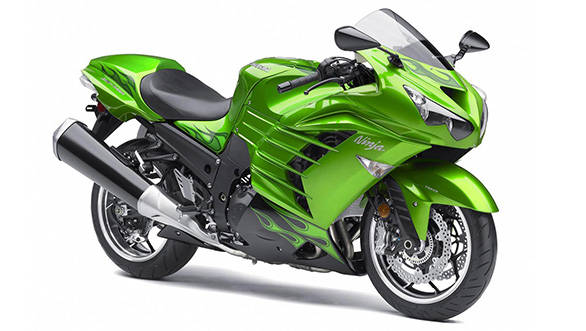 This is a long wide and heavy motorcycle, so don't expect it to be the fastest thing around a race track. But with this much power and torque on tap it should rule the roost between streetlights and demand a fair deal of respect. Just how much power and torque does the 1441cc inline-four make?  Well in 2012 Kawasaki took the old 1352cc ZX-14R (200PS) engine and increased the stroke by 4mm giving it the displacement increase while compression has risen to 12.3:1. It's fully tricked out too with lightweight forged pistons, ported heads and advanced piston lubrication for cooler temperatures, more consistent power output and longer life. This allows the bike to make an astounding 210PS@11000rpm making it the most powerful production engine that Kawasaki has ever built. But it's the phenomenal 162.5Nm of torque (up from 135Nm) that gives this bike its character.
When there's this much torque ready to tear into the tarmac at just the slightest jitter of your wrist then traction control is most certainly the need of the hour. With the ZX-14R, Kawasaki have developed a new 3-mode traction control system where Modes 1 and 2 allow maximum forward acceleration (anti wheelie, controlled rear wheel slip etc) or a more safety oriented Mode 3 that assists when riding over slippery surfaces. There is also a separate system that allows riders to choose between full or lower power outputs from the engine. In low power mode the system will limit the engine output to approximately 75 per cent of power and also soften the throttle response making the bike easier to ride. There is also the option of completely turning off the system to unleash complete tyre destruction. We can't wait to ride one and experience the rush first hand.