Taurus Overland Truck
Five minutes into a conversation with Captain Suresh Sharma and it becomes clear, the man is a relentless perfectionist. Before I know it, we're discussing dedicated long handled tea spoons for pickle jars and how his overland truck has more household equipment on board than most folks have in their homes. Sewing kits, rubber bands, magnifying glasses, safety pins, cable ties, you name it and it's probably on board the Taurus Overland Truck.
The key, the Captain tells me, is that his guests should have an incredible experience. Something small, like a broken shoelace for example, shouldn't ruin a trip to the wilderness. So naturally, there's a good stock of laces on board too.
Taurus set up to spend the night on the banks of a frigid river in Ladakh
At this point, I was really keen to take a look at the Captain's creation but I had to hear the story behind it first. After retiring from the Army, Captain Sharma, who's also an expert on snakes, worked with some big TV channels in the environment genre. He specialised in helping them film natural events that simply cannot be documented in the wild, like the laying of snake eggs and other such weird and fascinating things.
But through all this, Captain Suresh had his heart set on overland adventure, a touring concept that's very popular in Africa and Europe. But the idea of an overland truck, built for a group of people to travel and live in over long periods simply didn't exist in India. Clearly, that wasn't going to stop the man from making it happen.
On March 31, 2012, after much research, Capt Sharma purchased an Eicher 20.16 chassis to turn into a bespoke overland truck. He chose the Eicher because it was the right size, had a reliable, smooth and relatively quiet engine and most importantly, a tight turning radius. Going by the date of purchase, he and his wife and kids who were a big part of the project decided to name it Taurus. They were assured by the local chassis builder that its external transformation would be complete in just 45 days. About two years later Taurus was finally a reality.
The only resemblance to the Eicher truck under the skin of the Taurus lies in the face. The Taurus is otherwise a much meaner looking machine. Notice the roof-mounted auxiliary lights and cornering lamps
Being an avid photographer, the Captain knew the challenges that outdoor and travel photographers face trying to get to and stay at remote locations. Hauling all that equipment around, figuring modes of transportation, setting up a campsite - it all detracts from the experience. That was the key idea behind Taurus, to offer photographers the road trip of a lifetime, taking them into some of the most beautiful parts of the country like Ladakh in the summer and interior Rajasthan in the winter. All the transport and logistics would be taken care of, while allowing the photographers to focus on capturing the wilderness around them.
The cabin seats eight in lots of comfort. Large windows facilitate photography in the beautiful regions this vehicle drives through
The next day, I had the opportunity to get up close and personal with Taurus. It's quite the intimidating sight in its stealth grey shade, a shout out to the Captain's army connection. The vehicle is huge and has very little in resemblance with the Eicher it was originally based on. Fully stocked with eight passengers, three crew members and its overkill of supplies, Taurus weighs in at about 13 tonnes. That's well under the 20.16's rated gross weight of 16 tonnes but the bodyshell was reinforced nevertheless to ensure that the tall body work stayed secure and more importantly, felt secure to the passengers.
Entry to the cabin is high up in the body and requires a ladder
There's so much happening with the Taurus that we'll have to break it into sections, starting with the exteriors. Between the familiar headlamps is a spare tyre which gives the face a very rugged and purposeful look. There are auxiliary lamps mounted on the roof and even a set of simple cornering lamps that point at an angle on either side of the bumper and can be turned on from the cabin while on road bends, especially in mountains.
The passenger section is designed with large, sliding glass windows to aid photography on the move. Below the windows, the Taurus looks like a reinforced bank vault thanks to all the decorative rivets along the body work but it's the rear that is the business end of this truck. In a few minutes, with the unfastening of some bolts, the rear section turns into a kitchen, complete with a three burner stove and all manner of vessels, cutlery and ingredients. It takes a while to fully set up because everything is clamped down firmly to ensure things don't break. The kitchen was designed this way to keep odours out and also for general fire safety.
The rear opens up into a comprehensive kitchen with a three burner set-up
While the captain was brewing a hot cup of coffee for us, I escaped the Ladakhi chill by climbing into the main cabin which is at such a height you have to use a ladder to get in. Inside, I discovered that the roof wasn't tall enough for 6'1" me but there is enough space for the average Indian. The Captain says this was as tall as he could safely go.
The plywood lined cabin has just eight reclining seats, very similar to the ones in a Volvo bus but with vastly more kneeroom. There is a wall of drawers near the entry and more stowage space in lockable overhead cabinets that are sprung on hydraulic struts and backlit with LEDs. Guests are requested to bring their luggage in soft bags so they can load their belongings into the lockers and the bags can be folded away. Care has been taken to ensure no sharp edges are exposed and even simple things like drawer handles are replaced with soft rope pulls.
Power supply is key when working with cameras and laptops and Taurus has that covered with upto 24 outlets available via heavy duty extension boxes. At the back is an aircraft style chemical toilet which is meant primarily for ladies (while on the move) or when the weather is particularly nasty and people are reluctant to step out.
An on-board toilet is reserved for lady passengers or if the weather is too harsh to step out
Behind the seats is a couple of box style beds that lift up to display a huge collection of ration. Coffee, tea, multiple cereals, assorted chocolates, rice, different types of daals, biscuits, snacks, cheeses and of course, an assortment of pickles – it's a well stocked department store under these beds. And then the Captain lifts up a hidden trap door in the wooden floor to reveal an even bigger stash of supplies. A typical trip in the Taurus lasts for about 10 to 15 days or even more, but there's enough rations in here to keep everyone well fed for nearly two months.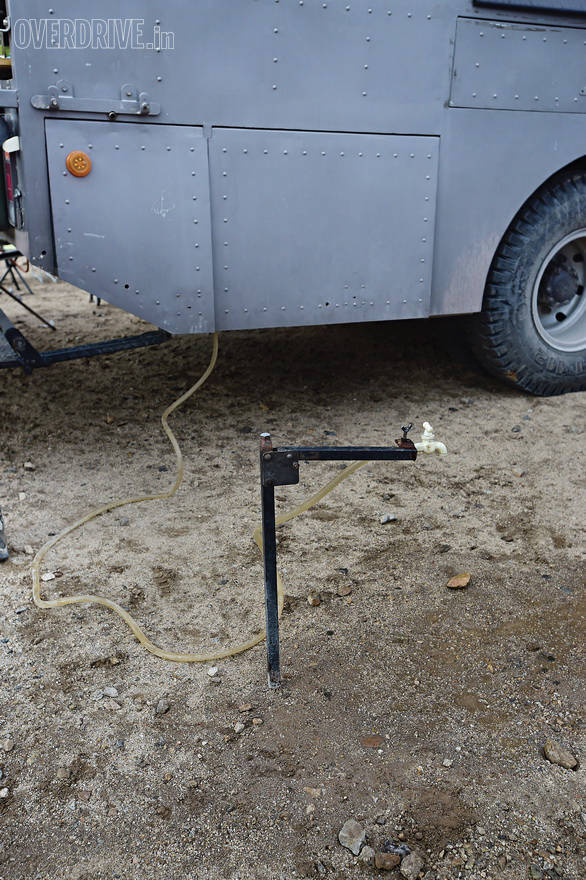 The truck has several innovations on board, from expensive water pumps to this simple metal contraption that turns a water pipe into an easy to use tap
Water comes from a 700-litre under the belly tank that is constructed in food grade stainless steel. Captain Sharma makes sure he carries a seriously comprehensive first aid kit everywhere and he's even gone as far as to include what he calls the pink box – a stock of ladies hygiene products in case the need ever arises! The list goes on, there are 12 golf-sized umbrellas on board which could be holed up in a designated place even when fully wet, even a dedicated set of photographer's lights should a guest wish he hadn't left his behind.
Captain Suresh with his huge stash of rations. There's more stored under the floor. Guests can be comfortably sustained for well nearly two months if required
Night time accommodation is split between four tents that hang off the side of the truck while tents for another four are set up on the roof. If the guests are game then they can all climb up on to the roof for an evening cup of tea or to watch the stars appear. There is a full stock of sleeping bags of three temperature ratings. Whether it's a cool summer's night or a frostbite inducing minus ten degrees, you're sure to be snug at night.
It's pretty clear that Captain Suresh has gone out of his way to ensure his guests are comfortable and well provided for. There was no expense spared in building Taurus. The base chassis cost about Rs 12 lakh but by the time the entire project was complete, the Captain had sunk in a good Rs 65 lakh.
I had a short go behind the wheel and I was both intimidated and impressed. This thing is a full size truck and it was the first time I was driving something so big. I immediately appreciated the light clutch and power assisted steering but I struggled a little finding the right gear. The Captain has a dedicated driver for the trips but he doesn't shy from getting behind the wheel. In fact, he just drove it solo from Chandigarh to Leh and that includes getting it up all those mountain passes including the fearsome Zoji La. Respect!
You can find out more about Captain Suresh and the tours he organises by visiting his website www.greendotexpeditions.com or checking out the Facebook page for more details. As it stands, he is the only person in the country offering this kind of a road trip experience.
Images: Suresh Narayanan, Captain Suresh Sharma, Haravinder Singh