15th Maruti Suzuki Raid-de-Himalaya flags off in Shimla
T. Hashimoto, Executive Director (Marketing & Sales), Maruti Suzuki India Limited flagged off the 15th Maruti Suzuki Raid-de-Himalaya from Shimla today. The Raid-de-Himalaya is widely considered as one of the most testing rallies in India.
This year's event boasts of the highest number of entries ever, and a number of firsts to its credit. This year, as many as 153 teams are competing, and there is an all-new scooter's category and a large female contingent as well.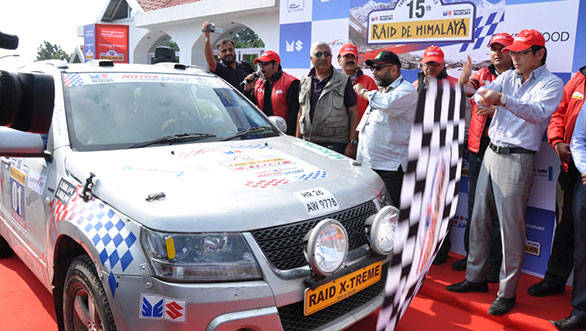 Mr-Hashimoto Exec-Director Sales and Marketing Maruti-Suzuki flags off Suresh Rana-Ashwin Naik at 15th Raid De Himalaya
"Maruti Suzuki Raid-de-Himalaya is not only a pioneer motorsport event in the country; it has put India on global motorsport arena as it combines the challenges for the participants at par with the toughest motor rallies in the world. Today, the ever increasing participation across age groups and gender is a testimony to this stature of the event. It is heartening to note that this year we have an increased participation from women, from the services, and bikers. As a market leader, we feel proud that Maruti Suzuki created platform for motoring enthusiasts not only from the country but from across boundaries," said Hashimoto.
The rallyists will set off for the first competitive leg to Manali. The rally will run in two different routes, namely X-treme and Adventure Trial. The rally will culminate in Leh on October 12 along with the prize distribution ceremony.