10 most expensive cars in India
Mercedes-Maybach S600 Guard
Price: Rs 10.50 crore
Have mob problems in your life? Need a solution to the relentless terrorist threats in your city? Been a jerk to people who are all now out to kill you? The Mercedes-Maybach might be the best vehicle for you. That is, if you can afford the Rs 10.50 crore price tag. For the price, you get the ultimate luxury that the Maybach brand offers combined with VR9 ballistics protection. The car is powered by the AMG-tuned V12 motor that makes well over 500PS and a shattering 830Nm of torque. It also comes loaded with so much tech that can make the White House seem like your daughter's Princess Castle. Panic alarm system, automatic fire extinguishers, emergency fresh air system, night view assist, 360 degree camera - you name it, and it's got it.
Audi A8L Security
Price: Rs 9.15 crore
Is the Maybach S600 too expensive for you? Fear not, the A8L Security edition can be yours for Rs 1 crore less. At Rs 9.15 crore, it isn't cheap by any means. In fact, you can get yourself a luxurious flat in Bandra for around the same price. But then the question is - will your apartment withstand a grenade blast? Further, can you drive your flat around? No on both counts. So the A8L it is. The cars are made to order at the Audi's top-secret plant in Neckarsulm. Special features include an armored communication box in the luggage compartment, an intercom for communication with the outside world and selective door unlocking. An emergency fresh air system, emergency escape system and emergency fresh air systems are optional. Of course, all this is over and above all the standard features of the regular A8L like those wonderful massage seats.
Rolls-Royce Phantom
Price: Rs 8.90 to 7.50 crore
No list that starts with most expensive can be complete without a Rolls-Royce or two. And what better Rolls to start with than the Phantom Drophead Coupe. The drop top is the most expensive variant of its flagship. It features those trademark suicide doors, and all the luxuries of any Rolls-Royce but without the roof. Exotic wood, exotic leather, exotic metal all come together to make the Phantom Drophead Coupe the icon that it is. Oh and it's no poser either. With power coming from a 6.8-litre V12, this is also a properly fast luxury yacht.
Rolls-Royce Dawn/Wraith
Price: Rs 6 crore to 5.45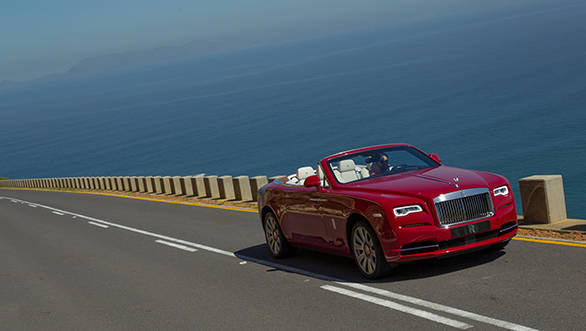 This is the "sporty" one. The Wraith and the Dawn and made of the same things underneath. But while the Wraith is hard top variant, the Dawn loses the top for some extra sass. Both cars are powered by the same 6.6-litre V12 motor that makes them immensely capable. They are deceptively quick and there are rumours that if unrestricted, they can even touch 300kmph. When luxury comes with so much performance, the price tag becomes a bit less painful, no?
Rolls-Royce Ghost
Price: Rs 5.78 to 5.07 crore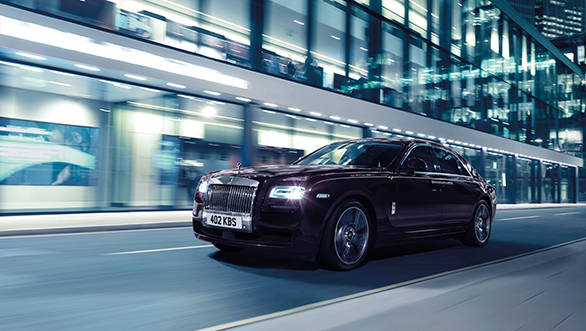 Okay, we swear this is the last Rolls on this list. We have covered all the models, after all. The Ghost is the cheapest Rolls-Royce. Ha! So many contradictions in one sentence. But here's the catch, if like the Chinese, you like your luxury cars to be even longer than usual, then expect an additional Rs 75 lakh in the price tag. The Ghost uses a twin-turbo V12 that makes 570PS. So this is by no means a slow car.
Aston Martin Vanquish
Price: Rs 5.50 crore
If MI6 had any concern for money, it wouldn't have given James Bond a Vanquish to drive around in. As the most expensive Aston Martin in the market, the Vanquish combines exclusivity with cut-throat performance. The V12 motor displaces 5,935cc and makes 576PS in its most powerful tune. Now all you need is a Walther PPK and a watch that explodes.
Lamborghini Aventador LP-700 Spyder
Price: Rs 5.5 crore
The droptop Aventador is priced at an eye-watering Rs 5.5 crore, Rs 40 lakh more than the coupe. It has the most violent engine and transmission combination we have ever experienced. The 700PS 6.5-litre V12 engine boasts 0-100kmph in a scant 2.9s and a top whack of 350kmph. Now if only we had Rs 6 crore lying in the Swiss bank account.
Ferrari F12 Berlinetta
Price: Rs 4.87 crore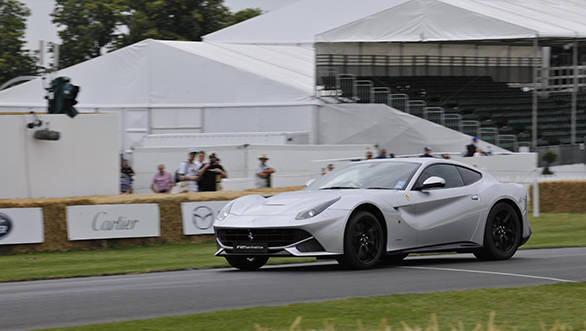 The Berlinetta is perhaps one of the prettiest Ferraris to ever come out of Maranello. And if you don't believe me, then just ask the guys at the Associazione per il Disegno Industriale. They're the ones who gave the F12 the XXIII Premio Compasso d'oro award. At Rs 4.87 crore, it is a very expensive showpiece and you could argue that the same money would buy you some valuable art. But can the piece of art hit 100kmph in 3.1 seconds and travel at a top speed of 340kmph? I think not. For this and that yellow and black prancing horse logo, the F12 has no rival.
Bentley Continental GT Speed
Price: Rs 4.22 crore
We'd spend all that money and even sell our soul for this car. Forget the performance. This Bentley needs to be worshipped just for the loveliest shade of British racing green we've ever seen. And while every other Bentley might look like every other Bentley (except the Bentayga. Oh wait...), the GT Speed makes its intentions for snap-neck performance evident with its body work and low-slung silhouette. It uses a 6-litre, W12 motor that makes 642PS and 840Nm of torque. 0-100kmph? In a mere 4.1 seconds. Top speed? A ridiculous 331kmph. Phew!
Ferrari 488 GTB
Price: Rs 4.20 crore
The Ferrari 488GTB is the successor to the impressive 458. It's one of the most serious sports cars available in the market. Unlike its predecessors, this Ferrari features a twin-turbo V8, making it a lot more powerful, quicker and at the same time efficient. The 661PS Ferrari motor uses a 9-speed twin-clutch gearbox that helps this GTB propel ferociously from standstill to 100kmph in a little more than 3-seconds. That's as much as the hardcore 458 Speciale. And if you love powersliding, like us, then the slide slip control feature will ensure you get the car out of corners sideways rather than ending up pointing towards the wall.
Price (Ex-Delhi)
Starts Rs 1.56 Crore
Price (Ex-Delhi)
Starts Rs 3.29 Crore
Price (Ex-Delhi)
Starts Rs 4.4 Crore
Price (Ex-Delhi)
Starts Rs 4.78 Crore
Price (Ex-Delhi)
Starts Rs 7.5 Crore