F1: Michael Schumacher's 2001 Monaco GP-winning Ferrari sells for 7 million USD
Michael Schumacher has won the Monaco GP five times. The fifth and final time that he did win at the Monte Carlo street circuit, he piloted a Ferrari F2001, chassis 211. This very car has now sold at an auction for a record 7,504,000 USD. Which is, if the zeros are confusing you, seven and a half million dollars. That is a record for an F1 car of the modern era.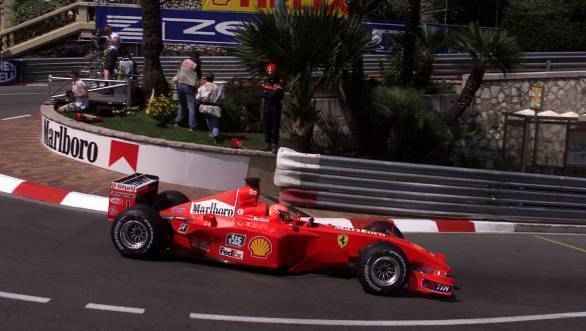 Michael Schumacher on his way to victory at the 2001 Monaco GP in the Ferrari F2001, chassis 211, that fetched 7.5 million USD at a Sotheby's auction in New York
The car, which Schumi piloted to his fourth, of seven, Formula 1 championship titles, was auctioned at the Sotheby's Contemporary Art Evening Sale in New York. It has been reported that this is the first time that a car was offered at a Sotheby's art auction. After a six-minute battle between eight different bidders, the Ferrari was sold for twice it's pre-sale estimate. It had been estimated at approximately 4 million USD.
Schumacher celebrates his final Monaco GP win in 2001
Schumacher would go on to win another three Formula 1 titles, before retiring from the sport at the end of the 2006 season. He then would make a return to Formula 1 between 2010 and 2012, this time with the Mercedes team, before retiring once again. The seven-time world champion would then suffer a near-fatal skiing accident in December 2013, that has left him in a near catatonic state since.