F1 2019: Lewis Hamilton takes record sixth British Grand Prix victory
Lewis Hamilton took a record-breaking sixth win at the British Grand Prix. The five-time Formula 1 world champion ended up moving from second-place on the grid, into the race lead in the first half of the race, after which he didn't look back. He was aided to a certain extent by a mid-race Safety Car situation, which helped him get the better of team-mate and pole man, Valtteri Bottas. Hamilton, who was on a one-stop strategy, ended up crossing the chequered flag 24 seconds ahead of Bottas.
2019 British Grand Prix, Sunday - Steve Etherington
When the race started, Bottas managed to stay ahead of Hamilton. And while Hamilton managed to get close enough to make a move on Bottas on the fourth lap, the order was once again reversed soon after. Hamilton was not close enough to threaten Bottas for a while after that. When Mercedes brought Bottas in first, on Lap 16, he was switched to Medium tyres. Hamilton was left out for a longer first stint.
Behind this battle, Charles Leclerc and Max Verstappen were battling for third place. Leclerc was ahead until the pitstops, but Verstappen managed to get out ahead as they made their way out of the pitlane. Leclerc then managed to move back into third soon after.
2019 British Grand Prix, Sunday - LAT Images
But all on-track battles needed to be put on hold when the Safety Car was sent out on track after Antonio Giovinazzi spun his Alfa Romeo. This resulted in a series of pitstops, including one from Lewis Hamilton. Mercedes put Hamilton on a set of hard tyres, which took him through to the end of the race.
When the race was restarted, it was Hamilton who managed to get off to a good start, while Bottas, on Medium tyres, wasn't able to catch him. Meanwhile, Verstappen now had a new task - the other Ferrari of Sebastian Vettel that was now ahead of him. Eventually, he managed to move ahead of Vettel. When the German driver tried to overtake Verstappen, he missed his braking point and went right into the back of the Aston Martin Red Bull ahead. Verstappen lost two places, Vettel needed to pit to replace a damage nose cone, and then was handed a 10-second penalty.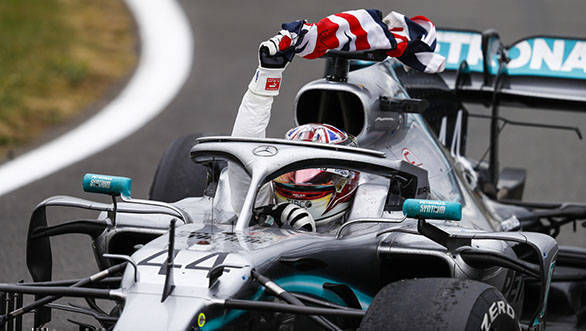 2019 British Grand Prix, Sunday - LAT Images
Up ahead, Hamilton led, with Bottas second, and Leclerc third, which is the order in which they crossed the chequered flag. Hamilton also took home the point for the fastest lap of the race, which he set on the very last lap.
The Red Bull drivers finished just off the podium, with Pierre Gasly ahead of Verstappen. While Carlos Sainz took sixth for McLaren, edging out Renault's Daniel Ricciardo. Kimi Raikkonen finished eighth for Alfa Romeo, while Daniil Kvyat finished ninth for Toro Rosso. The second Renault, with Nico Hulkenberg behind the wheel, finished 10th, rounding off the points scorers.
Hamilton now leads the championship by 39 points.